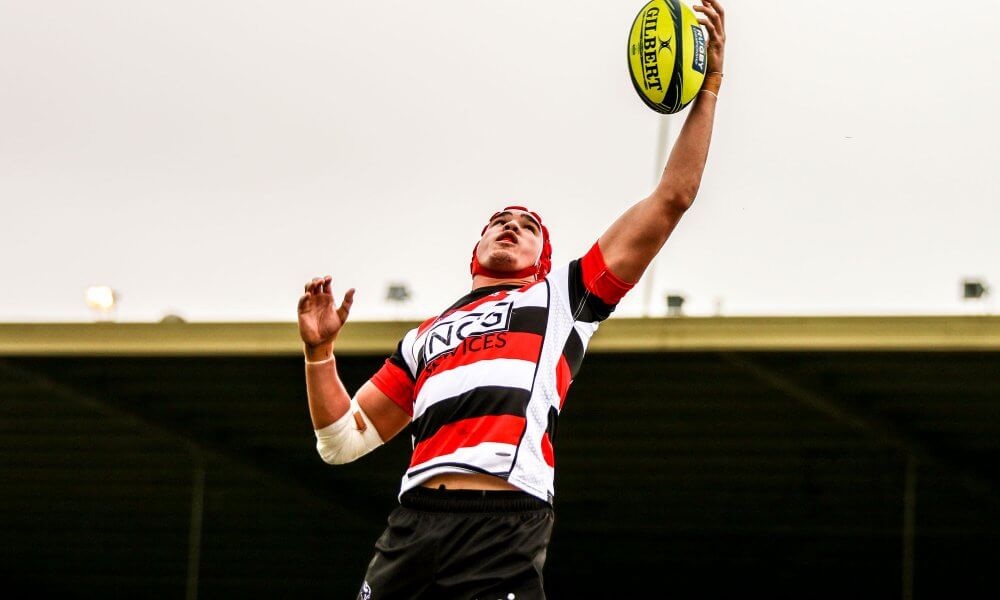 With the two NSW based teams making their first NRC appearance of the season we know have full blown comp on our hands. Round 2 saw our two competition favorites flex their muscles a tad with the Drua steamrolling Brisbane City and the Western Force securing the Horan-Little Shield with an impressive win over NSW Country.  Meanwhile the Canberra Vikings bounced back from a first round loss with a comprehensive win over the Sydney Rays and QLD Country continued their winning way via a hard fought one-point victory against the Rising.
Looking at the individual performances we are obviously dominated by the winning teams.  As you'd expect there some very close calls along the way and already some familiar faces from the previous week.
15 Apisalome Waqatubu (Fiji Drua) – 1st week in team
Andy Muirhead (Vikings), Kitione Ratu (Rising) and McGregor (Force) all made a strong case for selection but I couldn't look past the 21 point contribution of Waqatubu for the Drua. In a game that the Drua backline dominated, their fullback showed his class whenever he got is hands on the ball.
14 Lausii Taliauli (Canberra Vikings) – 1st
Plenty of options for the wing spot this week with try scoring efforts common.  The Force pairing of Dakuwaqa and Davies both were strong contenders but Taliauli was excellent on the weekend continuing on from his strong game the week before against Queensland Country. Two tries and plenty of run metres and tackles shred.
13 Marcel Brache (Western Force) – 1st
The USA international, Brache, certainly seems to be enjoying his time at the re-born Western Force.  His WSR form was building and he made a big impact on his team's important win over the Eagles on Sunday. Two early tries set the intent for the Force early, and the brilliance of his 2nd got the home crowd firing up their support.
12 Jordan Jackson-Hope (Canberra Vikings) – 1st
It's wonderful to see JJH's game maturing in the first two rounds of this year's NRC.  We've seen some flashes of skill through last year's tournament and at times in Super Rugby, but he seems to have settled into this Vikings team, enjoying his role and is contributing significantly. Cyril Reece was also very good for the Drua while Will McDonnell of the Eagles caught the eye with a busy game as well.
11 Levani Kurumudu (Fiji Drua) – 1st
When a Fijian rugby side is on fire, as the Drua were last weekend, there is generally always going to be a winger enjoying the spoils. The somewhat unheralded Kurumudu was that man on Saturday. He snagged three tries of his own, the Drua's 2nd ever hat trick in the NRC, and was effective across the park with a strong off-load and passing game helping to keep the Drua attack flowing.
10 Alivereti Veitokani (Fiji Drua) – 2nd
Our first back up performer from Round 1, Veitokani was at it again against Brisbane City on Saturday. He easily finished on top of his opposite number, Quade Cooper, and was able to both ignite and continue many a Fijian attacking raid often handling multiple times in a movement. Hamish Stewart putting in another impressive showing for QLD Country while Mack Mason impressed for the Eagles.
9 Frank Lomani (Fiji Drua) – 1st
He couldn't be denied selection this week having been beating by a nose in last week's team by Ian Prior. This was a game built for Lomani who's speed and accuracy of service was as much a catalyst of his team's success as was his sniping runs and fabulous support play. Lomani's option taking has been excellent so far this NRC and another two tries was due reward for his excellent performance.
8 Tai Ford (QLD Country) – 1st
Tai Ford was picked to start for QLD Country with Caleb Timu wanted by Wallaby selectors and he grabbed his opportunity with both hands. The 2018 Alec Evans Medallist, awarded to the Player of the QLD Premier Rugby Competition, was close to his team's best with a strong game in attack and non-stop defensive effort.  He had to be good because he managed to just hold out another quality Drua performance by their 8 Eramasi Radrodra.
7 Chris Alcock (Western Force) – 1st
I had the Drua skipper, Mosese Voka, down as a sure thing for this pick following his game against Brisbane City in Lautoka. He was exceptional.  But I think Chris Alcock for the Force was perhaps just a little bit more exceptional against potentially tougher competition. We're used to his workload, and he tackled like a demon while picking up a handful of turnovers. However Alcock's running game was also first class and meant his selection was almost impossible to ignore.
6 Angus Scott-Young (QLD Country) – 2nd 
There were some hard working blindsides out and about this weekend. Peni Raidre's running game wasn't what it was last year, but he was a beast in defense. BJ Edwards was impressive in a rare start at 6 for the Vikings while Tevin Ferris ran well for the Force. However Scott-Young was an absolute workhorse against a fast coming Rising team and tackled is heart out while snagging a couple of turnovers too.
5 Albert Tuisue (Fiji Drua) – 1st
Big Tom Staniforth thrives at the NRC level and was at it again for the Eagles on the weekend with lots of tackles and, more significantly, lots of effective runs. However Tuisue was a monster for the Drua. Some of the hits he put on the poor Brisbane attackers were scary big. Add to that his powerful running gamer and he was a lock on this lock spot very early on in the weekend.
4 Darcy Swain (Canberra Vikings) – 1st
Young Darcy Swain's maturity is starting to come through in the early stages of this NRC. Stuck behind some quality international locks for the Brumbies he is clearly relishing his increased game time for the Vikings. His strong defense and quality line out skills were big factors in his sides' impressive win against the Sydney Rays.
3 Les Makin (Canberra Vikings) – 1st
The pocket battle ship from Canberra was at his best on the weekend against a handy Rays front row. His size (bulk and short stature) worked in his favour as part of a strong Vikings scrum.  He work around the park was excellent where is powerful tackling was a feature in many a stunted Sydney attack. Rising tight head Jermaine Ainsley anchored a powerful scrum that caused QLD Country plenty of headaches.
2 Ratunasia Nauma (Fiji Drua) – 1st
I love this little guy. Ratu was a standout for the Drua last year and having come off the bench last weekend, he relished his starting opportunity this week.  He is a metaphorical energiser bunny – just never stops. Playing like an extra loose forward he played a big roll in attack but also tackled his backside off. Vikings hooker Connal McInerney caught the eye with two tries while Harry Scoble of the Force put in an industrious performance.
1 JP Smith (Brisbane City) – 2nd
I genuinely didn't think I could fit a Brisbane City player in this team after their annihilation at the hands of the Drua on Saturday. As the weekend progressed there were some solid loose head performances, with Paddy Ryan, Matt Sandell and Sione Tuala all very decent. However despite the loss I maintain that Smith is deserving of his selection. His scrummaging is excellent but his work rate stands him apart again this weekend.