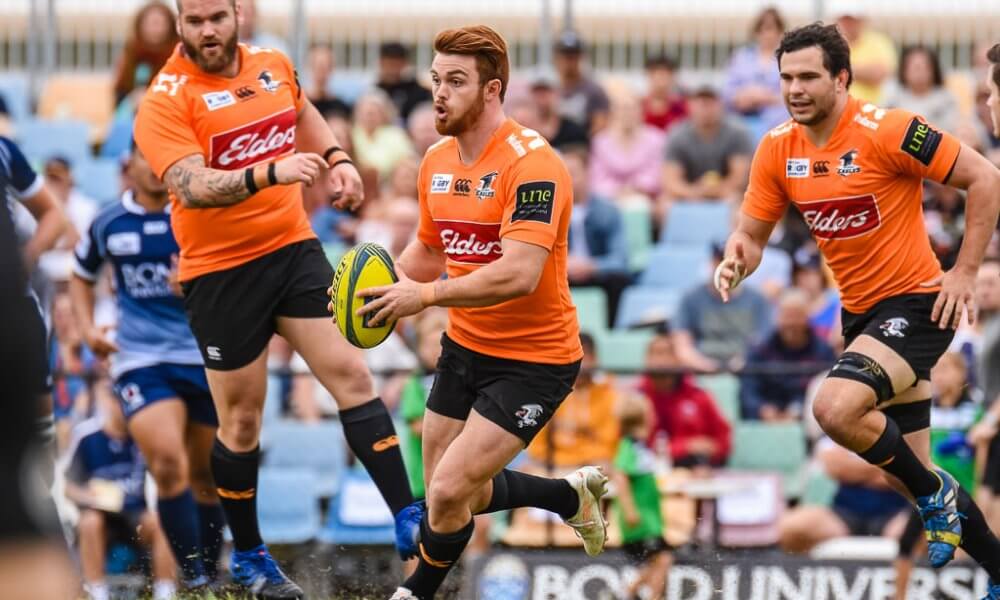 Before we get into looking ahead at Week 7 of the NRC, the fans have been jumping up and down about where the Round 6 Team of the Week article was. Well time just got away from me, so in the interests of completion, here's the team I picked for the last round of the NRC.
15 Andrew Kellaway (NSW Country Eagles)
11 Apete Daveta (Fiji Drua) – 14 Henry Hutchison (Melbourne Rising)
12 James Dargaville (Canberra Vikings) – 13 John Stewart (Fiji Drua)
9 Nick Frisby (Brisbane City) – 10 Tayler Adams (NSW Country Eagles)
6 Rob Valetini (Canberra Vikings) –  8 Caleb Timu (QLD Country) – 7 Mosese Voka (Fiji Drua)
5 Tom Staniforth (NSW Country Eagles) – 4 Blake Enever (Canberra Vikings)
3 Sam Talakai (Brisbane City) – 2 Folau Faingaa (Canberra Vikings) – 1 Joeli Veitayaki Jnr (Fiji Drua)
Fiji dominate the team after their big win over a gutsy Rams side while the Vikings had another impressive win, this time over the bottom of the log Rising.  Both the Queensland sides had wins with mixed performances.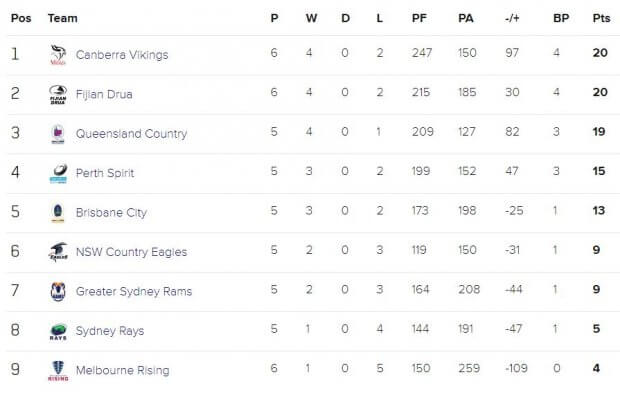 With Fiji having the bye this weekend it allows the opportunity for the other top of the table teams to make a claim for that top spot. Both the Vikings and Brisbane will be hopeful of strong wins while the Spirit should be…if it wasn't for their terrible away record this year.
---
Greater Sydney Rams v Queensland Country (Streamed via foxsports.com.au/live)
Saturday 14 October at TG Millner (Sydney). Kick-off 1:00pm (local time)
Reasons not the miss the match:
I asked the question back in the preview for Round 2, just how Queensland Country, and more pointedly their coach Brad Thorn, would react after their first round loss to the Vikings. I was curious given Thorn's much publicised 'high standards' coaching style. History will show they came out and belted Brisbane City the next round and haven't dropped a match since. There's no doubt Thorn won't be happy with the way his team fell asleep in the second half last week to allow the Eagles back in the game. What that means for the Rams this week should have them on edge.
The cavalry has returned for the Rams and brought a new recruit with it. While the Rams suffered a big loss against Fiji last week, it really was an outstanding performance by a team missing big name stars in Jed Holloway, Mack Mason, John Grant and Taqele Naiyaravoro. All four make their return to the side this week while Nick Phipps will make his Rams debut. It's perhaps the best team the Rams have put on the park this season and will means QLD Country will be up for a tough encounter come Saturday.
With Thorn's promotion to the Reds top spot for next year, it's worth keeping a close eye on this QLD Country team and consider just who we may see take the leap with him next year. My first call is that the openside, Liam Wright, will supersede George Smith as the back-up 7 while I reckon Angus Scott-Young may sneak a debut next year too. The other one is Filipo Dauguna on the wing who has been exceptional for Country and could, ironically, battle with team mates Izaia Perese, Chris Feauai-Sautia and Eto Nabuli, for the wing spots for Queensland.
Form:
Rams: W – W – L  – L – B – L
QLD Country:  L – W – B – W – W  – W
Greater Sydney Rams:
1 Jed Gillespie, 2 Hugh Roach, 3 Rob Lagudi, 4 Albert Tuisue, 5 Adrian Hall, 6 Kotoni Ale, 7 Kelly Meafu, 8 Jed Holloway [c], 9 Nick Phipps, 10 Mack Mason, 11 Taqele Naiyaravoro, 12 Kevin Fuavao, 13 Denis Piligateau, 14 John Grant, 15 Cameron Bailey
16 Andrew Tuala, 17 Ed Craig, 18 Conor Young, 19 Sam Thomson, 20 Fergus Lee-Warner, 21 Matt Gonzalez, 22 Ben Cotton, 23 Stuart Dunbar
Queensland Country:
1 Sef Fa'agase, 2 Alex Casey, 3, Taniela Tupou 4 Harry Hockings, 5 Angus Blyth , 6 Angus Scott-Young, 7 Liam Wright, 8 Caleb Timu, 9 James Tuttle, 10 Hamish Stewart, 11 Izaia Perese, 12 Duncan Paia'aua [c], 13 Chris Feaui-Sautia, 14 Filipo Daugunu, 15 Teti Tela
16, Richie Asiata 17 James Slipper, 18 Fred Burke, 19, Phil Potgieter 20 Ted Postal, 21 Tate McDermott, 22 Patrick James , 23 Jock Campbell
Tip: This is going to be a cracker of a match and a tough one for both sides. I maintain that QLD Country are the real deal, though, and should take this out. Country by 8.
---
NSW Country Eagles v Perth Spirit (Live on Fox Sports)
Saturday 14 October at Scully Park (Tamworth). Kick-off 2:00pm (local time)
Reasons not the miss the match:
The traditional Grand Final re-match has taken us until Round 7 to eventuate. While it's taken a while, kudos to the organisers for doing the decision to take the match back to Scully Park in Tamworth. It was of course in Tamworth that the Perth Spirit perhaps upset the NSW Country Eagles, by winning two away finals in a row, to claim their first ever NRC title. The Eagles will still be hurting from the loss and will be out for revenge to keep their 'home' season record at 100% this year.
Can this Perth team win on the road? They are yet to do so in 2017, suffering a big loss to the Drua in Fiji and a tight loss to the Vikings in Canberra. Of course on both occasions the result were also influenced by the unavailability of some key players, but that doesn't really cut it as an excuse. With the Eagles undefeated at their regional home games this year, in Armidale and Goulburn, it won't be an easy won for the Spirit regardless of the team they've picked, although Bill Meakes' return is perhaps the most critical.
There was a rare site for NSW Country last weekend when the Eagles came home strong against QLD Country. Andrew Kellaway scored a try. Two in fact. Now Kellaway has traditionally been a try scoring guru, but things have been a little dry for him of late in the NRC. Up until this weekend he hadn't crossed the line for the Eagles since 17 October, 2015. That's a dry spell the Eagles' country fans would be well familiar with and equally frustrated at. For Kellaway, at least, you get a sense that the flood gates have broken and the tries may well flow from here.
Form:
NSW Country: L – B- L – W – W – L
Perth Spirit – W – L – W – L – W – B –
NSW Country Eagles:
1. Paddy Ryan [c], 2. Brandon Paenga-Amosa, 3. Tom Robertson, 4. Tom Staniforth, 5. Ryan McCauley, 6. Rohan O'Regan, 7. Maclean Jones, 8. Sam Ward, 9. Jake Gordon, 10. Tayler Adams, 11. Alex Gibbon, 12. Kyle Godwin, 13. Alex Newsome, 14. Seb Wileman, 15. Andrew Kellaway
16. Connal McInerney, 17. Matt Gibbon, 18. Sam Needs, 19. Tim Buchanan, 20. Pat McCutcheon, 21. Nick Kellaway, 22. Tom Hill, 23. Henry Clunies-Ross
Perth Spirit:
1. Pek Cowan, 2. Anaru Rangi, 3. Jermaine Ainsley, 4. Matt Philip, 5. Onehunga Havili, 6. Tevin Ferris, 7. Kane Koteka, 8. Isi Naisarani, 9. Michael Ruru [c], 10. Ian Prior, 11. James Verity-Amm, 12. Billy Meakes, 13. Curtis Rona, 14. Chance Peni, 15. Marcel Brache
16. Sama Malolo, 17. Tetera Faulkner, 18. Shambeckler Vui, 19. Matt O'Brien, 20. Ben McCalman, 21. Nick Jooste, 22. Brendan Owen, 23. Clay Uyen
Tip: The Spirit have their guns on tour so they should do this pretty easily. Perth by 12.                                         
---
Canberra Vikings v Sydney Rays (Streamed via foxsports.com.au/live)
Sunday 15 October at Viking Park (Canberra). Kick-off 2:30pm (local time)
Reasons not the miss the match:
Are the Vikings the real deal? They currently sit atop the NRC ladder and, thanks to the Drua being on a bye, should extend that lead with a win over the Rays this weekend. They have to be favorites to finish as minor premiers when you consider their run home. Despite having the bye themselves (in Round 8) they have two of the lowest ranked teams in the Rays and Rams to finish their season. The minor premiership is theirs for the taking which is more important than ever as it removes an away final in Fiji from the equation.
There's plenty to get excited for in that Viking team with the return of Sam Carter, Joe Powell and Henry Speight providing some international quality class to this already outstanding side. But the player I'll have my eye on is the rookie in 13. Len Ikitau has already put in a handful of quality cameos from the bench this season, but this will his first start. The schoolboy standout from Brisbane Boys College has moved to Canberra for more opportunities. He has already shown fearless work in defense while his footwork can be magical. Early days, but one to watch.
I'm the first to admit (after some provoking and questioning) that I am not expert and the ins and outs of Sydney club rugby. It's one of the reasons I enjoy the NRC so much so as to see some of previously unknown rugby talent out there. I remember in 2014, during that first NRC season, the Rays had an exciting little fullback that I knew nothing about – David Feltscheer. I don't know where he is now but he was a delight to watch. Move forward to this year and there's another smallish fullback who is an excitement machine – Josh Turner.  Turner has been using his electric pace to keep the opposition guessing as he's crossed for three tries and proven a consistent threat from the backfield.
Form:
Vikings: W – W- L – L – W – W
Rays:  B – L -W – L – L  – L
Canberra Vikings:
1. Faalelei Sione 2. Folau Faingaa 3. Les Leuluailii-Makin 4. Rory Arnold 5. Sam Carter 6. Blake Enever 7. Tom Cusack [c] 8. Rob Valetini 9. Joe Powell 10. Wharenui Hawera 11. Andrew Muirhead 12. James Dargaville 13. Len Ikitau 14. Henry Speight 15. Tom Banks
16. Robbie Abel 17. Harry Lloyd 18. Max Bode 19. Dean Oakman-Hunt 20. Angus Allen 21. Ryan Lonergan 22. Mac Hansen 23. Lausii Taliauli
Sydney Rays:                                              
1. David Lolohea, 2. Damien Fitzpatrick, 3. Wayne Borsak, 4. Dave McDuling / Connor Vest, 5. Angus Ryan, 6. Conor Vest / Alex Perez, 7. Gary Bautz, 8. James Brown, 9. Harry Nucifora, 10. Rohan Saifoloi, 11. Augustin Slowik 12. Harry Burey, 13. Irae Simone, 14. Rob Buaserau, 15. Josh Turner
16. James Hilterbrand / Sam Kitchen, 17. Tristian Goodbody, 18. Alex Westgarth, 19. Conor Vest, 20. Alex Perez / James Hilterbrand, 21. Jack Grant, 22. Kepu Lokotui, 23. Apo Latunipulu
Tip: The Vikings have resisted the urge to rest players so the margin should be big. Canberra by 26.
---
Brisbane City v Melbourne Rising (Live on Fox Sports)
Sunday 15 October at Sci-Fleet Stadium (Brisbane). Kick-off 4:00pm (local time)
Reasons not the miss the match:
It has been a massive year for the Wests Bulldogs Rugby Union club. Not only did they make their first QLD Premier Rugby Finals series in eons but they subsequently got a bunch of players selected for the two Queensland NRC squads. More significantly they opened their new upgraded playing facilities at Sylvan Road, under the new name of Sci-Fleet Stadium. Almost instantly it's gone from one of the worst club fields in Brisbane to perhaps the best. Perhaps even one of the best in the country.
This Rising team is the basis for what I think will the team that win the Australian (and Japanese) Super Conference next year. With Dave Wessels now the Rebels Head Coach and names such as Dane and Ross Haylett-Petty, Jono Lance, Billy Meakes and Adam Coleman all expected to follow, things are looking up for Melbourne. We can't forget the likes of Reece Hodge, Sefa Naivalu and Marika Koroiebete either and the class they have shown for the Wallabies. For me, however, it is the quality of the young Rising players that most excites me. Sa'aga, Leota, Goddard, McGregor, Tupou, Tuipulotu and Maddocks are all exceptional talents and will thrive under the leadership of Wessels, Coleman, Lance and Genia. Forget their place on the competition table – this is a team on the (…sorrry…) rise!
Let's hope this is an old school NRC classic with plenty of ball movement because I want to see Ed Fiddow, Kitione Ratu and Henry Hutchison with plenty of opportunity to weave their magic. They must be three of the quickest wingers in the comp and Ratu and Fiddow have scored some blistering tries so far. Sevens star Hutchison is having just his 2nd start but looked the goods last week and will be keen to get his hands on the ball against Brisbane.
Form:
Brisbane: W – L- W – B – L – W
Rising:  L – L – L – W – L  – L
Brisbane City:
1 Markus Vanzati, 2 Andrew Ready [c], 3 Sam Talakai, 4 Lukhan Tui, 5 Kane Douglas, 6 Adam Korczyk, 7 Michael Gunn, 8 Reece Hewat, 9 Issak Fines-Leleiwasa, 10 Quade Cooper, 11 Ed Fidow, 12 Karmichael Hunt, 13 Samu Kerevi, 14 Chris Kuridrani, 15 Jayden Ngamanu
16 Ryan Freney, 17 Reuben Leilua, 18 Salesi Manu, 19 Jeremiah Lynch, 20 Tuaina Tualima, 21 Nick Frisby, 22 James Dalgleish, 23 Lachlan Maranta
Melbourne Rising:
1 Rory O'Connor, 2. Siliva Siliva, 3. Fereti Sa'aga, 4. Jason Havea, 5. Alex Toolis, 6. Rob Leota, 7. Ikapote Tapai, 8. Lopeti Timani, 9. Nic Stirzaker, 10. Jack McGregor, 11. Henry Hutchison, 12. Lloyd Johansson, 13. Sione Tuipulotu, 14. Kitione Ratu, 15. Jack Maddocks
16. Jordan Uelese, 17. Tom Moloney, 18. Pone Fa'amausili, 19. Sione Taufa, 20. Mahe Vailanu, 21. Harrison Goddard, 22. Hunter Paisami, 23. Angelo Leaupepe
Tip: I'm a big fan of this Melbourne team but Brisbane should take this at home. Brisbane by 10.