Together, our All Blacks at the Breakdown, UntouchABles and Dwyer's View posts have whipped up a bit of a storm; they've been mentioned on TV, Podcasts and and even put to Sir Richie McCaw in his "idiotic" press conference before last week's test. From this we expected the usual influx of moronic kiwi commenters, but we hadn't expected those morons to be placed just as well within New Zealand's main stream media.
Take Paul Lewis, Sport Editor of the New Zealand Herald on Sunday. In his article Whinging is not a pretty sight, he really establishes his editorial credentials, labeling getting the AB penalty tally wrong at 43 vs 45 as lazy journalism. But he then goes on to write this
I looked at the video blog (from G&GR) Dwyer recommended – eight minutes of 'crimes' by the All Blacks, delivered in a monotone by some bloke called 'Scarf' (at least Bills attaches his name to things) who has a great voice for the print industry.

The joke was that, in the coverage of the All Blacks' nefarious practices, the slo-mo video also revealed offences by Boks and Wallabies.
That's interesting, because in the video there are no Wallabies; it was all footage from the RSA/NZ tests to that point in time. Nice cheap shot at Scarf as well, and a bit rich coming from a guy with a face for radio (or wireless for you Paul). Looks like Lewis put the 'sloppy' into journalism.
But the half shred of argument that Paul did try and put together from under his lap blanket was taken up even more fervently by Bevan Sanson (or is that Sanson Bevan?) in an article on skysport.co.nz. I say fervently because it reads like one long All Black supporter's wet dream;
"All Blacks currently rules the waves, whereas the Wallabies and Springboks are mere cabin boys."
Spare us the homoerotic fantasies please Bevan!
In between strokes, Bevan/Sanson sums up both his and Paul the silver surfer's main argument;
"The All Blacks have come to terms with the new law interpretations better then their opposition. They are also fitter and technically superior. They are also smarter, enabling them to "bend" the rules to their advantage.

Bob Dwyer would have you believe this is cheating, and in the technical sense he is right. But this is sport we are talking about and bending the rules to ones advantage is part of the game."
So, ABs fitter and better at the moment: agree
The ABs bend the rules and cheat: if you say so
The ABs do that better than anyone else which is why they get away with it: wrong.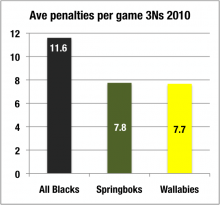 As the graph to the right shows, to date in the 2010 Tri-Nations, the All Blacks have been penalised around 50% more than both other teams. So much for the "we're so amazing we don't get penalised". This, together with the AB immunity from yellow cards is what's made the card to penalty ratio so rediculous (now at 58 per yellow, vs 8). [All stats from here]
And, what no-one's mentioned is that there is a calculated reason why the All Blacks are giving away so many more penalties. In last years' Tri-Nations the average total number of tries per match was around 3. In this Tri-Nations it's currently around 6. The reason for this increase is obvious – the change in the ruck interpretations that have encouraged running rugby. The strategy from the All Blacks has been clear:
We'll commit as many penalties as we need to stop you scoring tries, because penalties can't beat tries in this attack oriented game.
So, putting aside any sporting arguments, let's take the point of view that this 'bending of the rules' is just a game within a game. Fair enough. So why then do you bitch like a stuck pig when you're called on it? The ABs can do their bit to keep 'bending the rules' and we can point out where it's happening – that's our part in the game.
Instead, en masse you Kiwi denialists reject simple measures, like number penalties or yellow cards can mean anything, demanding that it must all be statistical voodoo. Or that we aren't watching what we thought we were watching; like the black jumpers in the back of the rucks, Woodcock's hit on Faingaa, the second final warnings, the forgotten spear tackler numbers or Drew Mitchell's "dangerous tackle".
As you wrote Paul, it's not a pretty sight.