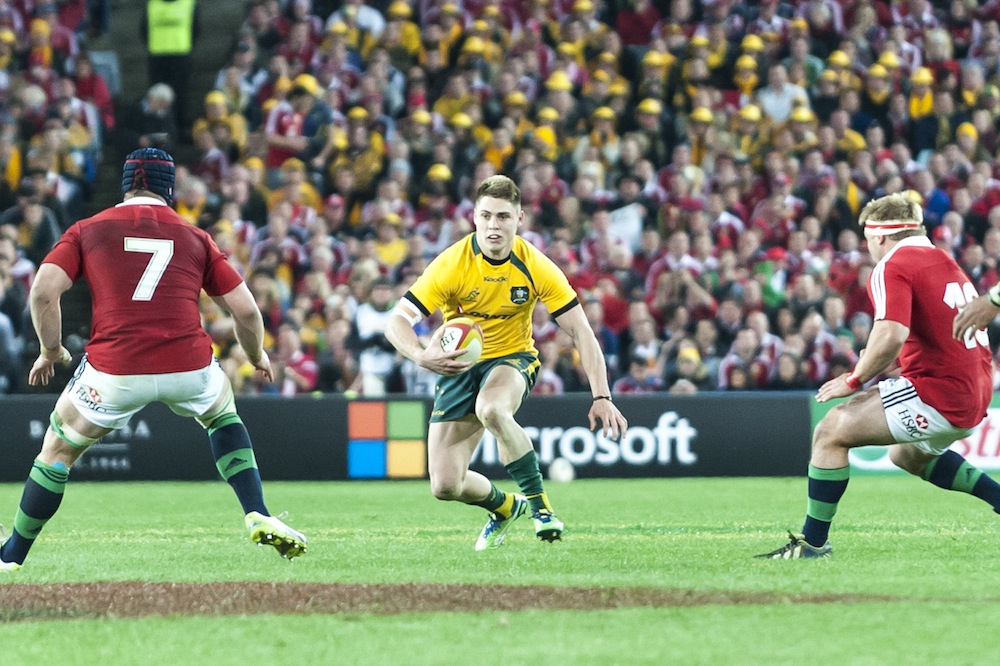 It's official. James O'Connor has been given an early release from his 2013 ARU contract, and will not be offered a contract in 2014. In light of recent events involving O'Connor, does this seem like such a surprise? Probably not, however the spotlight now turns to the options O'Connor now has available to him.
With the removal of his ARU contract, a strong argument could be made for O'Connor to pursue his rugby elsewhere. He does have a number of options, though, including:
Staying on in Australia, and signing a contract with the Western Force;
Skipping the country to play rugby in France, Japan, England;
Stay in Australia and try his hand in another code – most likely rugby league.
Each option available comes with benefits and drawbacks. Exactly what conditions are shackled to each option is something I will be exploring in this article. Let's breakdown each option, starting with the Force.
1. Staying in Australia and playing for the Western Force
Ever since the Rebels neglected to offer O'Connor a Super Rugby contract for 2014, there has been speculation about what O'Connor might do. In the months after being released by the Rebels, The Brumbies, Reds and Waratahs have all come out and said they have no place for O'Connor. The only side actually negotiating with O'Connor is the Force. In a reversal of his 2011 contract negotiations, the Force have understandably placed a number of conditions on any contract.
As a result of a number of off-field indiscretions, culminating in the loss of his ARU contract and the Rebels opting not to renew his Super Rugby contract, O'Connor's 'brand' does not have the capital it once did. Any contract he does strike with the Force would result in a sizeable pay cut. The Force have the power in this negotiation, and if O'Connor wishes to stay in Australian rugby, he will have to agree to any conditions the Force place on him.
Given his statement today, on the surface it would seem O'Connor still has strong Wallaby aspirations, something that will only be realised if he stays in Australia to play his rugby. He has also acknowledged that negotiations with the Force are still open.
Would it be a good thing?
Simply put, taking up a contract with the Force is O'Connor's best option. Yes, he will be on a reduced income, but he will be forced to work his way back into the national squad. This is something he has not had to do in the past. He will also be kept on a tight leash. The Western Force playing group have indicated they will not tolerate any indiscretions from O'Connor, and expect him to observe their standards and values.
For his development off the field, being involved in a side who are prepared to give him a proverbial clip around the ear is beneficial.  If he is immersed in a positive and strong team culture, O'Connor should be able to gain back some respect and learn how to properly integrate into a team. He will have to work his way up again, something which could make him a better person and player.
2. Skipping the country to play somewhere in the Northern Hemisphere.
On the surface this option might be lucrative, if you delve a little deeper I suspect that O'Connor would not be able to amplify his earnings by playing in the Northern Hemisphere. And that's if he manages to pick up a contract.
When O'Connor's overseas options are mentioned, two countries are named; France and Japan. The problem is, both the Japanese and French Top 14 seasons have started. This means that squads participating in the Japanese and French competitions are pretty much settled, leaving few options for O'Connor to snag a contract for this season. Any contract would be short term, to essentially provide cover for another player. And it wouldn't get any easier in the British Isles.
From afar, the movement of English and French clubs to break away from the Heineken Cup has served to destabilise aspects of the club structure in the Northern Hemisphere at the premiership level. Without going into detail, It would seem that many clubs across Wales, Scotland and Ireland are scrambling to confirm their rosters, which wouldn't be a good thing for O'Connor.
Put simply, O'Connor would be much further down the contract pecking order than a player actively engaged in the region. French and English teams involved in any breakaway competition would also be primarily concerned with recruiting regional players.
All of this means that if O'Connor was to offered a contract in the Northern Hemisphere, it would not be worth a great deal. Add in the change of locality costs, the culture shock and the fact that he would probably have to wait until next August to play any meaningful rugby, and the Northern Hemisphere isn't the most attractive option.
Would it be a good thing?
I really don't believe that heading north will result in the financial or playing return O'Connor would hope for. Although a move north would expose O'Connor to vastly
different styles of rugby, that's not exactly what he needs at the moment. He needs a firm hand and a strong team ethic to pull him into line, not a holiday on the Riviera, or in Japan, or elsewhere.
He would also become a little fish in a big pond. Without appropriate direction, how would he cope with that?
3. Stay in Australia and try his hand at another code.
When canvassing this option, there is really only one other code O'Connor could go to, and that's rugby league. However, O'Connor has not played league since school. And just like professional rugby, professional league is a different beast to schoolboys.
This leads me to my next point. There are a number of league clubs that will be on the lookout for talented outside backs, but how many would actually be willing to take a punt on O'Connor, especially if he comes with a high price tag? Not many I would imagine.
Given that league is quite adept at developing players, I suspect that if O'Connor were given a contract, it would not be anywhere near the value of the ones he has just lost. He would need a good season at least to adapt to the game, and this would not make him a viable short-term investment.
Apart from a few notables, rugby players seem to struggle when converting to rugby league. The most recent rugby player to go (back) to league is Sonny Bill Williams, but he also played for the Bulldogs before skipping the country to play rugby. Williams had first-hand experience with the structure and expectations of professional rugby league teams, something O'Connor doesn't.
Would it be a good thing?
In a word: No. I don't doubt that O'Connor would be able to adjust to professional rugby league, but I don't think he would be able to straight away. This means a club would have to invest considerable time and resources in 'developing' O'Connor. Because of this, I highly doubt any club would be willing to offer him a lucrative contract, especially a short-term one.
Even more concerning would be if O'Connor ended up in Sydney. We have just seen Buddy Franklin sign with the Sydney Swans. Kurtley Beale has also moved back to Sydney after facing a situation reasonably similar to O'Connor. To have these three guys in the same town again invites the same set of circumstances as it did in Melbourne. Without strong boundaries, this could mean trouble all over again. Ultimately it would not do anyone any favours on a personal or professional level.
So where to?
Realistically, the Force are the only viable option O'Connor has. They are willing to give him some space – time to get his head around the situation and make the right decision. Currently they are the only club even negotiating with O'Connor. This would mean that a potential move north or to league is pure speculation.
The Force might not give O'Connor exactly what he wants, but they will give him what he needs: stability, discipline and the opportunity to work his way back into the national side, and show everyone the calibre of player and person he is capable of becoming.
I hope he makes the right choice.
Where should James O'Connor go now?
[poll id="101″]