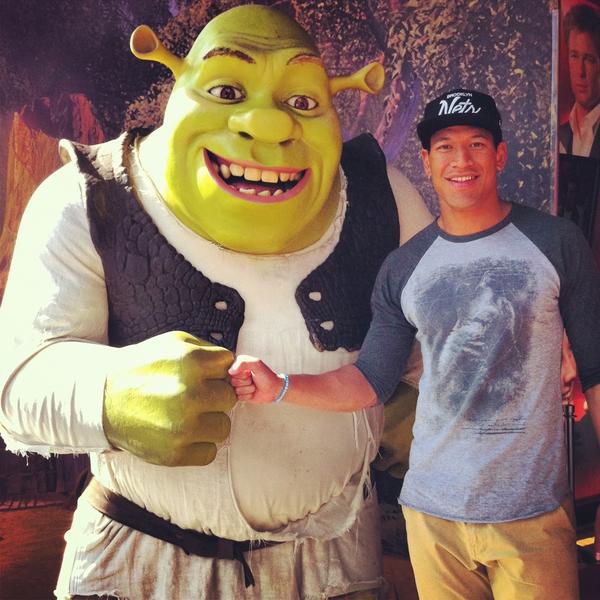 Tomorrow at 9am, the NSW Waratahs will make a major announcement, expected to be the signing of former AFL lightweight NRL superstar, Israel Folau, to a one-year contract. Journalists, puns at the ready….
The 23-year-old centre winger ruck full-forward will join his third professional code in four years. Debuting with the Melbourne Storm in 2007, he was a revelation in league circles. Scoring 21 tries, the most in a debut season, he won the 2007 Dally M Rookie of the Year and the RLIF International Newcomer of the Year, and was part of the Storm's premiership winning-the-last-game-of-the-year team. He was given his first international cap at the end of his first season, at just 18 years old. Over his four seasons in league, he represented Queensland eight times, and Australia eight times.
Then came the switch. At the end of 2010, Israel was linked to several NRL clubs, as well as the Melbourne Rebels, who sought to bring him back to Victoria. It was the AFL, of course, who won out, securing Folau for new expansion club the Greater Western Sydney Giants, in a deal believed to have been worth $6 million over four years. In switching codes, he followed former Brisbane Bronco Karmichael Hunt who had signed with the Gold Coast Suns.
Unlike Hunt, Folau had never played Aussie rules before, and faced the daunting task of learning a new game in 12 months. He played in the North East AFL in 2011 with Team GWS, and though he found a niche as a set-shot forward, kicking 25 goals in the 15-game season, the 360-degree nature of Australian football was clearly unnatural to him — for instance, he could not instinctively turn a defender to make a lead. He could run, and his tackling returned towards the end of the year, but in the rare times he found the ball, he just didn't know what to do next.
His AFL debut in the charcoal and orange came in 2012, in the Sydney Derby at ANZ Stadium. Although 60,000 turned up, a fair few in GWS colours, what they saw on that night, and throughout the season, was what most had feared: he just didn't get it. While there were some glimmers of hope, it reached the point where players from other teams were, incredibly, coaching him during games. When he walked away from the Giants at the end of 2012, this failing was all too apparent. He admitted he didn't have the knowledge of the game, nor the passion to seek it out. His AFL sojourn had been a raving success off the field (GWS coach Kevin Sheedy once boasted that 70 per cent of jumpers sold had Folau's number 4 on them) but in reality, it had been two years of talent wasted. Most recently, he reached out to Parramatta for a chance to return to rugby league, but, as soon as it appeared a deal might be done, he turned his back on them too.
Make no mistake, coming over to proper rugby will be far from a simple task. Folau will come to NSW a shadow of his former self. Given the massive weight loss he undertook to survive the AFL, he lacks some of the explosiveness that made him a household name in the NRL. His kicking and match fitness will have improved, but the Waratahs will need to be extremely careful about his conditioning. Remember, we are talking about a player who, for the past two years, has trained for and played a game he did not fully understand. This year in particular, he has been played sparingly, in positions that were not contested. (In his first year, he played against kids.)
Honestly, this is as if the Waratahs have signed any other rookie from GWS, because that's exactly what they've done. While Israel will no doubt bring off-field benefits to the franchise, if they rush his preparation and debut for the 2013 season, it could turn into a very dangerous exercise, very quickly.
Rugby union will be Israel Folau's chance at redemption. I hope he's given every opportunity to take it.
What do you think of Israel Folau's Super Rugby switch? Is he Michael Cheika's missing piece of the puzzle, or another dubious Waratah signing?