The massive injury toll aside, there were many positives to come out of the Wallabies' impressive 67–5 victory over the improving USA in Wellington on Friday night. But rather than providing some clarity for the Australian selectors, I think the game has provided some huge headaches.
The best starting XV has looked pretty settled for some weeks now, but a decline in the most recent form of some players, and some very positive signs from others returning from injury, have provided plenty of options. Some of them look decidedly better options than the status quo of the Tri Nations championship lineup.
I'll throw in a team – ignoring injuries – that I believe could give us the best chance of our maximum performance. From 1 to 15: Slipper, Moore, Alexander, Vickerman, Sharpe, Elsom, Pocock, Palu, Genia (c), Barnes, Ioane, Horne, Ashley-Cooper, O'Connor, Beale. Reserves: Kepu, Polota-Nau, Horwill, Samo, Burgess, Cooper, Mitchell.
Some explanations:
Slipper offers more at the scrum and more no-hesitation commitment at the tackle contest — in fact, more than Alexander also. Kepu is a superb athlete, but he needs to toughen up!
TPN is looking better each match and another run versus Russia will just about bring him up to top form.
Sharpe and Vickerman, in my opinion, provide a better balance between the Nos. 2  and 4 jumpers, and between the tighter right-side lock role and the ball-carrying left-sider. Sharpe also brings proven leadership qualities. I have not been impressed with Horwill; he gives much the same as Vickerman, but not as well.
Samo has been going backwards since the win over the All Blacks and I'm guessing that he would welcome a role with less match time and responsibility. My only possible change here would be Higginbotham for Samo on the bench. Higgers has many qualities that would enable him to play all three backrow spots — if only we could get him to play somewhere near the ball!
Genia as captain. I actually saw some leadership on Friday night!
Barnes for Cooper. Cooper needs to get his head right – dare I say 'again. We don't need the all-or-nothing plays, all of the time. Barnes looks our best kicker, both for goal and out-of-hand.
Horne at inside centre. He can take the ball up, and actually offer options in his carries. He understands the role, whereas, in the words of Phil Kearns, he has 'seen McCabe pass the ball once in all of his Tests'.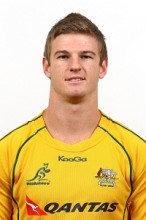 We have three world-class wingers, but can choose just two in the starting lineup. Mitchell will cover lots of spots with the versatility of AAC, O'Connor and Ioane.
Rocky will have to cover for any injury at no. 7. He is positive, aggressive and brave – that will do me for starters.
Burgess looked better versus USA. He actually followed the play and passed from the ground, sometimes under real pressure.
Cooper could provide a real difference off the bench and present an entirely different picture to the defence.
Too late for changes?  It's never too late for the right changes. It will be a brave move, for sure, but I would rather go down fighting than just surrender. Last week, I used the words 'wonder plays from the wonder boys' to describe our attacking philosophy and, at the time, said that it was not good enough. Sure, it worked for the Reds, but they had Jim Mackay to insist on the vital underpinning of quality fundamentals. This was always going to be a tenuous situation and will always require constant reinforcement. Alas, it appears that such reinforcement is not forthcoming.
On Friday night, the appearance of Barnes on the pitch signalled a huge change in the accuracy of the Wallabies' play, both ball-in-hand and kicking. We had good shape to our game and urgency in realignment. The ball went from the scrum-half to the fly-half frequently — and rarely from second-line plays. Barnes sometimes brought his supporting forwards into the play and on the move, not from stationary positions. I liked the look of all this. It asked questions constantly – something second-line plays often do not.
Palu has always had the ability to draw defence and pass or offload to supporting players and, like most big guys, he will do this better from a rolling start. He reminds me a lot of Willie Ofahengaue in this quality. Horne added so much more and even turned in the tackle to keep the play going, rather than the customary 'go to ground and have a slow ruck routine. Faingaa did his best to bomb the opportunity, but luckily got across the line. I thought that Faingaa was poor on the night.
Injuries, of course, will play their part but there is a clear need for a reassessment of our selections.
In conclusion, I want to say something about statistics. I have long doubted the value of the standard stats that most teams keep and have had numerous conversations with Eddie Jones on the subject. I think that, for starters, their necessarily quantitative nature can be misleading on the quality of our play and players.
Take Friday night's game. The following were the game summary stats from the television:
Territory:  USA – 54%;  Australia – 46%.
Possession:  USA – 53%;  Australia – 47%.
Turnovers:  USA – 13;  Australia – 12.
Errors:  USA – 6;  Australia – 12.
Who won this game?