It's fitting the Wallabies play Russia this weekend because just as the Communist model was shown to be flawed, so too has the Deans model.
You reckon I'm wrong, consider the team named by Robbie for the game against Russia: three halfbacks, three hookers and a back-rower on the wing — and that's even before you try to comprehend the value of playing our one and only fetcher (who's struggling with injury) in a game against a team that's conceding an average 47 points per game.
The whole makeup of the team fills you with the same sense of foreboding you'd get if travelling to the gulags in the back of a 1978 Lada.
And the reason for this madness? Deans has backed himself into a corner, and is simply too pigheaded to make the calls that would see the situation resolved.
It all started when the squad was named. Why three halfbacks? Why no backup for Pocock? Where were the utility players who could cover for the lesser games? Why pick so many players who were already sitting out matches due to injuries?
If mug punters like us were asking the questions, surely somewhere in the maze of management-speak that is Robbie's mind, the same question should have been asked.
Beating the Ruskies will be a snack and the feel-good selection of Radike on the wing will no doubt distract most from the glaring deficiencies within the current squad. But it won't work for some of us.
I'm yet to hear a credible reason for delaying the naming of a replacement for Cliffy Palu after he failed to beat the hamstring strain that has hampered him since the Super Rugby season.
It seems pretty simple to pick up the phone to either Hodgo or Beau; take your pick. That phone call solves the problem of having to risk Pocock this weekend.
Second, send dear Rob Horne home. Even if he is fit enough to play in a semi-final (assuming we get there), why would he be selected then if he wasn't picked for the major pool games against Italy and Ireland?
While Horne is packing his kit away, put in a call to a back who has some versatility to replace him. I'd pick Gits, but if you are totally anti-Gits, Ben Tapuai is fresh, in form and ready to go.
That immediately eliminates the need to do stuff like picking a number eight on the wing.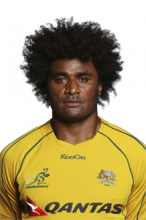 But the biggest mystery is the glaring lack of game time Nick Phipps has received. It's appalling!
Why pick the poor bloke as the squad's third halfback and then not play him? He hasn't even been named as a starter for this match. Sure enough he'll get on with 15 minutes to go, after the Wallabies have racked up a 40-point lead, but that doesn't justify picking him in the first place.
In a tournament where every spot on the squad is vital, Phipps's selection was a waste.
People may say that these things are obvious and easy in hindsight. Bullshit — we were saying this stuff on the night the squad was announced.
Yet again, Deans has shown himself to be tactically naïve and lacking the ability to plan for contingencies.
Memo to Dingo: Instead of jetboating around the Hutt River looking like some cut-price Vlad Putin, it's time to back down and swallow some of your ego. Krushchev did it, so why can't you?
Deans will escape scrutiny for this situation as the mainstream press seem more intent on pumping the ARU line and not questioning these types of things, lest they be sidelined and not given their favourite seat in the press box (or should that be Politburo).
The Wallabies will win, but just like Russian production quotas in the early 1980s, this situation just doesn't seem real.
I guess we'll have to wait at least another two years for a Great Leap Forward.