There will be a perfect shitstorm in Australian rugby circles if the Wallabies are bundled out of next week's RWC Quarter Finals.
The knives will be out for Deans and co. big-time. Luckily for him, he was re-signed by the ARU last month for a further two years. So regardless of whether it's a loss or not I guess he'll still be around.
The ARU Board said he was the best man for the job, had reshaped the personnel and changed the culture of the Wallabies. Does 'changed the culture' mean we're winning more often now?
I know it's being rather simplistic but if we're knocked out next week by our likely opponent the Springboks, how would our culture have been improved from the last RWC — when we were also eliminated at the Quarter Final stage?
Actually, there are some similarities with the Wallabies of 2007 and now. We were winning a fair few matches then as well. The 2007 Wallabies were undefeated during the inbound tours (Wales twice and Fiji), beat the Springboks and All Blacks once at home but lost both away games, and won all their pool matches at the RWC 2007.
Our strongest opponent in the RWC pool rounds then was Wales and we succeeded in defeating them 32–20 in Cardiff. There were other wins against Fiji (who were much stronger than they are now), Canada and Japan. So our 2007 RWC campaign was more successful than our 2011 offerings to date.
Of course, the England forward pack in the Quarter Final demolished our scrum and laid the platform for their 12–10 win,  although the Wallabies were very much in the game right until the end when a missed Mortlock penalty shot could have won it. We were truly the favourites to win this match but under-performed badly on the day.
The recent Ireland encounter again exposed the weeping sore of Australian rugby, our weak scrummaging (amongst other things — a lack of a specialist no. 7 for instance). Not that we were as poor as we were in 2007 in that department, but we're still a laughing stock in the eyes of the Northern Hemisphere nations.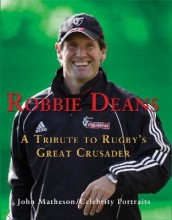 Of our seven front-rowers, only one of them (Moore) would be discussed in terms of a World XV selection. We are sorely missing Benn Robinson and improvements in the scrum again appear to be patchy. There are four forwards from that 2007 Quarter Final pack in the current squad: Moore, Elsom, Vickerman and Sharpe.
So, how confident are you that we can overcome our lack of consistency (some say 'flakiness') and intensity to knock off a confident Springboks team? It seems that Coach Crazy is actually starting to select form players in his run-on side (e.g. Lambie, Frans Steyn at 12 and Bismarck du Plessis, the actual world's best hooker) instead of reliving past glories.
They had a difficult start against a fired-up Welsh side but weathered the storm and have been untouched since. I think we'll have more of an indicator in tomorrow's Samoan match.
I've always been a supporter of the Deans appointment but just lately I've been having some doubts. This is what I wrote when posting the Wallaby RWC squad announcement last month:
The selectors haven't thrown up too many surprises in picking their RWC squad. Matt Giteau is obviously not there, as indicated yesterday by the player himself. To me, this is a disappointment because I think he offers coverage of 9, 10 and 12, and Nick Phipps, the number three scrum-half, hasn't done enough to warrant selection. Gits is a pretty handy backup, especially when you need someone with experience to settle a young backline in some of those second tier pool matches.

What strikes me is the folly of not naming a backup No 7 in the RWC squad. Who is the No. 7 backup? They've left Matt Hodgson out completely. Sure, he didn't have a great game against Samoa, but neither did anyone else and he hasn't had many other opportunities. I think this shortsightedness is something that could quite easily come back to bite us on the rump.

The selectors have taken a gamble on the six injured players whom they've resurrected: Barnes, Palu, Horne, Mitchell, TPN and Slipper. Cliffy has played a limited amount of rugby over the past couple of years so I think he, and the injury-prone Rob Horne, are the biggest rolls of the dice.
Like Scotty Bryant said in the last post, if mug punters like us were raising these concerns early in the piece why wasn't Deans able to clearly see the weaknesses in his selection policies?
I dare say we'll eventually crush the Ruskies this weekend with whatever team we put of the park but three hookers, three halfbacks and a no. 8 on the wing is an indictment on how far this train has gone off the rails. Just a few commonsense selections early on would have helped to prevent this farce.
To risk Pocock starting in a game like this (in view of the timing) is also reckless in my view.
What will the ARU do if we're tipped out next week? Call for a review and ditch a few sacrificial lambs — forwards assistants Jim Williams and Pato Noriega, maybe?
Robbie Deans has marginally increased our depth with an input of young talent over the past few years. That's a positive but again it's those same old issues and weaknesses that keep reappearing and just won't go away. I'm of the opinion that this team is a year or two away from reaching its full potential.
If it all goes pear-shaped, which is where it looks headed to me, I know where the buck should stop….