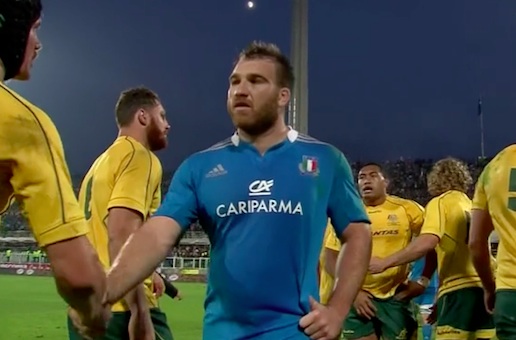 There is an old saying, 'A win's a win!', suggesting that no matter how you achieve this positive result, it's acceptable. I've never liked the saying and I don't agree with the sentiment – and I'd hazard a guess that the Wallabies camp is far from accepting of this performance.
All day long today, I've pondered just what I can say about this match and our performance. Generally, I'm full of thoughts and ideas about the game, but not so today. I kept saying over and over to myself, 'But nothing happened!' And that was about it!
Sure, we dominated the scoreboard in the first half, but I can remember only one clean break for our single try. Mind you, according to the stats at the break, we had had only 35 per cent of possession. You might say that this is a pretty good result for the first 40 minutes: 22-6 in front from just 35 per cent of the ball. Thar stat came about, however, because we kept giving the ball back to them.
I'm not sure if we kick because we can't attack, or, if we can't attack because we kick so much. Whatever the reason, we sure enough can't attack. Most reports have praised the Italian defence, but this Wallaby group are not difficult to defend against. I would describe us as 'one-out, with poor support', and this kind of attack requires only courage and commitment on the part of the tacklers – both admirable qualities, for sure, but no mention of vision or teamwork needed here.
Some years back, in 1988 to be exact, Australia played Italy in Rome – I hasten to add that the Italian national team was not nearly so experienced or accomplished at this time. The Wallabies won 55-6 and scored eight tries to nil. Their captain was the flanker, Marzio Innocenti – now an eminent surgeon and a good friend – and he approached me at the post-match reception.
'How can this have happened to us?' he asked. 'We are not the highest level side for sure, but we have great pride in our tackling.'
He was really quite distressed and maybe near to tears, as I replied, 'Tackling is vital, for sure, but it's also vital to know who to tackle. Our attack is designed to give our ball-carrier maybe three options at any time, so as to make defence as difficult as possible. Not many teams attack like that.'
Marzio and I have had many subsequent rugby discussions over the years since that first one and he understands the point very well —but this Wallabies group don't. If an opposition can tackle, we are out of attacking ideas… so, 'Better now to kick and hope for the best!' The Italians were passionate, committed and brave, but surely this is the minimum that we can expect from any opposition at this level.
Actually, with the limited number of sorties which we raised in the first half, I thought that we looked better – more accurate with the pass, not too many long passes, straighter running. 'Good', I said to myself, 'things are looking up!' Of course, there were still no second touches, loops, accurate support play plus off-loads, but I had hopes. Alas, I had spoken too soon. With the resumption of play came inaccuracies, especially with the pass, and we were on the back foot.
How a stationary passer can entirely miss an almost stationary receiver with a big, fat, soft rugby ball – and do it every week and still get selected – is beyond my comprehension. I know that it's present in this team. I see it every week, but I don't understand how it is permitted!
On the whole, Italy looked marginally a better team. Their scrum was dominant, although the inexperienced (and not exceptionally talented) referee, Lourens van der Merve, didn't help one little bit. Our lineout was creaky at times and our attack evaporated as our accuracy fell away. We badly need a few scrum-halves and fly-halves – who would have thought, just a few years back, that we would ever have had to say this? Competent coaching with an insistence on the key principles of fundamental technique would go a long way to developing a few. There will be some there, for sure.
We didn't have many who shone. Hooper was good again. Cummins was enthusiastic again. And that was about it. People might say that we 'just weren't up for it', but, if our focus is where it should be – in the words of Brad Thorn, 'on our own little individual jobs'– there is no 'up for it' or 'not up for it'. There is only 'Get out there and do your job' — and let the result look after itself.
A colleague remarked to me earlier today, 'If Jacques Brunel was Wallaby coach and Robbie Deans was Italy coach, how do you think the score would have looked?' Food for thought, indeed!