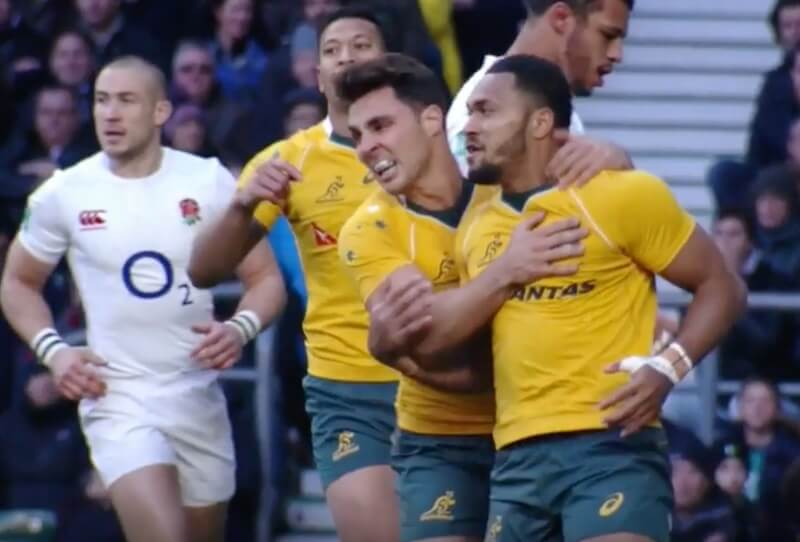 A game of two halves is a good way to describe the Wallabies' final test match of the season. Despite the final score, and the unpleasant win record for the 2016 season, there remains a number of positives that the Wallabies can build on going forward. Today's analysis is going to focus primarily on Australia's attack strategy – but we'll also take a quick look at England.
Target Ford
The Wallabies were always going to target George Ford for the exact same reason as the NSW State of Origin team targets Jonathan Thurston. In the early stages of the test match they did a cracking job and reaped the rewards.
The first try came off the back of a big charge by Reece Hodge over the top of Ford. He was not able to stop him in his tracks or slow the ball down and that created the space out wide for Sefanaia Naivalu's try.
Soon after this the Wallabies again set their sights on Ford, this time from a centre field scrum. This set play was designed to give Izzy Folau a crack at Ford and this play also generated a scoring chance. Unfortunately, on this occasion the Wallabies were denied, but the tactics were spot on.
Wallabies Shape
Australia's attack shape was again productive, generating scoring opportunities. There was also evidence of the general shape evolving with some nice innovation off Stephen Moore's pod. The following clip shows a beautiful new shape that we should have scored from. The play is a peach; the execution let us down.
The following clip is another example of the Wallabies' shape creating scoring chances. Again the big play is off Stephen Moore's pod, and this time it's the miss pass to Izzy Folau that unpicks the England defence. Jonathan Joseph (JJ) gets an arm tackle on Izzy but when he's on the move, you need more than an arm tackle to stop the big man. His intent was obvious, this run was meant to make up for last week's decision-making error.
Learning Points
Late in the match in a "Clutch" situation we had two set plays from lineouts. Both times we ran 5-Man plays that put our back rowers (Hooper and Pocock) in key ball playing positions. Had these been earlier in the game both Michael and David may have made these key passes, but late in the game they were exhausted and their touch let them down.
Rugby League coaches have a saying, "let trombones be trombones and flutes be flutes". It's a colourful way of saying let the ball players make the key passes in strike plays. Perhaps in the previous clip and the one following we could have had a ball player in the key passing role.
Certainly in this next clip Quade Cooper may have been used to make the big pass. He would have been able to read JJ's defensive line and chosen to go over the top or hit one of the close runners. Ball players have so much experience they can make these late adjustments.
England's Attack
England had the bounce of the ball today with JJ scoring both his tries from Wallabies' passing errors. Take his efforts out of the game and it's a much closer contest. That being said, England are doing some good things with the ball and it's worth having a closer look at their attack. This first clip illustrates their intent from scrum ball to go wide. From the right edge Scrum they run a "Diamond" shape in the midfield to give Mike Brown and Marland Yarde some space.
This next clip shows England's preferred attack shape when playing from the edge. In general they like to run a pod of forwards off Ben Youngs to chop into the defence line, then they like to play off a ball player to launch their second pod of forwards in midfield. England then release a shortened backline to attack down the right edge.
It's slightly different to the Wallabies phase shape but both teams are looking to do similar things. England however, will rarely run 2nd-Man plays as they prefer to play flat.
So that's it for another test match season. The Wallabies have certainly come a long way after fifteen games.
However, we still have a long way to go to consistently play at the same level as the All Blacks. I'm sure the players and coaches will enjoy a well earned break from the pressures of test match rugby. Not sure what all of us rugby tragics will do for the next few months. Super Rugby feels a long way off.