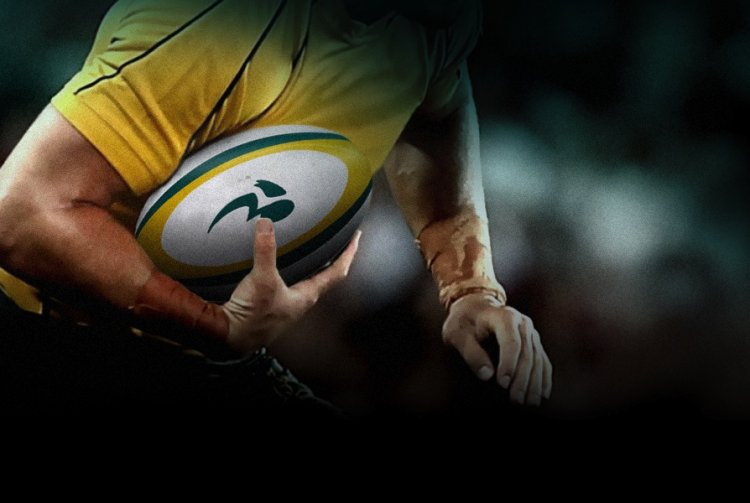 We here at Green & Gold Rugby like what we do because we write the type of stuff we'd like to read ourselves.  This site is for rugby fans and we
always aim to take a different slant on how we look at the sport we love. Whether that is through statistical analysis, historical recollections or just taking the piss. But what we like to do is try to talk rugby without the bullshit. Minus the clichés. Taking each article as it comes…oops, sorry. Well I reckon I can safely say, if you like the stuff on Green and Gold Rugby, then you will like this book.
Well, except if you hate the kiwis, but even then it is good for a laugh.
Now I should, at this juncture, explain the full title of this book is "Ali's Book of Tall Tales: Random thoughts from the 2nd row". If you hadn't picked up on it, it is by All Black lock Ali Williams, with a little help from some chap named James Griffith on the side.
First things first? What are your opinions of Ali Williams? Well if you are an Aussie, I reckon there is a good chance that you're currently thinking "who? That annoying cheap shot merchant from the Blues?".  Yep. Him.  But I reckon there's probably a few other things you think of when you see or hear the name Ali Williams.
Sebastian Chabal's massive hit breaking Ali's jaw?
The time he gave a press conference dressed as Spiderman?
The fall out with David Nucifora at the Blues?
The ridiculous faces he pulls during the haka?
Yep, all him. And the best thing? He talks of all this stories with complete frankness in this book.
But how do you describe this book? The "Random thoughts from the 2nd row" is quite apt, because it can be VERY random.  It is like he and Griffith sat down to write the book from page one and then as different thoughts came into Ali's head, they'd just put it to paper as is.  Now the book isn't made up so much of chapters per se, more a couple of pages strung together on the same subject. I guess, for the Aussie crowd, it is like a cross between those old Max Walker books ("How I strangled a Crocodile" or whatever) and the Warwick Todd diaries. In fact there were times I thought I was reading one of our very own "Ask Bakkies" columns!!
I don't know how they worked it, but Griffith does a great job here.  I was about half way through the book and had to check the front cover to see if Ali had written it by himself – so well does Griffith capture the laid back, genuineness of Williams. It's like he's having a chat to you in a pub over a few beers.    As a result it is super easy to read. I knocked it over in a weekend, and a very busy weekend at that.  It is easy enough to pick up and read a few 'chapters' (on the loo as Ali proposes) and then put down to start again later.
"Tall Tales" is a light hearted read, ideal for any rugby fan with any awarness of the All Blacks. Ali comes across as a legitimate larrikin, just looking to enjoy life. And he makes an excellent case as to why he should. But this is not to say there isn't anything of value in the book, outside a cheap laugh.
For starters, it gives an interesting insight into life as an All Black in New Zealand. I don't think many of us could really grasp this concept, and Ali does it so easily without weighing us down with the 'honour' and/or 'burden' of it all.
One of my favourite 'chapters' in the book is about the haka and what Ali get's out of it. It is really the type of explanation I have never read before.  Now I am usually first in line laughing at Ali doing a haka. The way he looks like a new born giraffe struggling to take its first step. But Ali acknowledges that he must look like a goof and the fact his opponents are laughing at him is not the ideal outcome. But he also acknowledges that he used to not fully understand the significance of the haka. But some insight from an expert brought in by the NZRU changed it all for him, and you can now see how much he puts into it, and get's out of it. Fascinating stuff.
Ali also provides some great anecdotes about Dan Carter, seemingly one of his best mates. Now Carter, to me, comes across as a little serious man. Not quite Jonny Wilkinson, but someone who is very conscious about his appearance in public. That may be, but Ali provides insight that he is actually a bit of a prankster who likes to stir it up a little which, again, is insight I haven't read anywhere else previously.
I also very much enjoyed his little snippets on his seven test tries. Short, sharp but great reading and, again, just the type of stuff we try to do here at G&GR.  His chapter on lineouts and why, or where, they go wrong is just as interesting but also damn funny. As for humorous stories? There are plenty. His first trip to Buckingham Palace to meet the Queen had me laughing out loud, without the need for any emoticons.
In short, I highly recommend having a read of this book. Perhaps there's a mate, or your brother or dad, who you are stuck for a Chrissie present for.  A secret santa at work even. Well this would be a pretty decent option.  It won't win any literary awards, and it doesn't give you the history of Ali Williams and his clan, but it is bloody funny and also gives some great little, matter of fact insights into Ali and his team mates, as individuals as opposed to those pricks in black.
If you are keen, I am not too sure whether you can get your hands on it in Australia. It is published by a crew called Hachette, but I reckon Ali's own web site may be as good a place as any to grab a copy (http://www.aliwilliams.co.nz/) .