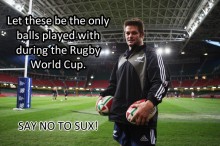 The latest harebrained scheme from over the ditch is the BackingBlack supporters group preparing to launch their 'Abstain for the All Blacks' stunt. Nutbags.
Now apparently it works like this: fans sign up to abstain from the pleasures of the flesh, and they're then given black rubber rings to wear (it's unclear at this stage if the ring goes around the neck or elsewhere) to show they're supporting the campaign. It is being fronted by Sean Fitzpatrick (how many World Cups has he won?) and the idea has been rubber-stamped by the New Zealand Rugby Union.
But before we get to far into this, I must confess that this is an issue close to my own heart. You see, I have personally been running a separate campaign all on my own over the years. After the issues of 1995, I took it upon myself to implement a strategy of 'rooting for the Wallabies'. It may have been a little selfish — if the wife is so tired from caring for a baby, she won't notice I am watching so much rugby, or volunteering for the overnight feeds, so I can be up watching games from overseas. Brownie points and rugby… how often can a man get both?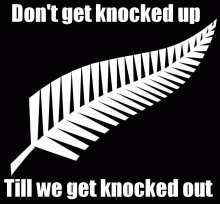 The essence of it went like this: in 1999 Mrs Timms and I welcomed our first Junior Timms. And what happened? Yep, the Wallabies brought home Bill. 2003 saw the appearance of Junior Timms the second, and my God we came close to another Cup. Thinking I was onto something, I ensured Junior Timms the Third arrived in 2007, and while that Cup campaign didn't go too well, I'm calling her it a statistical anomaly.
Anyway, for fear of needing a people mover, I can't keep producing them like this, so I have had that sorted (there is a thread in the forum about this if you are interested). But I am still on the job, and so should you be.
Look — we understand that the Kiwis don't want anything extra to choke on this year, but we can't let this ridiculous 'Abstain' campaign go unaddressed. We've started our own crusade:
I'm Rooting for the Wallabies.
We know we won't have to explain what's required of you in too much detail. So just click the 'Like' button on the side bar, or go to the Facebook page directly — and get onto it for the men in gold.
And always remember: we have two cups, they have only one.