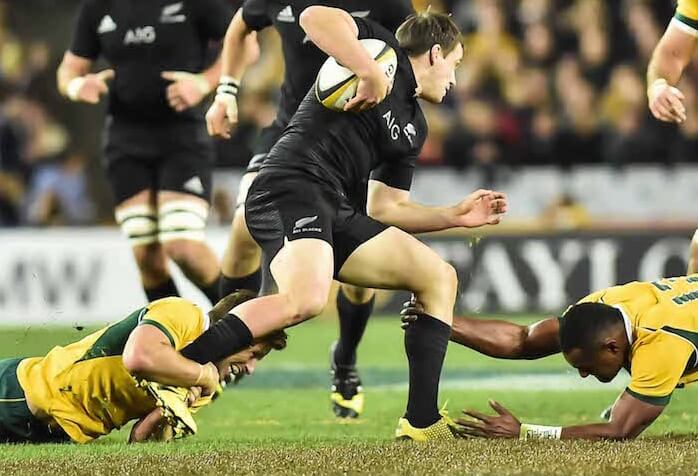 In the lead-up to last weekend's Bledisloe Cup tie, I allowed myself to daydream and think ahead to the situation where the Wallabies had won the match. I believed that in this situation we would see a vitally important marker of this Wallabies attitude that would tell us all more about its potential than anything else. Even more than the score, even more than the performance.
That all important indicator would be how the team reacted immediately after the win.
One of the great stories that repeated itself a couple of times through our recent Rugby World Cup Legends podcasts, was what the '99 Wallabies knew as soon as they saw the French celebrate their electrifying come back win over the All Blacks in the semi final at Twickenham (which yours truly was privileged to be at). The French team clearly saw that match as the pinnacle – their final. As such it would be almost impossible for them to treat the real final against the Wallabies in the same way, and the rest is history.
On Saturday I watched carefully as the final whistle blew. Instinctively some gold arms flew into the air and a few Wallabies hugged a team mate next to him. Then a few hands were shaken. And that was it.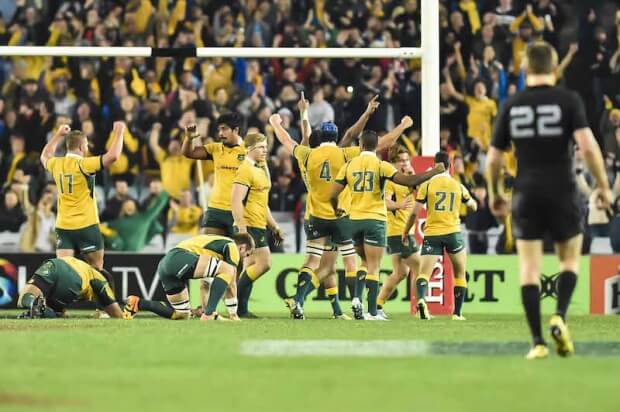 No jumping in the air, no whooping and hollering, no massive team hug like the dead rubber in Hong Kong. Just a quiet acknowledgement of a job half done. I suspect the team would have talked about this, but what's clear in all of their actions – to a man – is that they were on the same page in a moment when the truth would out.
This "tell" told us that this a Wallaby team focussed on a greater prize. Whether that's the World or Bledisloe Cup only time will tell, but picking up the latter via a win at Eden Park will go a long way to detonating the world's expectations for the former. The team's reaction after the match weren't the only indicator as to where Michael Cheika's Wallabies are at up top though.
It was far easier to see live (even in the nose bleeds) that there was a sense of desperation about the Wallabies play you rarely witness. It happened when, as an All Black backline laden with destructive and elusive runners made the half breaks they're liable to, the Wallaby tackler would simply refuse to be beaten and take a soft option for a glorious miss. Instead, they would scramble those extra three desperate steps to get close enough to pull off a diving tackle. It happened time and again in the most exposed parts of the field.
When Julian Savea had just Michael Hooper to beat for a game changing stroke of half time try, did Hooper just throw himself at the winger, most likely to get stepped? No, he slowed and adjusted for Savea's pace to ensure the solid collision. It was breathtaking and on reflection most likely determined the outcome of the match.

It happened in attack too though. One of things that stood out in Matt Giteau's game was his willingness and impact in clearing attacking breakdowns – regardless of who was over the ball. These moments and more – like every time a Wallaby defender shot out to jam in on the corner of the All Blacks attacking line – were true "none shall pass" moments. Played as if for life and death – or perhaps something more important.
There is a steely determination about this team I've not seen for many, many years. Whereas before they were just playing at wanting to win, now they are truly risking it all to make that happen, no matter what. You could see this perfectly in Steven Moore's performance as captain. Standing gasping for air with your heart rate at 175 is not the best head place to be in while the slipperiest player in the world and opposition's captain pours his lines into the ref's ear. But there was no way captain Squeak was letting that happen, as you can see in the video below.
He also gave a genuinely humble after speech and looked almost embarrassed to be holding the Rugby Championship trophy. I don't think we can overestimate the impact his leadership is having or the seriousness with which he is taking his duties.
If you think this is all a product of some off the cuff change-room rev ups, think again. Michael Cheika and his team have clearly put in place a mental preparation plan for every member of the squad, starting – as we revealed a few weeks ago – with psychological interrogations at secret locations for every member of the extended squad.
In my preview last week I said the first test would be an experiment in whether determination and grit with some obvious flaws could overcome the most polished of sides in modern sport. Turns out it can. Can it twice in a row?