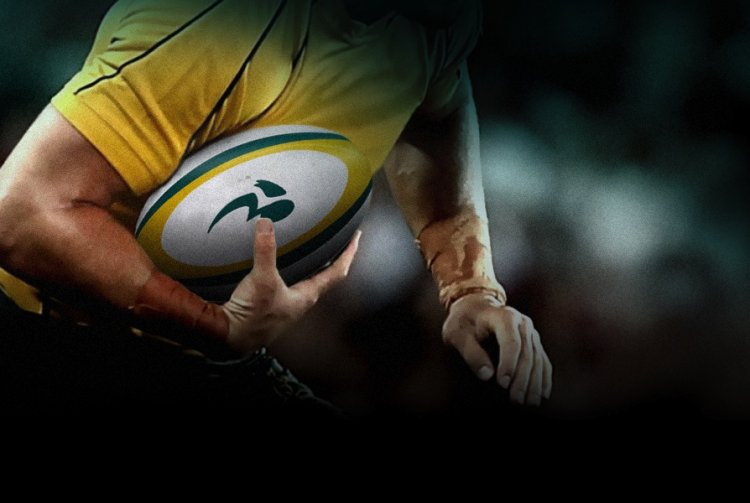 When reviewing the Wallaby team named today to take on the All Blacks this weekend at Eden Park, an interesting starting point is to look at the names NOT in the squad. The training squad is 30 players, 22 in the test team, so that leaves eight players not named. Four forwards and four backs.
The first and most notable, in my eyes, name missing is Rocky Elsom.  After an 'off season' playing for Leinster, the hype surrounding Elsom's return from Australia was Lote-like.  His performances since have been, well…. Lote-like.  He hasn't been seen on the field since playing for the famous Barbarians club against England in May. We're still nonethewise about two things. (1) when Rocky will be back, with the date seemingly changeable by the day, and (2) whether Rocky's dominant displays in Europe can be replicated below the equator.
Elsom's injury oppened the door somewhat for two players – Matt Hodgson and Peter Kimlin.  Both have worn the "Rocky's" number 6 Wallaby jersey this year, Hodgson in an uncapped game against the Barbarians, and Kimlin making his run on debut in the second Italy test. It's fair to say that neither player took their chances.  Hodgson was injured and only lasted half the match, whilst Kimlin failed to display the level of workload required by an international blindside.
Hodgson's Force team mate, Richard Brown, has the job this week having replaced incumbent 6, Dean Mumm.  Mumm's height, speed and skill set are valuable  qualities for the position, however his inability to make any real impact in his games this season sees him revert to the bench. Perhaps his added muscle will be used against the Boks? Brown, a former openside flanker, provides the Wallabies greater speed and agility, with added agression. Important elements if the Wallabies are to improve their work at the break down this game.The only other forward in the squad not picked, is rookie prop Pek Cowan.  Whilst Cowan and Ben Alexander are more typically loosehead props, the Wallaby coaches insist that both are suitable tight head prop back ups.  At the moment Alexander has the jump on Cowan, possibly due to his greater mobility and across the field impact. In all honesty though, neither are quite ready for the position, at test level, just yet and could do with a full season of Super 14 rugby with the 3 on their back.
Moving to the backs and Ryan Cross seems the one who has missed out the  most.  With the decision to go for five forwards and two backs on the bench, Cross loses out. He was a reserve in the last Wallaby test against the French, however effectively makes room for Wycliffe Palu, via Dean Mumm, here.  It leaves us with a very inexperienced bench, in James O'Connor and Will Genia.  And it leaves us with a relatively non-confrontational presence from the replacements backs. Bledisloe tests are tough encounters, and a physical, if a somewhat limited, player like Cross may have been a handy option.
Peter Hynes is feeling the effects of an injury hampered Super 14 season. As one of only four players to play 13 tests last year (along with established starts Mortlock, Giteau and Moore), Hynes won the Wallaby Rookie of the Year award.  So far he has only had the one, blood riddled, run against Italy and his impact was minimal. Meanwhile, his replacement Lachie Turner has been highly effective and has secured his spot in the team, for a few more tests yet.  Drew Mitchell on the other wing, still is one of our most dangerous backs and seems the one most likely to score a long range try. A handy quality for a test winger.
Quade Cooper will be back playing club footy for Souths in Brisbane this weekend. Most likely at fullback, which is interesting. He's played there in the few club games he's had this year, and it would be interesting to find out whether it is a purely club decision, or whether there is any imput from the Wallaby set up, or indeed the Reds.  Regardless, his non-selection basically confirms the opinion that most punters have. That while it is somewhat worthwhile to have him being coached by the best coaches in the country, we don't want him near our Tri Nations side. Just yet.
The last name on the list of 'outs' has been there all year. Timana Tahu.  Yet to feature in Wallaby colours this season, Tahu has continued to struggle with injury and his club football appearances seem somewhat eratic.  It is a shame for Timana, as much as anyone, because his form for the Waratahs towards the end of the Super 14 season, playing at outside centre, were impressive.  It is a somewhat similar situation as with Cooper. In reality its important for his game development that he gets the access to this high level coaching, but he's probably not ready for the real stuff as of yet.