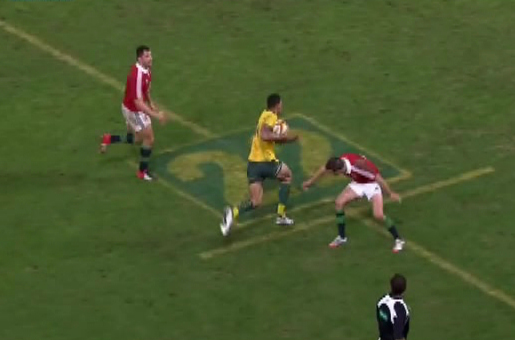 The Wallabies fought valiantly in the first test against the Lions and did a brilliant job to get as close as they did to winning the match. Despite this, they're going to have to improve again because I expect the Lions will.
Last week on one of our podcasts I nominated a large number of selection gambles I thought Robbie Deans had taken going into the first test. A couple of those gambles I spoke about included two players so there were actually eleven selection gambles in my opinion. Which of those gambles paid off?
Ben Alexander at tighthead. Fortunately the Lions scrum was de-powered from what it could have been with a third choice loosehead in Alex Corbiesiero and apart from one scrum in particular where he was on roller skates, Alexander coped quite well. I'll comment further on the set piece battle tomorrow but once the Lions and Wallabies reserve props came on the Wallabies got on top. The gamble with Alexander was neutral – neither a win or a loss;
Wycliff Palu and whether he could make an impact given doubts about his knee injury and lack of real form prior to that injury. He worked hard in the first 15 minutes with 6 of his 9 tackles in the match, 3 of his 8 runs and 1 of his 7 first in ruck involvements coming in that period. In the rest of the first half he made 1 tackle, was first into 1 ruck and made no runs! In the first 15 minutes of the second half he made 1 of his 7 tackles in the match, was first into the ruck 5 of 7 times in the match and made 3 of his 8 runs. For the remaining 25 minutes in the match he made 1 tackle, was first into 2 rucks and made 2 runs. Performing for the first 15 minutes in each half was not what the Wallabies needed so that gamble was a loss;

Michael Hooper starting over Liam Gill. Hooper had a quiet match when playing in the forwards – he was not really a factor at the breakdown. When Gill came on he was also quieter than expected. Deans has reacted by bringing George Smith into the squad at the earliest opportunity – this gamble was neither a win or a loss;

Having an out and out lock on the bench in Rob Simmons rather than someone who could cover #6 and lock such as Hugh McMeniman or Peter Kimlin. This gamble was a loss as once Gill had to go on there was no player left to replace Palu and that was something the Wallabies really needed;
Two effective rookies at #10 and #12. The gamble with James O'Connor at #10 was a loss. I haven't changed my opinion on his suitability for the flyhalf role but as I said last week he needs to play there consistently to learn about decision making and game management before being thrust into the role for the Wallabies. In the video below you'll see where he could have done better;
Two effective rookies at #10 and #12. The gamble with a first test rookie in Christian Lealiifano was a loss I suppose but no-one could have predicted what happened with his injury. It was absolutely nothing to do with being a rookie and Deans should not bear any criticism for that selection based on what happened so I'll call that one neutral;
Israel Folau's inexperience on the wing. This gamble was a big win with Folau showing his talent doesn't limit him to one position;
Digby Ioane's fitness and lack of match time. This was a loss as Ioane had no impact on the match;
Kurtley Beale's inclusion in the squad. Beale showed why he deserved a spot in the squad based on his capabilities so that was a win;
Whether Beale should start over Berrick Barnes at fullback. Deans gambled that Barnes could provide stability and be the third playmaker from fullback. Even before he went off injured Barnes proved that gamble to be a loss;
Pat McCabe's injury history and lack of playing time. The gamble was a loss although Deans would have been assured by medical staff that there was no issue with McCabe's neck prior to selecting him. It was another piece of rotten luck for McCabe and the Wallabies.
As I said last week my main concern with selections was the large number of gambles Deans had taken with his selections. I think you're always going to take four or five gambles in any team and you won't win them all. Of the eleven gambles listed above I only see two wins for Deans – Beale and Folau!
Deans then gambled further during the match by moving Hooper to #12 and Alex Cuthbert's try was a direct result of another gamble lost.
Now Deans has brought in three extra players to the squad – Ben Tapuai who Deans has recently claimed is out of form, Jesse Mogg who's never played a test and George Smith who won't have played in six weeks. How many of those selections are gambles?
By not bringing a specialist #10 into the squad Deans has signalled that he's going to gamble again this week with either O'Connor or Beale in that position. Deans has come out in support of O'Connor saying
James was a big part of working us back into the position to win that game and I don't think you should take that lightly because it doesn't happen easily against an experienced combination like the Lions. His first hit-out was pretty effective.
Warren Gatland had this to say about the Wallabies attack in the first test
We didn't feel that there was a massive attacking threat from them. The threat was one try scored from a quick tap and another scored from a turnover, so [we need to be] aware of that and keep our patience defensively.
Whilst that statement from Gatland is probably accurate, the Wallabies had plenty of opportunities and I think the lack of threats was really because they didn't take advantage of enough of them. They could have done so much better in attack as you'll see in the video below.
Tomorrow I'll give you my analysis of the set piece performance from the Wallabies.