After a hiatus that seems like it lasted an eternity, yet also no time at all, the Social Pages are back for another season! So much to cover, so little time (and space)…
Adam & Drew's Excellent Adventure
When I think of epic rugby romances, there's only one couple I think of: Swoop & The Rooster
The couple who, last season, painted each other's fingernails.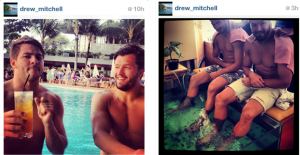 The couple that spends a romantic afternoon drinking fruity cocktails poolside.
The couple who get pedicures and massages together.
The couple who dress up as women in full cultural garb and pose for photos. Including one depicting a bit of light spanking. Together.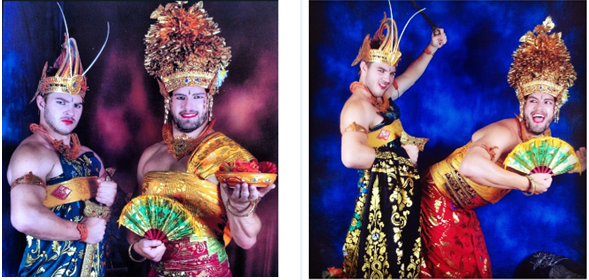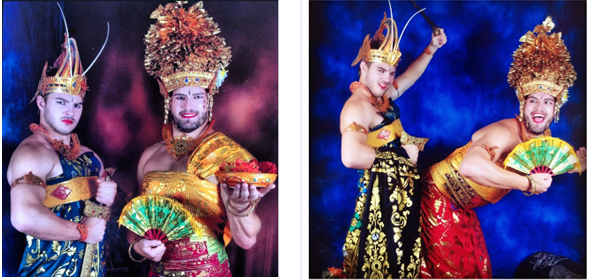 What are your thoughts on Drew and Adam's shenanigans? Tell us in the comments below. 
Waratweets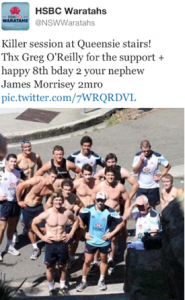 Regular readers will recall the social media savvy and twitter exhilaration offered by the Waratahs last season. Well, strap yourselves in, Social Pagers, looks like there's a new Social Media Sheriff at Moore Park!
The Tahs' started pre-season last week. How do I know? They tweeted a really cool tweet alongside Man Candy a photo of a bunch of shirtless Waratahs. To the New Waratweeter – well done, thank you, and keep up the good work!
PS – Anyone else pleasantly surprised by Berrick Barnes? 
Quade's Qualities
I, like most regular readers of the Social Pages, think of only one thing when I hear 'Quade Cooper' and 'Twitter' in the same sentence. Yes, that's right: a selfless commitment to the ongoing education of his followers.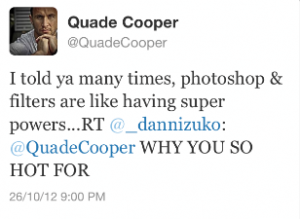 At various times last season Quade used social media to teach us about practical feminism, mathematics, and general trivia knowledge. This season he's moving towards photography and advanced airbrushing techniques.
Showing that he takes a multilevel approach to his curriculum, Quade has managed to work in some subtle allusions to the fact that some people think he's a sexy beast. Then, he's recycled a year-old shirtless photo of himself. Take your time looking through these ones – I'd hate for you to miss the nuance.
In related news, we have rebranded last season's O'Connor Self-Acceptance Project as the Cooper Extreme Esteem Scheme*.
*Hey – it takes a special person to take his shirt off at the gym after his workout and pose with people who point at his abs, then post that to Twitter and Instagram.
And while we're discussing Mr O'Connor (well, sort of), I've learnt a lot from his recent Twitter activity. Congrats James on completing your Adv. Dip. Not the easiest thing to do when you're travelling 10 or 11 months of a year.
Life in Brumbyland
I'm not gonna lie, Social Pagers: when St David of the Onside made the switch from sunny Speedo-friendly Perth to chilly fleecy-layers Canberra, I lost some sleep. What justification could the great man himself use to kit-off and strip down?
Alas, I needn't have worried. The InstaGods have answered my heartfelt prayers. It's not quite Speedos, but he's shown he's still one of the Social Pages' biggest supporters.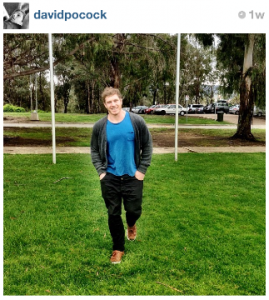 There is one upside to Canberra though – he's been able to showcase his style catwalk-ready grace off-the-field.
I love a man who can pull off a cardigan. Double entendre intended.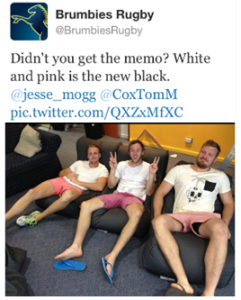 In other Brumby news, my favourite official-franchise-tweeter has to be the Brumbies tweeter. The official Brumbies account is a must-follow.
 Wallaby Watch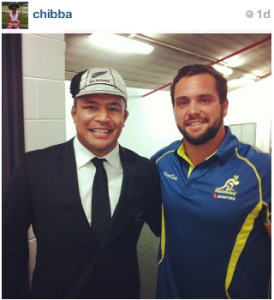 There were some great stories to come out of the Australia vs NZ at Suncorp. It was James 'Chibba' Hanson's Wallaby debut in front of his home crowd, and it was also Keven Mealamu's 100th cap.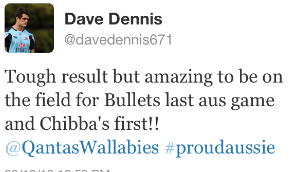 I want to give a special mention to Dave Dennis, whose tweet really affirms for me how badly they wanted to win and how disappointed they were that they didn't. Despite his clear disappointment Dave was still on the field signing autographs for an hour or more after the game ended.
Things that make you go hmmm
Style & Culture with Lachlan Mitchell
Many of you will already know of my Twitter-crush on @FakeLachlanMitc . Well, Social Pagers, my obsessive stalking and thinly veiled threats dedication and loyalty have given hope to all desperate and needy fangirls and fanboys out there. Yes, he's writing a style section for the Social Pages this year. In future weeks this advice will be straight from the metaphorical horse's mouth, but for the first week I want to show you the sort of cultural consultation he is capable of.
This week's style advice comes from his informative tweets about whether it was 'cultural' that Jeremy Paul wore brown loafers (or 'brothel creepers', as someone tweeted) with a charcoal grey suit and pink novelty socks.
Mr Mitchell's advice: wearing the ensemble was
definitely in the realms of high culture. However as a tribute to the approaching summer, no socks would have been better
I then asked if he should have rolled up his trousers, to which Mr Mitchell advised
no you can't roll up suit trousers. He should however have high waisted those puppies to properly flaunt the ankle region
So much wisdom.
Until next week, man-hugs and bum-taps all 'round.