You don't need me to tell you that the scrum was a major part of the Wallabies win on the weekend.
In the lead up to the match I talked about it, the pommy press talked about Bob Dwyer and myself talking about it, and it had a massive impact on the outcome of the match with the Wallabies winning 5 crucial penalties.
Below I'll take you blow by blow through the Wallabies winning that battle. The upshot of it is that England died by the sword they lived by. Marler's  boring in as part of a scrum tactic scrum coach Graham Rowntree is known for, was used against him by Australia through their use of real, not imagined, scrum dominance.
The result of these two pieces of scrum analysis is an uncovering of the shocking strategic risk England were taking; Scrum penalties weren't part of the England game plan against Australia, it WAS the gameplan (as ex England coach Brian Smith pointed out here). But to get those penalties England wasn't relying on the power that most associate with scrum, it was based totally on tricks and illusion. An illusion that Australia blew away, and with it England's world cup hopes.
But enough of that, let's get to it.
Scrum 1 – 1st minute
A free kick against the Wallabies for an early push on England's ball. More on this later.
Scrum 2 – 2nd minute
Everything you need to know about England's approach to the scrum in the match is borne out in the very first one.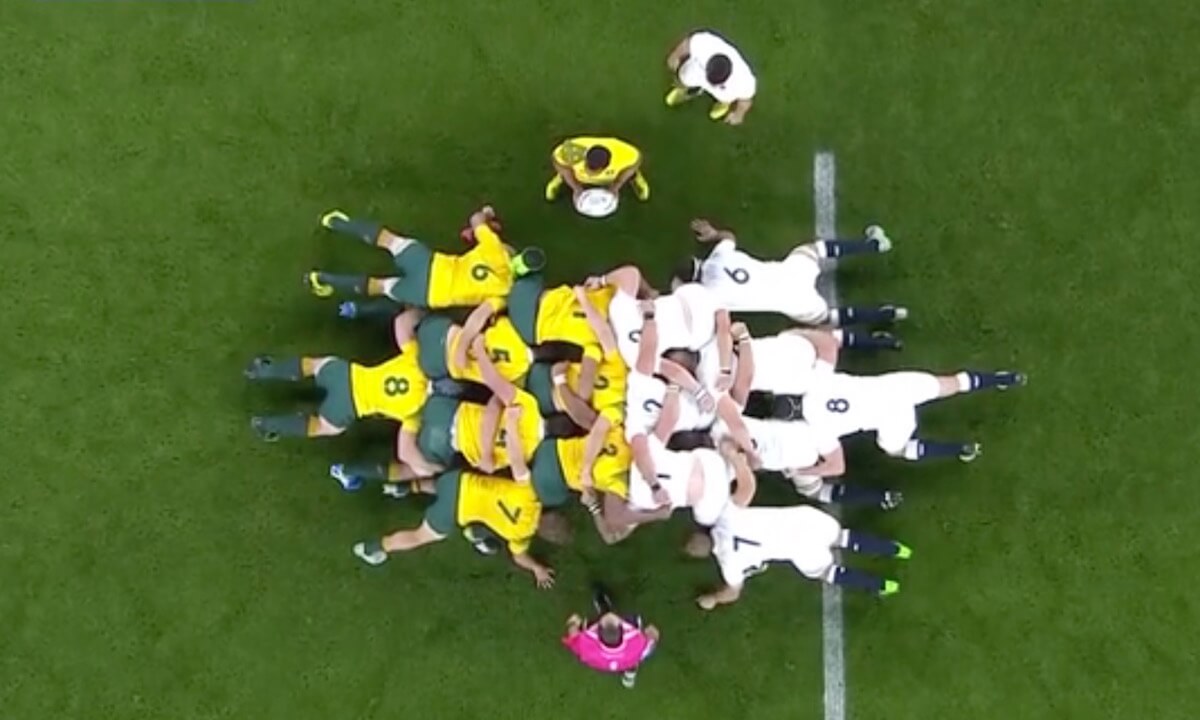 On initial setup everyone looks straight and square. Note that all flankers are fully bound to their second rows, except Chris Robshaw the England 7 whose bind is looking half baked as it barely rests on his lock.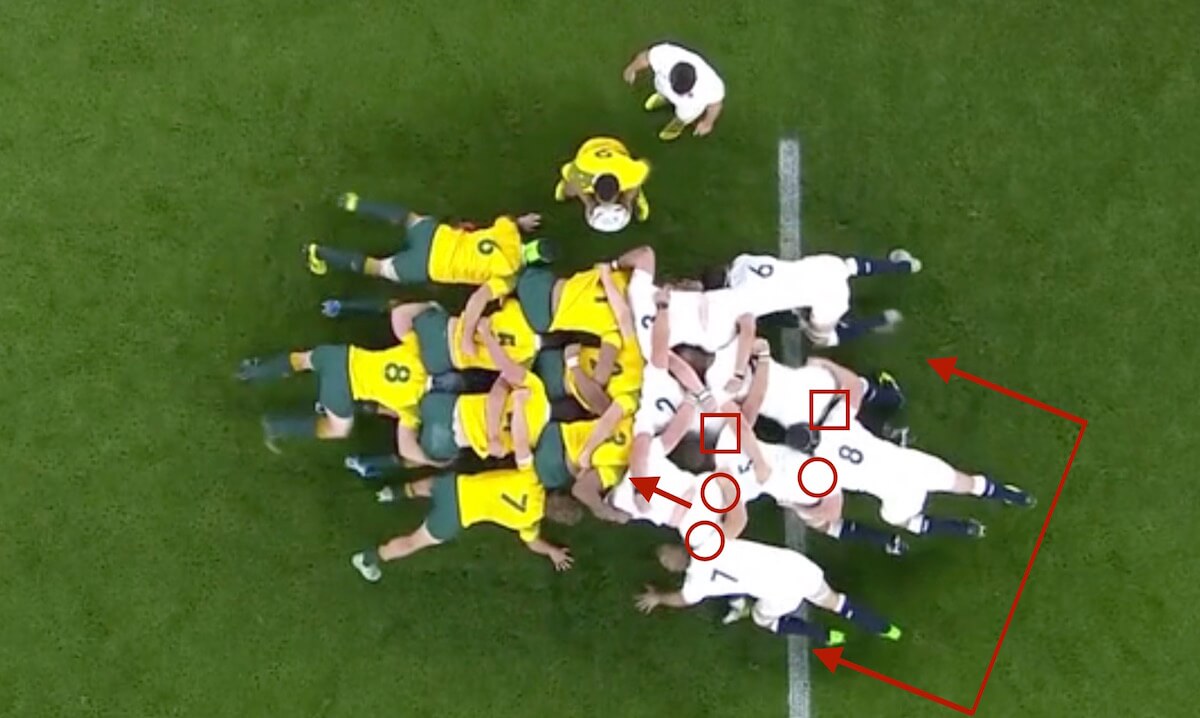 I wish I had motion to show you in this scrum, because one second later – before the ball is even fed –  Morgan the England 8 and his locks take two quick steps to the  left and re-set themselves. As you can see above they have aligned themselves so that their power will come up through Marler and into Kepu at about a 30 degree angle: the circles showing solid contact between shoulder and arse, the squares showing poor or no contact.
They have in effect made a mini scrum to bore in on Sekope Kepu through Marler. Robshaw no longer has the pretence of a bind on his second row.
Last week Brian Moore of the London Telegraph questioned me on this, saying that Marler as a loose-head was only following the tight-head in. This scrum setup shows this clearly to not be the case – it's a deliberate (and impressively worked) team effort from England to bore in through Marler.
Why do they do it? Rather than taking the force of the opposition pack head on, England looks to
a) destabilise the opposition by neutralising their scrum anchor – the tight head prop – and direct him and his hooker into the centre of the scrum. They then
b) work with this momentum by walking the scrum around into the oppositions tight head, as you can see above. Like last week, look at the direction of the english feet versus their opposite numbers'.
The overall effect is a bit like turning a super-tanker around by pushing it from one angle and pulling it from the other – rather than hitting it from front on. Let's call it the 'bore and wheel'.
In the end the Wallabies manage to stay square enough to get the ball out of this scrum, but England's intent is clear.
[Post-script: Neil Treacy at Irish site 42IE has also done an analysis of this scrum where he notes Kepu pulling Marler in to accentuate the above]
Scrum 3 – 5th minute
The Wallabies clear the ball, but the scrum seems to be going sideways (with no overhead shot). There's a clear tussle going on which will slowly reveal itself more as the game goes on.
Scrum 4 – 11th minute
It's an England put-in, but the scrum quickly drops after Youngs feeds it. The assistant referee calls that Sio has collapsed and Poite penalises Australia – England take 3 points.

Looking closer, on engage the scrum looks stable. Both Cole and Sio are in good position, if anything Sio is angled slightly up.

As the ball is fed the Wallaby power comes on and they start move forward. Cole feels this and the Leicester man is true to their front row saying
"We go up, we go down but we don't go back"
as he reefs Sio's arm down to the floor (circled).


Cole drops the scrum and has been folded like an accordion while doing so, but England get the penalty. What we've seen though the first clear sign of Wallaby go forward which will lay the platform for what's to come.
Scrum 5 – 17th minute
Brown fumbles a Foley kick and it's a Wallaby feed inside the England 22.


Note the powerful and low position Kepu is in. The rest of the Wallaby tight five's backs are ironing board flat. Marler is struggling to get under Kepu  – note his back angling down slightly and the fact he's forced to bind onto Kepu's shorts. His legs are well over-extended.

Post feed the power comes quickly through the Wallabies and they start moving forward and left at a rate of knots. Wood, the England blind-side flanker, fears a quick pick up from Pocock so close the line and abandons Marler.

In big trouble, the rest of the England back five walk around towards Marler regardless and Kepu is popped out of the Aussie scrum under the pressure.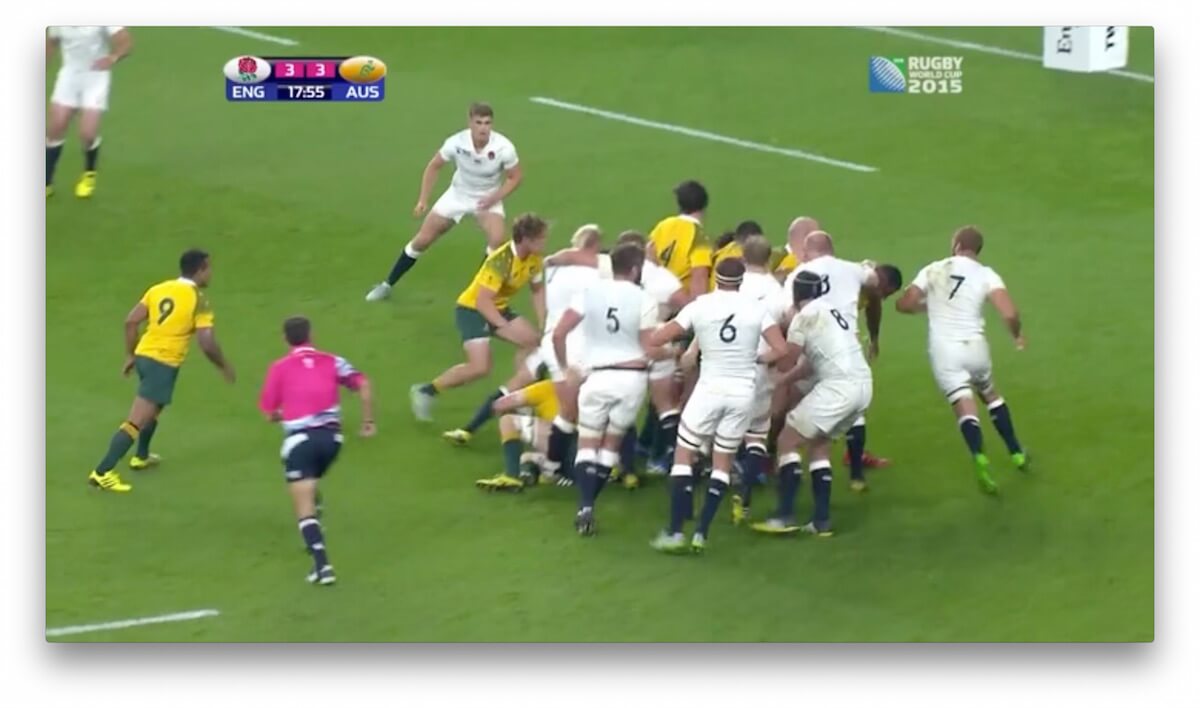 This has left England's scrum open on the left while the Wallaby pack has managed to keep almost together and continue to move forward. Pocock picks up and play moves on, eventually Foley scores his first try some phases later.
In this scrum Poite has managed to avoid making a decision, but it's clear that the Wallaby scrum has moved forward (and left) a good five metres.
Scrum 6 – 25th minute
In this scrum the tactic the Wallabies are employing to counterract the English 'bore and wheel' achieves its goal.
Note the lines of power through the Wallabies as set up. Their goal is to get go forward and drive onto the England hooker and tight head, creating a 3 on 2 in the front row. This will make it difficult for Marler at the bottom of the scrum to get the same level of purchase in on Kepu as he'll travelling backwards and away. If the Wallabies get the shove on, it'll also make it very difficult for England to get walk around onto the Wallabies tight head (top of picture).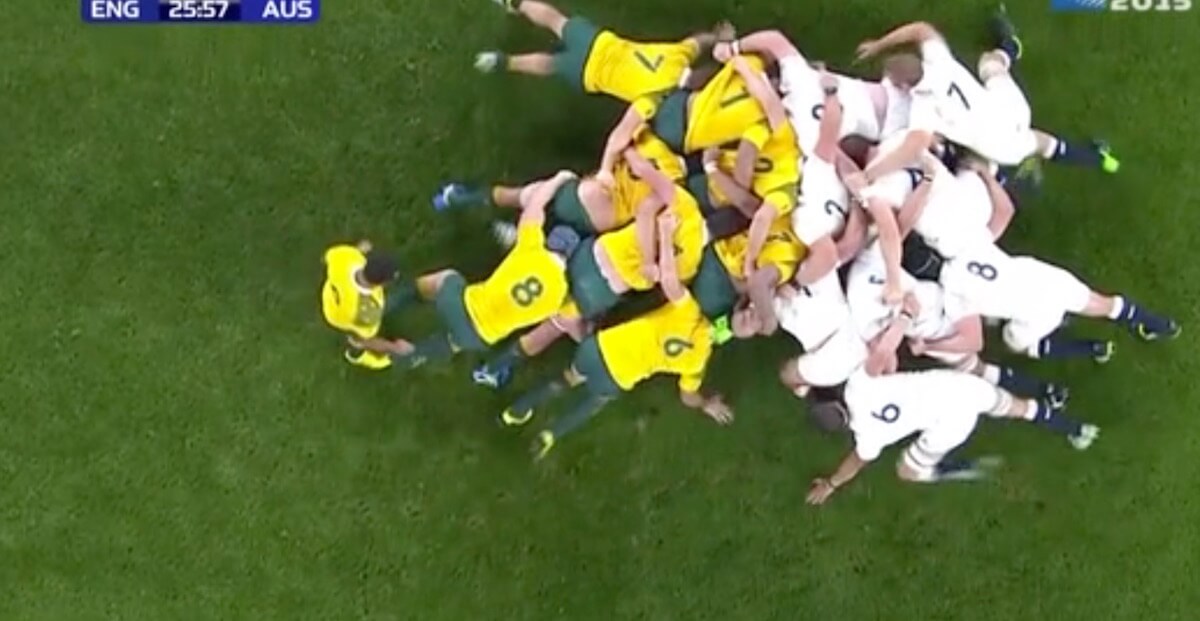 This is exactly what happens. The Wallabies go forward and across about three metres. Marler has been forced in, but note here that unlike other scrums in which he has been boring in, there is little or no power coming through his flanker and second row – there are no straight lines through him. Kepu is handling his angle well and going forward onto Youngs.
Poite sees the gold going forward and Marler coming in – penalty to Australia.
Scrum 7 – 28th minute
It's not all Australia's way just yet. In the next scrum only two minutes later, Youngs refuses to feed the ball as the Wallabies edge forward. Building on the previous free kick Poite awards England a penalty. As we've seen above, winning the engagement and moving forward is vital to the Wallabies counter-tactic on England. Can they get their timing right?
Scrum 8 – 32nd minute
This is the scrum that seals the deal for Poite on Marler.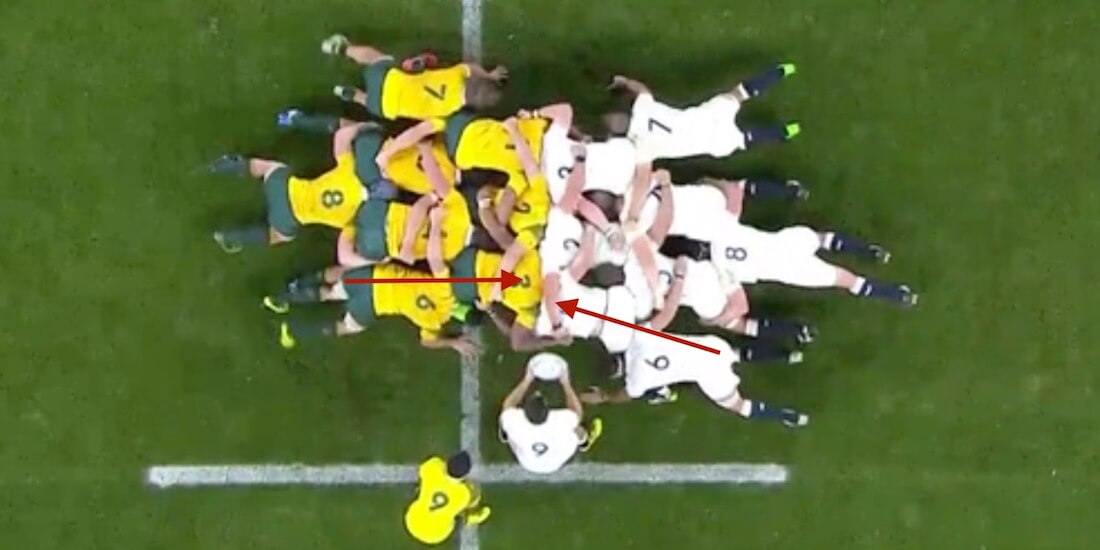 On set up Marler is already at an angle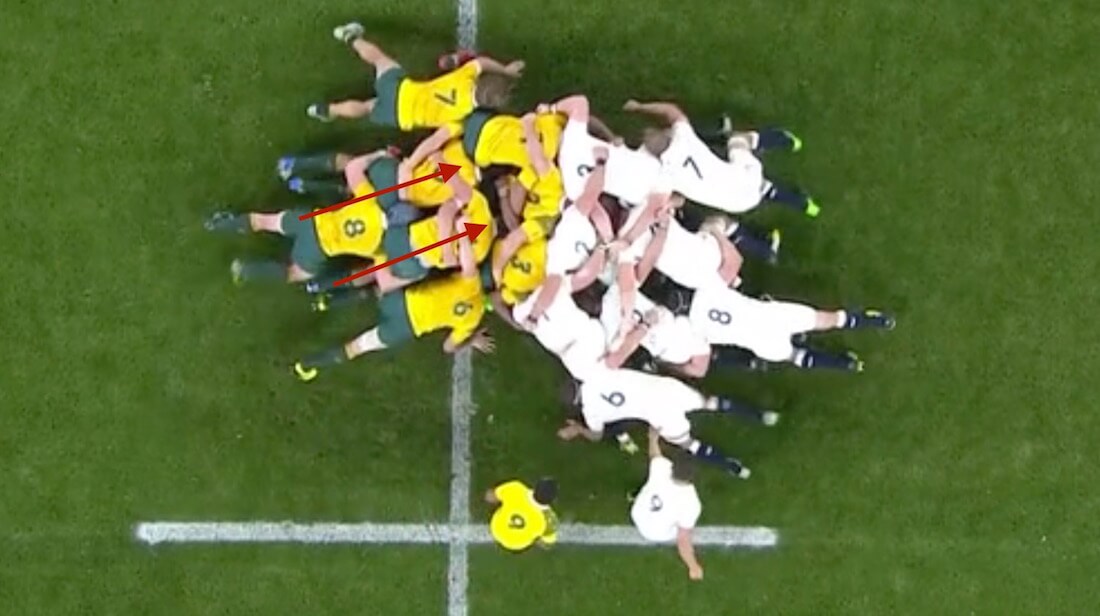 In the drive, the Wallaby front row fights to stay square – Kepu contorts his body to do so, but the back five again drives up and to their left. This accentuates Marler's angle and as the power comes on he spins in and the scrum collapses.
Polite does his famous windmill penalty reversal…
…and that's it – his mind is made up.
The Wallabies go down town and score their second try from the ensuing lineout.
Scrum 9 – 43rd minute
Before you develop an inkling of sympathy for Marler, view the next scrum.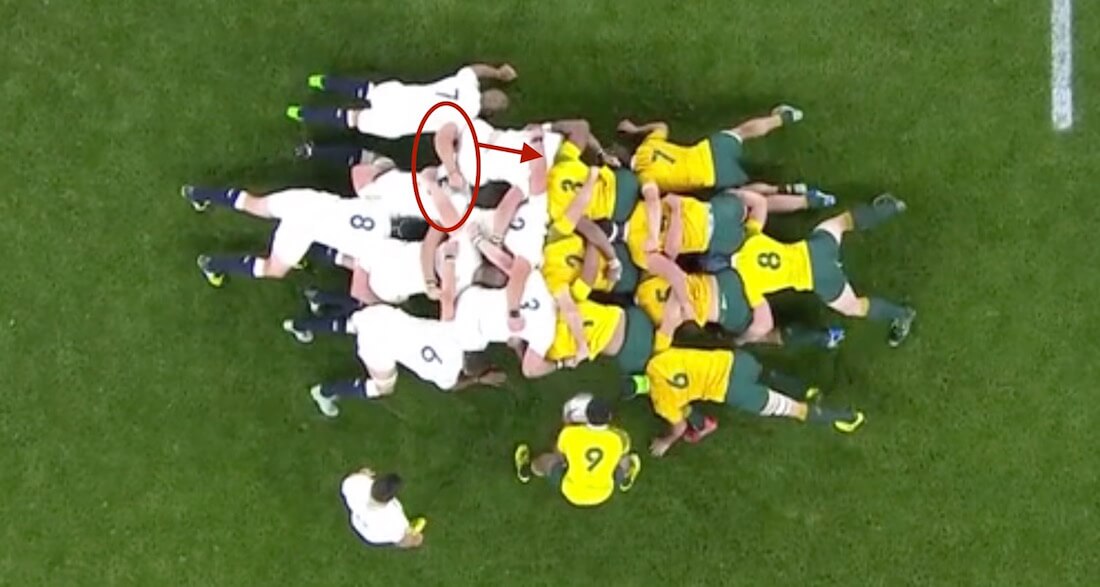 Fresh back from a half time talk with scrum coach Rowntree, Marler sets up as above. He's already angling in on Kepu. Note Robshaw's lack of bind in his second row to enable him to lever around behind Marler.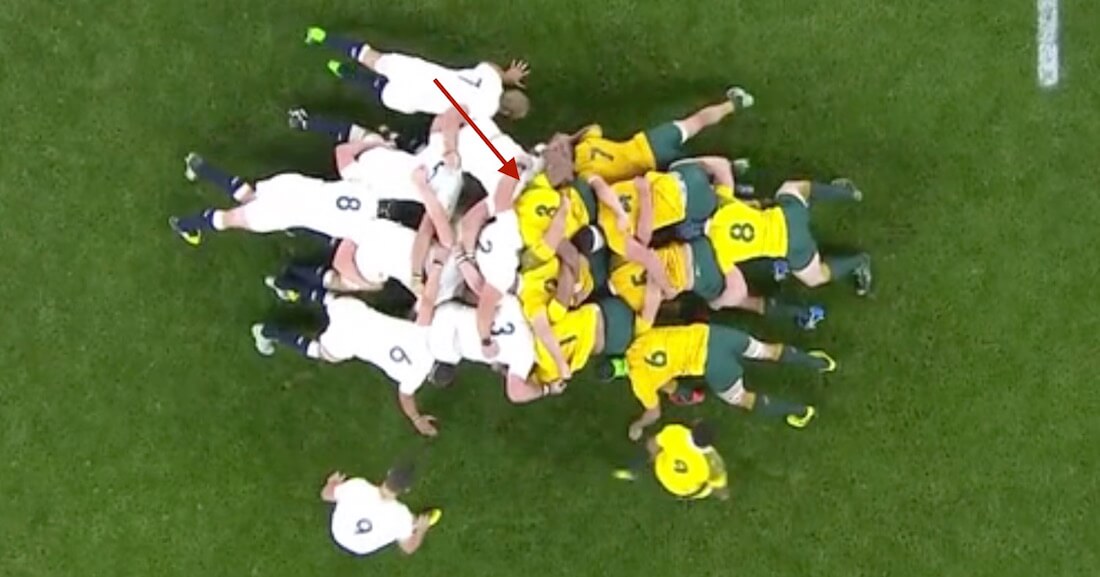 On the feed the angle increases even though in this scrum the Wallabies look to be trying to stay square. The scrum is pushed sideways, spins, ends messily and Genia executes one of his bombed box kicks.
Scrum 10 – 46th minute. Game over
The Wallabies are just outside of the England 22 and earn a free kick at their line-out. They opt for the scrum.
There's no overhead of this scrum, but it looks to be a carbon copy of scrum 6 as England look to set up for a 'bore and wheel'.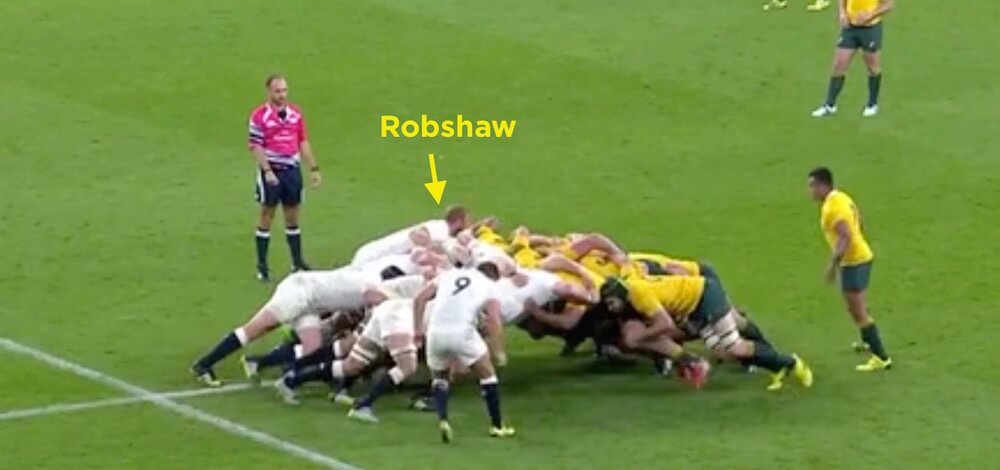 Looking a the England 8's and second row's angling of their feet above, they are looking to put weight as an angle onto Kepu through Marler. Robshaw has popped up in defence, but look how far around he is.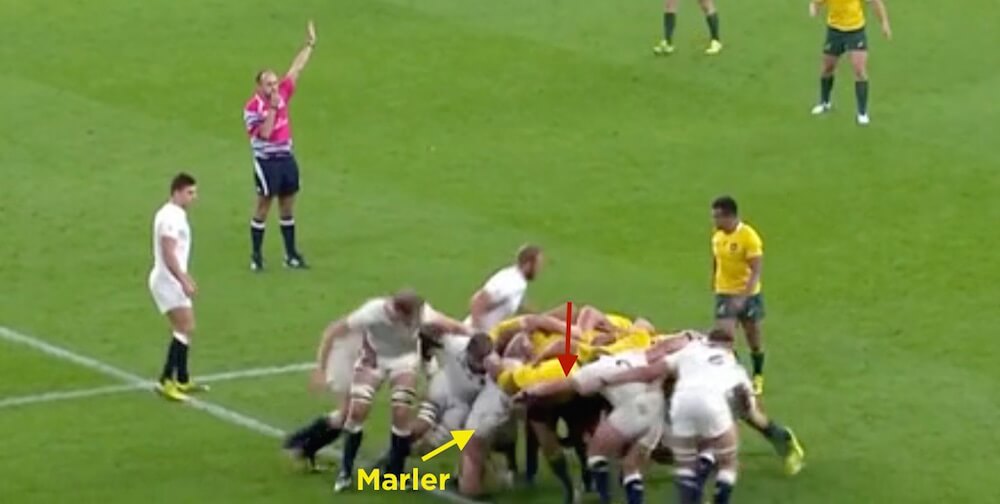 The Wallabies however re-adopt their tactic of driving forward and to their left through Youngs and Cole. They stay connected as an eight and eventually we see them splinter the England pack; Marler being sheered off the scrum due to his angling that has been exacerbated to destruction by the Wallaby drive.
It's a penalty and the first points of the half to Australia.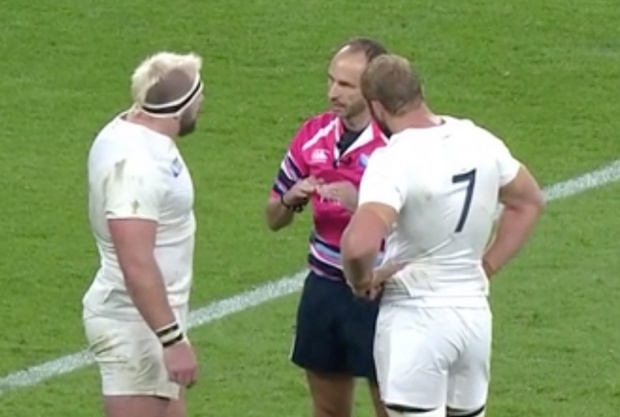 For Marler and the England scrum, it's game over as Poite gives him a yellow card warning. He's hooked immediately afterwards.
You live by the sword……