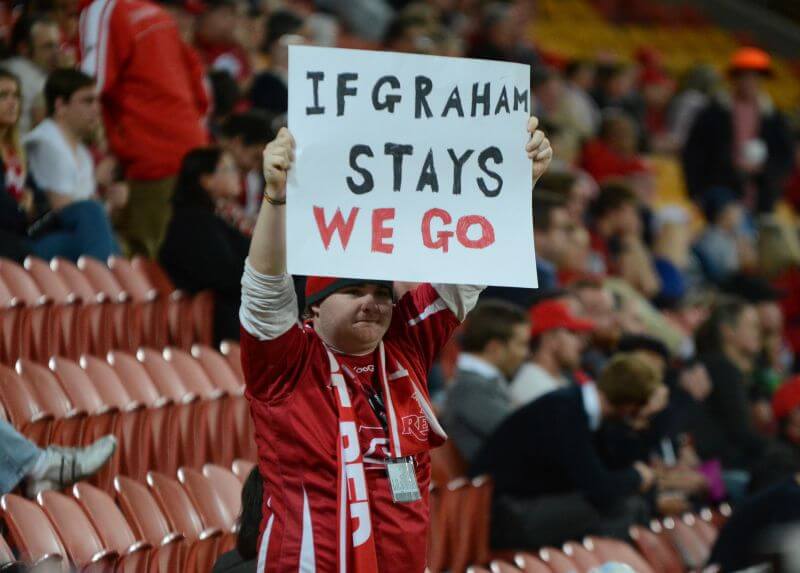 For months, Reds fans have been waiting the outcome of the High Performance review with one expectation; that the Head Coach, Richard Graham, would finally be shown the door.  Then out of the blue, on an idle Tuesday in August the QLD Reds announce that the very man they thought was dead and walking was the man to take them forward into 2016.
It was the scenario that seemed more likely with every day of non-action that ticked by.  There were rumours that seemingly quality candidates were interested and the platitudes from Jim Carmichael et al. gave us, the fans, enough hope that we might sit quietly by and wait.  Don't worry, they said. They were conducting an all-reaching, no holds barred, in depth, brutal and uncompromising review into 2015 and what the hell went wrong.  Thank god!
Then the unthinkable happened.  The guy with the 28% win record with the Reds over the last two seasons and just 25% for the season just gone, was re-signed.  To call it an unpopular decision is perhaps the understatement of the year.  You only need to look at the QLD Reds Facebook account, Twitter account or search on any number of hashtags to get a bit of a bead on the public reaction.  Countless posts about long suffering fans cancelling their memberships and some even claiming they will take out a membership of rivals like the Rebels.  Let's face it, at least they'll still get to watch plenty of Reds players do their thing.
The overwhelming reaction though has been simply, "What are they thinking?!"
Jim Carmicheal, CEO of the QLD Reds, claimed that he was well aware that it would be an unpopular decision.
"Of course there is going to be expectation from the fan that looks from a passionate position and wants to see their team do well. They would think 'why don't you just move the coach' without understanding all of the complexities.

"What we will be measured on next year is winning football games and having sustained success. What I know is fans, during the course of the next number of months, will still love their team."
It's clear to me at least then that Carmichael couldn't really care less about what we, the fans think.  After all, we don't really understand how it all works and even if we did, we are incapable of putting our passion aside for two seconds to think about this rationally.
Don't you see?  They will be measured on their success next year, not these last two years.  At the end of the day though, regardless of what has happened or what will happen, Carmicheal clearly thinks that he can serve up whatever rubbish he likes to us, the fans, because in a couple of months time we will still love the team.  Wow.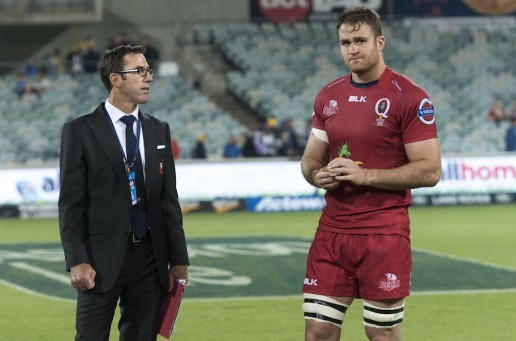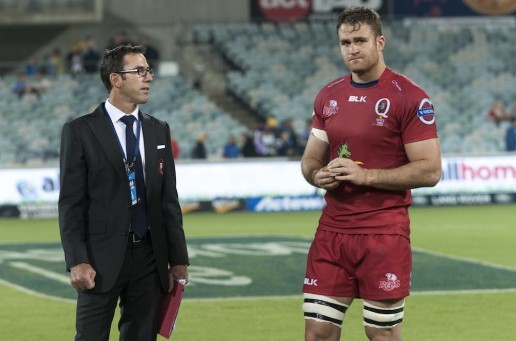 But it's not just the lack of wins under Graham that has most of us calling for his head, it's the appearance of a disjointed and seemingly dysfunctional squad that are regressing further in all aspects of Rugby the longer Graham is in charge.  Many a time I read throughout the 2015 season, that Richard had lost the dressing room.  It is a slightly over used expression in sport, but in this instance it seemed entirely believable.
When quizzed on the relationship between the players and the coach, Carmichael had this to say:
"We interviewed players, we interviewed coaches, administration, to get a personal sense of how people saw it. There were clearly some conflicts of personality along the way that we genuinely believed were circumstantial,

"Since that time, we've worked with the group and I am absolutely convinced that what has come out is a brutal assessment by Richard and what he could have (done) better. I am convinced there is a relationship there … player and coach … that is going to be enduring."
I'm glad he is convinced that there is a 'relationship' there between player and coach.  What sort of relationship he doesn't say but there definitely is one.  Glad that is sorted.  It could be a positive one, but more likely its civil and more likely still, there is an element of toxicity there.  What is certain is that whatever the relationship is, Jim Carmicheal has made sure it's enduring, for 2016 at least.
Unbelievable.