Week 2 produced another weekend of fast and entertaining rugby and perhaps gave an early insight as to how the top four (top three at least) may shape up. Week 3 has the potential to make that even more certain, or blow all tipping out of the water. So let's get to it – our NRC 2015 preview for Round 3.
North Harbour Rays v Melbourne Rising
Thursday 3 September at Manly Oval (Sydney). Kick off 7:30pm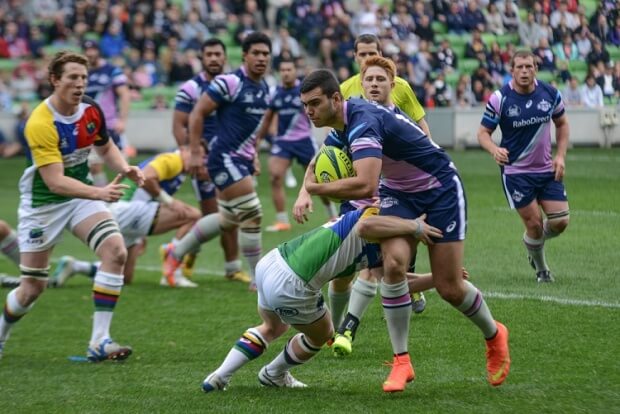 The Rays faithful should be streaming down to Manly Oval on Thursday night to support their team taking on the Melbourne Rising. Both teams are coming into this from the unknown – the Rising having just lost their first ever preliminary round match, whilst the Rays won their first game since Round 5 last year.
The Rays were outstanding in their upset defeat of the Perth Spirit and were relentless in pressuring last year's grand finalists.  They were patient early, fought hard during the middle and kicked it up a gear towards the end, and the home team weren't able to stick with them.
The Rising looked to be in complete control for most of the first half of their encounter with Brisbane City in wet and windy conditions last Saturday. But they couldn't match it with a fast finishing Brisbane in the 2nd – a factor that the Rays will look to take advantage of during this week's live TV game.
Keep an eye (and ear) out for Colby Faingaa who will be this week's player to be miked up for the Fox Sports NRC Recap show.
Key Matchups:
Boyd Killingworth was one of the best for the Rays last week from openside in a performance that netted him a couple of tries. He'll be up against the Rising skipper Scott Fuglistaller who has been everything so far this season, as the Rising backrow have set the benchmark in back three play.  Further out we have a speed battle between Alex Northam of the Rays and Stacy Ili for the Rising. Ili impressed with a few opportunities in his run on debut last week, whilst Northam has used his lightning acceleration to get across the line in both of his matches this season.
2015 Form:
Rays – LW
Rising – WL
Tip: Rising by 1
Rising: 1. Fereti Sa'aga, 2. Pat Leafa, 3. Duncan Chubb, 4. Murray Douglas, 5. Steve Cummins, 6. Jordy Reid, 7. Scott Fuglistaller, 8. Colby Fainga'a, 9. Ben Meehan, 10. Jack Debreczeni, 11. Stacey Ili, 12. Lloyd Johansson, 13. Leo Taliu, 14. Justin Marsters, 15. Jonah Placid
16. Mitch Andrews, 17. Tom Moloney, 18. Matt Onesemo, 19. Sam Jeffries, 20. Pom Simona, 21. Maradona Farao, 22. Sione Tuipulotu, 23. Filipe Vilitati.
Rays: 1. Mitch Lewis, 2. Luke Holmes ©, 3. Lawrance Hunting, 4. Mark Johnson, 5. Cameron Treloar, 6. Jack Dempsey, 7. Boyd Killingworth, 8. Sam Ward, 9. Josh Holmes, 10. Hamish Angus, 11. Tyson Davis, 12. Tom Hill, 13. Dennis Pili-Gaitau, 14. Alex Northam, 15. Reece Hodge
16. Vance Elliott, 17. Rory O'Connor, 18. Nick Fraser, 19. Harry Rorke, 20. Harry Bergelin, 21. Tim Donlan, 22. Michael Adams, 23. Richard Woolf
UC Vikings v Greater Sydney Rams
Saturday 5 September at Viking Park (Canberra). Kick off 2:00pm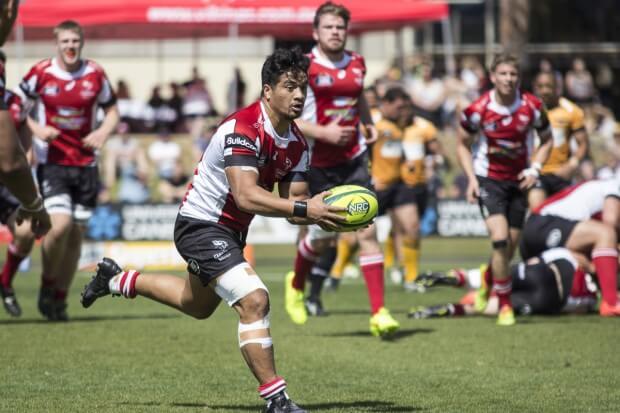 The Vikings kick started their 2015 NRC campaign at a level many predicted they would – and with a bonus point win. NSW Country Eagles were the recipients of that defeat and now the Rams, fresh off a bye, are the first team to travel to Canberra to combat the Vikings this year.
If form is a guide, then the Vikings fans can feel somewhat confident leading into this weeks' game. The Rams lost their Round 1 game to the Eagles which would indicate they will be under the pump again this Saturday.
But the chance to recoup and regroup should serve the Rams well. They did display an intensity and ability to match it with the big guns in their first game and would have watched with interest at the proceedings at Woollahra Oval last week.
Key Matchups:
Keep an eye out for what is happening at the back of the field this week. Christian Lealiifano for the Vikings is back from some fun time with the Barbarians and will play 15 for the Vikings to take advantage of his excellent vision and playmaking abilities. Paul Asquith is a league junior with experience with the Australian 7s team who proved elusive for the Rams in Round 1. Also watch out for the battle between a couple of scrappers as scrumhalves in the Vikings' Joe Powell and Dewet Roos from the Rams, both of whom play with the fast paced intensity that's needed from a 9 in the NRC.
2015 Form:
Vikings – BW
Rams – LB
Tip: Vikings by 11
Vikings: 1. Allan Alaalatoa, 2. Robbie Abel, 3. Ben Alexander, 4. Rory Arnold, 5. Blake Enever, 6. Jordan Smiler, 7. Jarrad Butler (c) 8. Ita Vaea, 9. Joe Powell, 10. Rodney Iona, 11. Lausii Taliuali, 12. James Dargaville, 13. Nigel Ah Wong, 14. Jerome Niumata, 15. Christian Lealiifano.
16. Connal McInerney, 17. Sione Taula, 18. Leslie Leulua'iali'i-Makin, 19. Dean Oakman-Hunt, 20. Rowan Perry, 21. Brent Hamlin, 22. Aidan Toua, 23. Frankie Fainifo
Rams: 1. JedGillespie, 2. SilivaSiliva, 3. Sam Needs, 4. Fili Tufui, 5. Peter Altona, 6. Jono Hayes, 7. Cohen Masson, 8. Bradford Kapa, 9. Dewet Roos, 10. Jai Ayoub (C), 11. Brad Curtis, 12. Michael Mcdougall, 13. Denny Godinet, 14. Nick Batger, 15. Paul Asquith
16. CameronOrr, 17. MaxHolland, 18. Barnaby Abdale-Weir, 19. Will Munro, 20. Rahboni Warren-Vosayaco, 21. Taylor Adams, 22. Rohan Saifoloi, 23. Brenden Hartmann
Sydney Stars v Perth Spirit
Saturday 5 September at Leichhardt Oval (Sydney). Kick off 3:00pm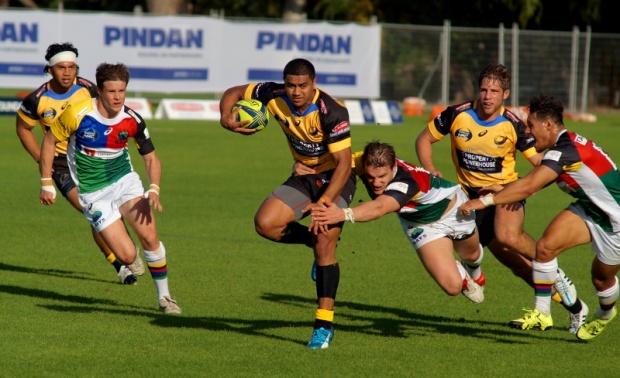 On the face of it this looks a fairly straight forward game. The undefeated Stars have been mighty impressive with their two wins this season, whilst the Spirit have failed to notch a win at all. Whilst it will be a big ask for the Perth lads to get up for this game, having traipsed back and forth across the country these last couple of weeks, if they can put in a showing more like Rnd 1 than Rnd 2, then they can take this.
Their challenge though is that the Stars are still improving. Whilst they've proven they can score the points, they have also leaked too many to be comfortable. They've built their wins around an experienced pack including the likes of James Hanson (unavailable this game) and Dave Dennis, with speed out wide of Harry Jones and Tom Kingston. They met a fierce scrum in QLD Country last week, and will do so again this Saturday with the Spirit. If Perth can use this to gain ascendancy elsewhere, the game is theirs for the taking.
Key Matchups:
It really is quite ridiculous how much openside depth Australian rugby as at the moment. Perhaps it's the George Smith effect that inspired a generation of future on-ballers. The NRC is full of them now and the matchup between David Hickey and  either Auega Seumanutafa, Kane Koteka or Richard Hardwick or Chris Alcock, or all three, will be epic out at Leichhardt. Watch the flyhalf battle too when Angus Roberts, who is loving the opportunity to link his muscle up front with his speed out wide, and perhaps schoolboy Nicholas Jooste. That's dependant on Jooste getting leave from his school to attend training, which apparently he has had some challenges with.
2015 Form:
Stars: WW
Spirit: LL
Tip: Stars by 2
Stars: 1. Jeremy Tilse, 2. Tom Coolican, 3. Tom Robertson, 4. Andrew Leota, 5. Matt Philip, 6. Rohan O'Reagan, 7. David Hickey, 8. Ofa Finau, 9. Jake Gordon, 10. Angus Roberts, 11. Harry Jones, 12. Andrew Robinson, 13. Jim Stewart, 14. John Hale, 15. Tom Kingston.
16. Declan Moore, 17. Alasdair King, 18. Matt Sandell, 19. Tipiloma Kaveinga, 20. Mitchell Whiteley, 21. Richard Draper, 22. Jordan McGregor, 23. Tom Carter.
Spirit: 1. Chris Heiberg, 2. Anaru Rangi, 3. Oliver Hoskins, 4. Riley Winter, 5. Rory Walton, 6. Alex Rovira, 7. Auega Seumanutafa, 8. Richard Hardwick, 9. Ian Prior, 10. Nick Jooste, 11. Daley Harper, 12. Kyle Godwin, 13. Solomoni Rasolea,
14. Onehunga Havili, 15. Albert Nikoro.
16. Conan Houkamau, 17. Joe Savage, 18. Jermaine Ainsley, 19. Adrian Hall, 20. Pierre Roberts, 21. Ryan Louwrens, 22. Byron Hutchinson
Queensland Country v Brisbane City
Sunday 6 September at Clive Berghofer Stadium (Toowoomba). Kick off 3:30pm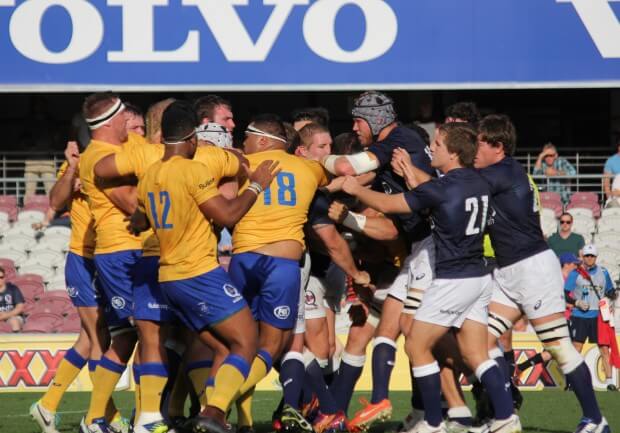 Toowoomba should be rocking this Sunday arvo as QLD Country host their first City-Country match of the NRC. Whilst the Horan-Little Shield will remain at Ballymore, there is still plenty to play for as the two Queensland teams face off for the Andy Purcell Cup as part of the celebrations of Queensland Country Rugby Union's 50th anniversary.
Brisbane City are again setting the pace in this year's NRC and their second half performance against the Rising, minus key players, should be a big concern for the rest of the competition. QLD Country have impressed most who have seen them play and are quite capable of springing an upset. Their big focus MUST be on aggressive up-front defense as they have leaked tries at key times, and provided opposition runners easy metres.
Key Matchups:
This is kind of like a "The Voice" for flyhalves this weekend. Whilst the Ballymore Kid competition will see the Reds sign a player from these two sides to a Super Rugby contract, Sam Greene and Jake McIntyre will face-off as the Reds' sole playmakers at the moment. Greene probably edge's McIntyre currently in terms of form, so Jake will be looking for a big one on Sunday. Of course much depends on what happens up front, and the battle of the scrums should send earth tremors across the Downs. These two teams, along with the Perth Spirit, have probably the strongest scrummaging units of the competition, so the challenge at scrum time will be worth the price of admission alone.
2015 Form:
Brisbane City: WW
QLD Country: LL
Tip: City by 8
City: 1. Pettowa Paraka, Andrew Ready, 3. Sam Talakai, 4. Ben Hyne, 5. Cadeyrn Neville, 6. Luke Beauchamp, 7. Liam Gill (C), 8. Scott Higginbotham, 9. Nick Frisby, 10. Jake McIntyre, 11. Alex Gibbon, 12. Samu Kerevi, 13. Karmichael Hunt, 14. Chris Kuridrani, 15. Junior Laloifi.
16. Matt Mafi, 17. Markus Vanzati, 18. Feao Fotuaika, 19. James Moore, 20. Waita Setu, 21. Moses Sorovi, 22. Henry Taefu, 23. Patrick James
Country: 1. Haydn Hirsimaki, 2. Saia Fainga'a, 3. Sef Fa'agase, 4. Phil Potgieter, 5. Milton Sikuea, 6. Jack Cornelsen, 7. Conor Mitchell, 8. Radike Samo, 9. James Tuttle (C), 10. Sam Greene, 11. Izaia Perese, 12. Campbell Magnay, 13. Chris Feauai-Sautia, 14. Tom Pincus, 15. Duncan Paia'aua.
16. Alex Mafi, 17. Taniela Tupou, 18. Reuben Leilua, 19. Richie Arnold, 20. Maclean Jones, 21. Scott Gale, 22. Dion Taumata, 23. Tom Banks.
NSW Country Eagles have the bye