Greetings, G&GRs, and welcome to Monday's Rugby News!
Not a whole lot of action this weekend, though the matches that were on certainly had significant consequences with the outcomes. We'll review the weekend that was in the lead-up to the Bill in Paris, the weekend that was for WXV, and the signing of players in Super Rugby.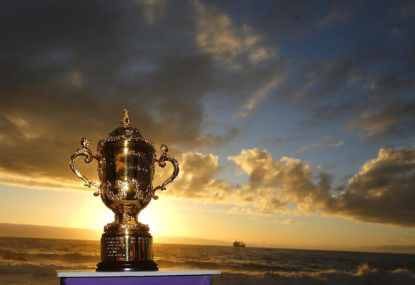 THE LEAD-UP TO THE PARISIAN BILL
We'll start off on our own shores with reports Michael Hooper is an unlikely starter for this weekend's game against the Darkness at the MCG. Like all things related to the baby cows, Hooper's veal is taking a bit more time to sort itself out. Knowing from personal experience (one decent tear in each calf, and going under the knife in November to hopefully sort the foot out), these things take frustrating amounts of time to get over.
It appears that Izaia Perese has firmed as favourite for a dream shot at the All Blacks in his specialist position of outside centre on Saturday night. While certainly a better option than, say, Reece Hodge (lovely bloke but a shite centre), I'm only glad that, if selected, we are taking blokes who happen to play the position well, rather than play rugby well. All too often, the Wallabies do what the Australian cricket team (and, arguably, the ABs) does and puts a player in because they're seemingly undroppable rather than the best person for the position.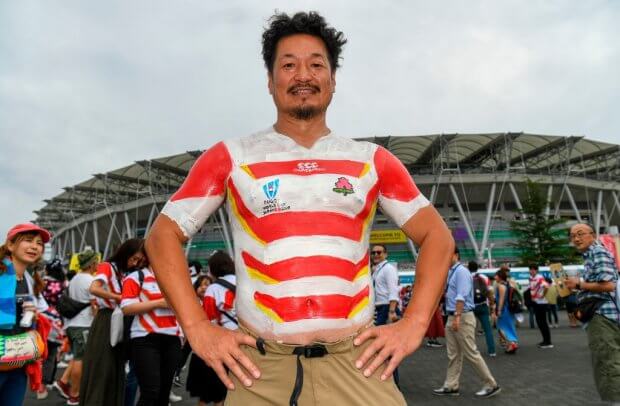 PACIFIC NATIONS CUP
Samoa 24 def Japan 22 – match report here
In a gripping Pacific Nations Cup encounter at the Sapporo Dome, Samoa claimed a narrow 24-22 victory over hosts Japan.
Michael Leitch was red carded during the game which may well have significant consequences for the Japanese side. Check out the moment in the highlights at approx 3:20.
Fiji 36 def Tonga 20 – match report here
Fiji scored five tries to three to beat Tonga on Saturday in the first test match of the year for two countries that will compete in the Rugby World Cup. It's a shame that this is Fiji's only home game before the Bill kicks off later in the year. Highlights are below for your entertainment.
SUPER SIGNINGS, NEW RA PARTNERSHIP AND CLUB v COUNTRY
Rugby Australia have announced a partnership with the Japan Rugby Football Union, complete with a signed MOU (clearly the law interns have changed over). The MOU will be in place until 2029, designed to build strong relationships between the two unions along with developing the respective national teams, competitions and the sport. This will include planned Wallabies and Australia A matches with Japan in 2024 and 2025, along with the aim to schedule Wallaroos-Japan fixtures between 2024-26.
If this isn't a sneaky way to dodge the need for a NRC (i.e., form competitions with a rugby mad nation that has gazillions of yen and hope they pay for it) then I don't know what is. Nevertheless, it's a shrewd piece of business.
Further reports of significant signings over the weekend include BPA heading over to Perth, joining what is already a jacked side, at the conclusion of the 2023/24 Euro season. The Rebels have announced their latest signing, with capped England scrum-half Jack Maunder the latest player to commit to the Melbourne-based Super Rugby Pacific outfit. I don't quite know where teams are finding the cash to splurge (well, odds on Twiggy has his wallet open) but I wonder if this is a sign that some sort of financial windfall is coming Australia's way.
Rugby bosses in Fiji have lost their second player in the last week in a club v country decision. Fiji will be without Clermont star back-rower Peceli Yato for RWC2023, head coach Simon Raiwalui has confirmed. Lock Api Ratuniyarawa also made himself unavailable for selection after signing a Top 14 joker contract with Bayonne which rules him out, too.
WXV TOURNAMENT NEWS
Italy 23 def Spain 0 – match report here
Italy secured their place in WXV 2 this October with a comfortable 23-0 victory against Spain in Piacenza on Saturday.
The Azzurre had never previously played at Stadio Walter Beltrametti and marked their debut at the ground with four tries to confirm their place in the second level of World Rugby's new annual global 15s competition.
As a result, Italy will travel to Cape Town in October to play alongside hosts South Africa, Scotland, Japan, Samoa and the USA. Spain, meanwhile, complete the line-up for WXV 3, which will be played in Dubai and also features Kenya, Ireland, Kazakhstan, Fiji and Colombia. Both tournaments will kick-off on the weekend of 14 October and run for three consecutive weekends.
It means that we now know the full line-up for the inaugural edition of WXV, the top level of which will begin a week later in a New Zealand rugby roadshow . A nationwide celebration of women's international rugby, WXV 1 will kick-off at Sky Stadium in New Zealand's capital city Wellington (Friday 20-21 October) before moving south to Dunedin's Forsyth Barr Stadium (27-28 October), then on to Auckland where the tournament winner will likely be decided at Go Media Stadium Mt Smart (3-4 November). 
As a reminder of how it all works, see the pretty pictures and/or read this article and this article.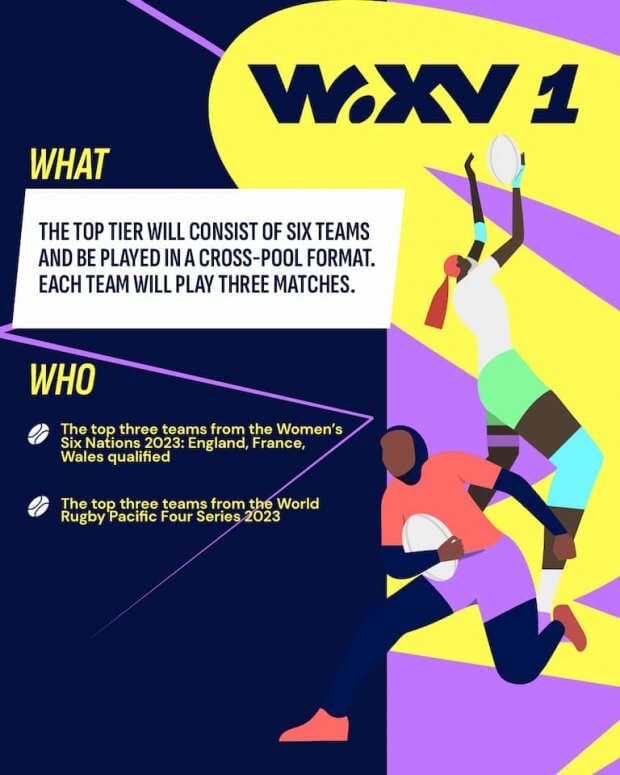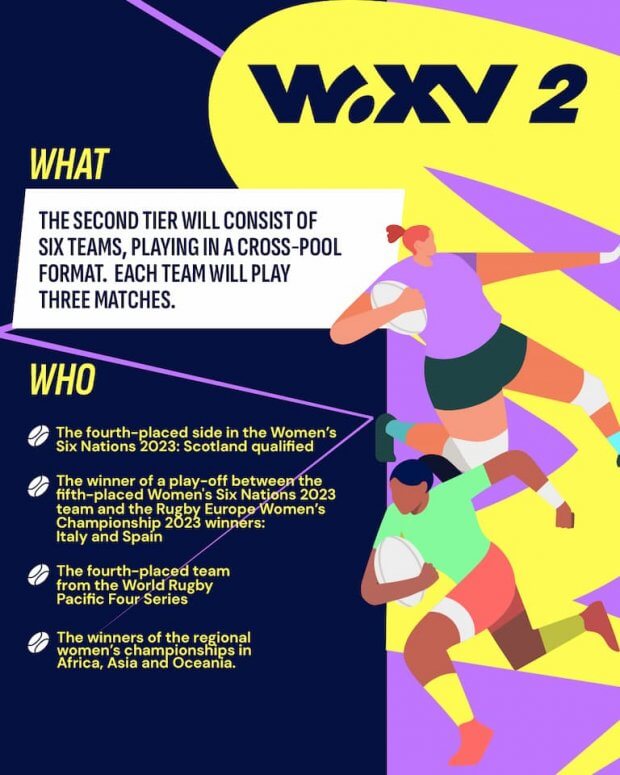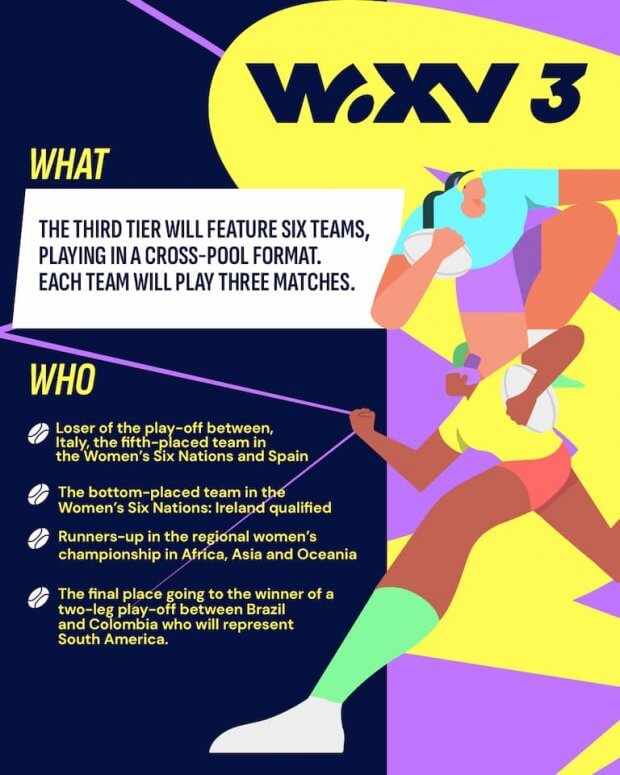 Happy Monday, folks. I'll be in the stands this weekend at the MCG. It's can't be as bad as last year's game in Melbourne…. can it?
CM