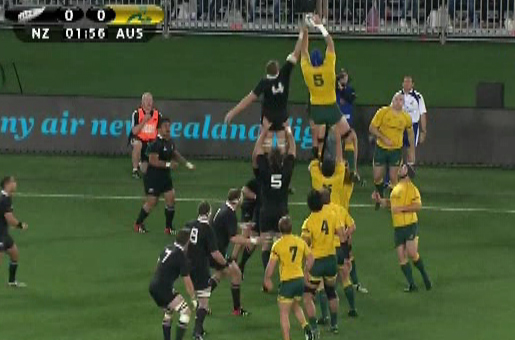 Let me start by saying that I like Rugby League. I'm from Queensland. I watched and played Rugby League for most of my younger life. But my first love has always been Rugby Union. And Rugby loved me back in a way League never did.
Frankly, I don't care what your favourite football code is as much as you don't care what mine is. I'll keep supporting the sports I love, and I'm more than happy for you do the same with the occasional bit of banter when we run into each other.
Unhelpful suggestions
But I've been moved to reply to a couple of articles that appear in the media after the Bledisloe Cup match on 20 October. For some reason journalists constantly feel the need to 'fix' Rugby.
This week we have two articles by prominent journos. One was titled 'Borrowing from rugby league could help make rugby more entertaining' and the other was  '80 minutes, 50 stoppages, 12 penalty goals, 15 shots at goal and 0 tries – Is rugby boring itself to death'.
Lets have a look at the Dean Ritchie critique first. Luckily we have an Australia v. New Zealand League Test played a week before the Bledisloe match to compare. First, let me say that the number of tries scored in either code is no measure of entertainment levels. Of those who saw it, who would say the 1986 League final between Parramatta and Canterbury (won by Parra, 4–2) was boring? I'd say the numbers would be very low.
But let me ask you Dean Ritchie, what happens when a player is tackled in Rugby League? The game stops until the tackled player gets up to play the ball. That's a stoppage, right? So let's compare stoppage rates.
There were 600 stoppages in the League Test. A massive 575 of them were tackles. It takes about 3 or 4 seconds for the player to get up to play the ball so that works out to between 28.75 minutes and 38.33 minutes of the League Test spent playing the ball. That's a lot of time in 80 minutes to watch a man hop up and roll the ball under his foot.
But that's not really the point, is it? Dean Ritchie believes that 50 stoppages a game in Union is too many, but he's more than happy to have 600 in the game he loves. (To be clear, that's a stoppage every 14 seconds.)
Players such as Mark Ella, David Campese and Stephen Larkham must wonder how their once-great game has gone so horribly wrong over the past 15 years.
Are they wondering what went wrong? At least Mark Ella would still recognise the game he had played while watching modern rugby.
Would Mick Cronin, who kicked the two penalty goals that won the 1986 grand final for the Eels, recognise League as the game he played in the 1980s? The interchange, the 10 metre rule, the one-on-one strip, no playing at the ball during the play of the ball, the 40/20 and the de-powering of the scrum have all been introduced since he played. Even the way the ball is tapped has changed!
In fact every contest for the ball bar one has been removed from the game. They've turned it into basketball on a big field. My turn, your turn, my turn.
Which brings me to Bret Harris's perspective:
As I was watching the NRL grand final between Melbourne and Canterbury, it suddenly occurred to me what was missing in rugby union: limited phases.

If rugby teams were limited to, say, seven phases, they would have no choice but to try to do something with the ball before handing it over.
He wants to limit the number of phase to seven! In reality a phase is a tackle. Why he picked seven is a mystery to me but it's clear that after seven tackles you either hand it over to the other side or boot it down field. Or how about a cross field bomb to the 195cm-tall winger we've found just for this move?
It is the breakdown that is the real problem. Defenders there only have to stand behind the last feet of the tackle-contest to be on side. With good line-speed in defence, a team can often stop attacking players well behind the advantage line.

If players had to stand five or 10m behind the last feet, it would create space for the attacking team.
Unintended consequences
League had to introduce a interchange system when it introduced the 10 metre rule because players couldn't keep up. Imagine a prop who already has a) held up the scrum while channelling the pressure from the back 5 through his body to the opposition prop, b) lifted 120kg guys above his head in lineouts and c) run about 10km a game. How about adding some up-and-backs to his already incredible work load? And not having a 20 minute rest for a bit possible for the entire game.
Imagine talented slower players in the game being replaced by faster athletes who can get up and back 7 times. I'm sorry Bret Harris, your 2 'cosmetic' rule changes would have far-reaching consequences and would change the game completely. And ye,s it would look a lot like the other rugby game — and no, that's not what we want.
Mr Harris, the answer to making Rugby more popular is not to make it more like League. It's to put it in front of more viewers on a regular basis. Having a few Test matches a year on free-to-air television is not going to build Rugby's profile. In 2012 the game increased viewing numbers, increased participation numbers and increased crowd numbers. This despite of the apparent poor quality of the play and no free-to-air coverage of the major competition. I suggest that there is little wrong with the product, and it is in fact its differences to League that are its strongest selling point: a true competition for possession and the amount of time in the game that possession can be challenged.
Keep ya hands off
Rugby in Australia may be going through a rough patch but the game is not broken and it's not boring.
Rugby League fans have been trained not to be interested in the contest for possession and the skills involved in rucks, mauls, lineouts and scrums because these skills are not present in the game they love. In its place they get tries. So when they watch a Union game what do the look for? They look for tries, of course. The skills involved in Rugby's key areas are lost on them. They see a game with no tries and call it boring, when in fact to the eye of a regular viewer it's an intriguing contest.
So is Rugby more boring than League? No, it's not. It's different. And that's the way it should stay. I'll go and support the game I love and you can support the game you love.
To the League-bred experts giving unsolicited advice to help us out: piss off.