We've done the Domestic Series where Quade dazzled us with his sleight of hand. We've covered the Tri-Nations where Bam Bam blew us away with his 'combatitiveness'. We've finished the Spring Tour where it was Gilbert who impressed us with his elusiveness from the back.  But who would come through as the overall winner? Who did we, the readers of Green and Gold Rugby, think was the best Wallaby of the Year?
This week I've tried my damnedest to try to build the tension. I've tried to capture the round-by-round accumulated scoring anxiety that comes from a Brownlow night. In reality? It's had about as much tension as a Disney movie. The outcome has been as predetermined as a Rock'n'Roll Wrestling bout. So no need to string things out now.
The  second ever Green & Gold Rugby Wallaby Player of the Year, for the year 2010, succeeding last year's winner George Smith, the 2009 G&GR Wallaby Player of the Spring Tour, the 2010 G&GR Wallaby Player of the Tri-Nations (how's this for not stringing it out) – David Pocock!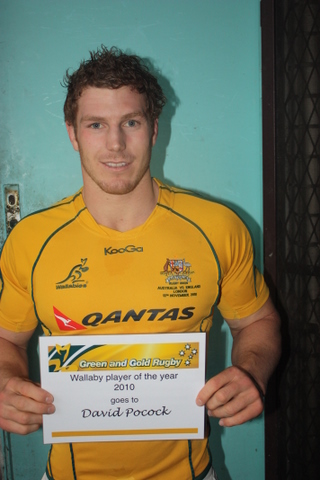 All year we've marvelled at Austin's Wallaby stats proving time and time again the importance of Pocock to this Wallaby Team.
He played the second most test minutes (behind Rocky Elsom) with 1,167.
He made more tackles than any other Wallaby. In fact, he made almost 100 more than the man in second place, Nathan Sharpe.
He missed six tackles! That's season-long, my friends. Quade missed that many in a single Test no less than four times. Pocock's overall completion rate for the year was 98 per cent and he didn't miss a tackle throughout the Spring tour.
A look at some of the more objective stats we gather here at G&GR is just as impressive. Take a look at the player ratings he was given throughout the year. A couple of 6s, against Fiji and Italy, are the only blights on his copybook. Four scores of 9 (qualified as "Outstanding performance: Man-of-the-match shoo-in") together with five of 8 ("Excellent all-round game") demonstrate his consistency.
As to his Player of the Year scores, it was the same story. According to our readers Pocock was Wallaby Man of the Match on seven occasions, including a run of five games in a row mid-season. He was runner-up for the G&GR Wallaby Player of the Domestic Series, he won the G&GR Wallaby Player of the Tri-Nations, and was again runner-up for the G&GR Wallaby Player of the Spring Tour. This overall award was simply never in doubt.
The final table stands as follows:
| Position | Player | Points |
| --- | --- | --- |
| 1st | David Pocock | 24 |
| 2nd | Kurtley Beale | 17 |
| 3rd | Nathan Sharpe | 10 |
| 4th | Quade Cooper | 8 |
| 5th | Rocky Elsom | 6 |
| | Adam Ashley-Cooper | 6 |
| 7th | Stephen Moore | 3 |
| | Drew Mitchell | 3 |
| 9th | Digby Ioane | 2 |
| | Luke Burgess | 2 |
| | Ben McCalman | 2 |
| | James O'Connor | 2 |
| | Berrick Barnes | 2 |
| 14th | Saia Faingaa | 1 |
| | Will Genia | 1 |
| | Lachie Turner | 1 |
I managed to catch up with Dave during a short visit he had to Brisbane after the completion of the Spring Tour, to present him his award (no doubt now sitting next to his John Eales Medal) and take a look back at his first full year as the Wallaby No. 7.
Acknowledging that he did feel pressure this year with George Smith having retired last year (after winning the G&GR Player of the Year award, it must be noted), a full year of international football has taken a toll on Pocock.
"I can definitely feel it," he says, "That's for sure. But you have to learn to manage it. We work closely with the physio, the doctor and the coach, and we get to know when we need to have a lighter week. To work out what's best for the body."
But for Pocock, all the motivation he needs to keep his body moving comes from his thrill he derives from playing with this Wallaby team.
"Young and old, they are a great bunch of guys. Obviously there's been an emphasis on youth lately with guys like James O'Connor. But I also really enjoy playing with the older guys like Nathan Sharpe and Matt Giteau."
While Pocock speaks glowingly of the performances of Sharpe and the value he brought to the 2010 Wallabies, there's no denying the impact of Generation Y on the team. It's worth noting that the big winners, in terms of G&GR awards, this year – Cooper, Pocock and Beale – all played in the Australian Schoolboys side of 2005.
That team rivals the famous 1977-78 Aussie Schoolboys squad as a Wallaby production line, with Ben Daley, Will Genia, Ben McCalman and Lachlan Turner also having graduated. But Pocock is quick to point out the abundance of youthful talent elsewhere in Australian rugby.
"There's a lot of young talent running around in Super Rugby from that Schoolboys team, but don't forget the Australian Under 19 team who won the World Cup in 2006, with the Faingaa twins. That was a talented team as well."
The 2010 form of Beale, runner up for the G&GR Wallaby Player of the Year, has been a particular highlight for Pocock.
"He's really matured a lot this year, and has done a lot of work off the field to remove the distractions that were getting in the way in the past.
"He's fit too," adds Bam Bam, in respect of the artist formerly known as Portley. "He's probably the leanest of the Wallaby backs and you can see what it means on the park. He has shown some amazing skills this year and I expect that will continue next year."
Pocock's schoolboy First XV team mate Cooper also draws his praise.
"Quade has the skills, there's no doubt. But what was impressive this year, was his option-taking and his ability to control the game. He's like Kurtley in that he's matured and sorting things out off the field. If it continues he can be a considerably better player than he is already."
As for the Wallabies' 2010 campaign, Pocock tends to agree with Matt Gagger and most of our readers, that overall it was positive. The loss to England was the real lowlight ("I don't know what happened there, we prepared so well for it") but three breakthrough performances perhaps defined the season.
The win over South Africa in Bloemfontein, following the loss in Pretoria the week before ("very disappointing but it did give us the confidence that we could win over there"); the streak-breaking win over New Zealand in Hong Kong ("we carried the momentum on from the win over South Africa at altitude which gave us a lot of belief"); and then the thrashing of France, where the Wallabies showed a bit more killer instinct ("it just shows when the forwards take the space in the middle, how dangerous we can be out wide").
Pocock is enjoying his last little remnant of rugby-free time before it all starts again, for what will be a massive 2011. With the new coaching set-up at the Force, ahead of an expanded Super Rugby season before the Rugby World Cup in New Zealand, there's a lot on Bam Bam's plate.
While he admits the RWC is a factor at the back of his mind, as he says "the Super season is a looong season". And if there's any Aussie rugby fans worried that more local derbies will take from the significance of the matches, take heed of Dave's words: "We won't be taking it any easier on each other, that's for sure."