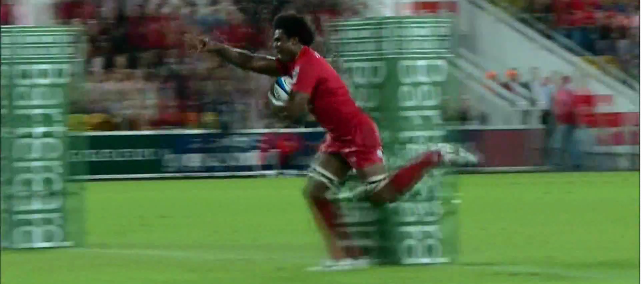 The Aussie Super Conference
Just a short note on the weekend's Super Rugby.
Is it just me, or is the rugby being played by the Australian Super Rugby teams some way below the quality of that played by both the New Zealand and South African franchises. Our first weekend's serving was Waratahs v Reds and Brumbies v Force and in both matches, it was a race to see which team was worse. The Brumbies won narrowly in a low standard "kick-fest" and, while I acknowledge that the Brumbies are virtually a new squad, it was not a game of Super Rugby standard. The Reds made one play of any standard, and that in the 80th minute, but that was enough to beat a Waratahs team, devoid of any quality attacking play outside of the set scrum.
This weekend's matches saw big improvement from our top two sides, Tahs and Reds – especially from the Tahs – but one wonders whether or not this was down to the very low standard performances from their opponents, Rebels and Force, respectively.
New Zealand teams on the other hand have produced performances at the opposite end of the spectrum. Accurate passing – unknown on this side of the Tasman – straight running from flat (-ish) backlines with support runners offering options, pace to and intensity at the tackle contest, plenty of options at and around the tackle – all in all, a fair dinkum contest played by very committed contestants.
I never thought that I could say this, but even the skill level from the South African teams in general, is at a higher level than ours. Their passing has been of the highest order and, if they could learn to run straighter, they will be an even greater force.
What do our teams do at practice?
Ireland Take A Point, But Rue What Might Have Been.
Ireland scored two tries to France's one at Stade de France – a big effort this. They led by 17 points to 6 at the half-time break – another big effort. But by the end, France had drawn level with no second half points for Ireland – a big disappointment this.
France had looked disjointed in the first half. Ireland's defence, so quick off the line, were clearly frustrating them and we saw a couple of trademark "held up in the tackle" decisions for turnovers to Ireland. One wondered, in fact, whether this was going to be one of those "French" days, like the one they suffered at home against the Wallabies a couple of years back, but this team, led by the impressive Thierry Dusatoir, turned things completely around after the break.
On the back of a dominant set scrum and two stolen lineouts, they kept Ireland scoreless for the entire second stanza, despite Ireland having clear opportunities. Perhaps the rain, as it set in, made things too difficult for teams who can both play an expansive game. Gordon D'Arcy, for example, saw the ball simply slip from his grasp as he shaped to pass in one late Ireland attack on the French line.
It was an exciting game, played with huge intensity of defence and at the tackle contest, but I remain puzzled at the inability of both sides to finish opportunities with any score at all, in true "northern Hemisphere style".  It has long been the mark of these teams that they clearly see an opportunity and take it by the scruff of the neck. No flippant squandering here. Yet Ireland had three lengthy second half visits to the French quarter and never really got close to any points. France had two late shots at drop-goal for one grubber and one charge down – surely Lionel Beauxis could have found a more secure spot in behind his pack. There was a lack of composure allround, from both teams.
Ireland, for the last few years, have looked threatening in attack, WHEN their fly-half – generally Jonny Sexton – plays close to the line. They fell away completely in the RWC when Ronan O'Gara, inexplicably preferred to Sexton, got deeper and deeper under pressure from Welsh defence and the same occurred on Saturday night. This time Sexton was in the pivot role, but most wider attacks were "second-line plays". I don't like them, even – which is rare – they are played well. They are, like cut-out passes, an excuse for poor catch-&-pass skills, and the resulting key attack is way too deep to pose any real threat to the defensive line. Add some cross-field running, seemingly an essential component of second-line plays, and most plays end up in the 5 metre channel, with some in touch. Poor play! Perhaps they have already forgotten the lessons so well delivered by Alan Gaffney.
France suffered similarly, but they at least have an understanding of eventually straightening the line, even if much too late for my likening. Still, the capacity crowd enjoyed it and their full two minute rendition of La Marseillaise in the closing minutes showed the support and hopes for a victory for their team. It was not to be.
I have been highly impressed in recent months in the quality of rugby played in the northern hemisphere and in recent weeks in the Six Nations Championship. Wales and France have looked very good; Ireland similarly in patches; England are definitely heading in the right direction; and Scotland and even Italy have some quality about them. With all of this in mind, I was eagerly awaiting this deferred match.
There were plenty of truly great players on display and most had their moments. Rob Kearney was majestic in the air and across the ground and has recaptured his Lions form of a couple of years back. Rory Best is at the top of his game, but his scrum ran a clear second.
Imanol Harinordoquy was his usual quality, Maestri looks a real player for the future, Dusautoir carried and tackled impressively.
But I expected much more and I was disappointed.