After a long pre-season it's back to the grind for the Australia Men's and Women's Sevens team who are primed for a big 2018 of Sevens action,  with the first leg of the HSBC World Sevens Series kicking off on Thursday in Dubai.
Both sides will be looking to improve on their 2016-17 performances, particularly the men who finished in sixth place although injuries did hinder their 2016-17 aspirations.
Meanwhile for the women, they finished second on the overall table and will be looking to go one better come the end of the season and  in particular in Dubai.
Aussie Women
Just like the Men's team, the Women have had a long pre-season, which included the inaugural AON University 7s followed by the Oceania Sevens Championship where they made it all the way to the final only to be defeated by New Zealand 12-5.
With the tournament kicking off in a matter of days, Tim Walsh's focus now is purely on Dubai. It is a tournament in which the women will be looking to make amends from last year's performance where they couldn't defend their title, after being defeated by New Zealand 17-5.
The good news though, is that the women have had plenty of preparation during the off season as well as the introduction to the AON Uni Sevens completion plus multiple other  pre-season tournaments which gives players much needed game time.  They have also moved training bases to Moore Park with improved facilities.
The women are placed in Pool B along with Russia, England and Japan. The Aussie Women should be careful when they face Russia who at the same tournament last year clinched the bronze medal by defeating England 17-14. On the other hand is quite hard to know what Japan will bring to Dubai given it is there first time in the HSBC World Sevens Series.
The women will kick off their campaign with Tim Walsh handing debuts to Cassie Staples and Page McGregor but they will be without star players Chloe Dalton and Alicia Quirk.
Team Lineup
Shannon Parry (co-captain), Sharni Williams (co-captain), Georgina Friedrichs, Dom du Toit, Emma Tonegato, Evania Pelite, Charlotte Caslick, Mahalia Murphy, Emma Sykes, Page McGregor, Emilee Cherry, Cassie Staples
Qantas Australian Women's Sevens Fixtures:
Thursday 30 November
Australia v Japan, 8.06pm AEDT
Australia v England, 11.02pm AEDT
Friday 1 December
Australia v Russia, 1.59am AEDT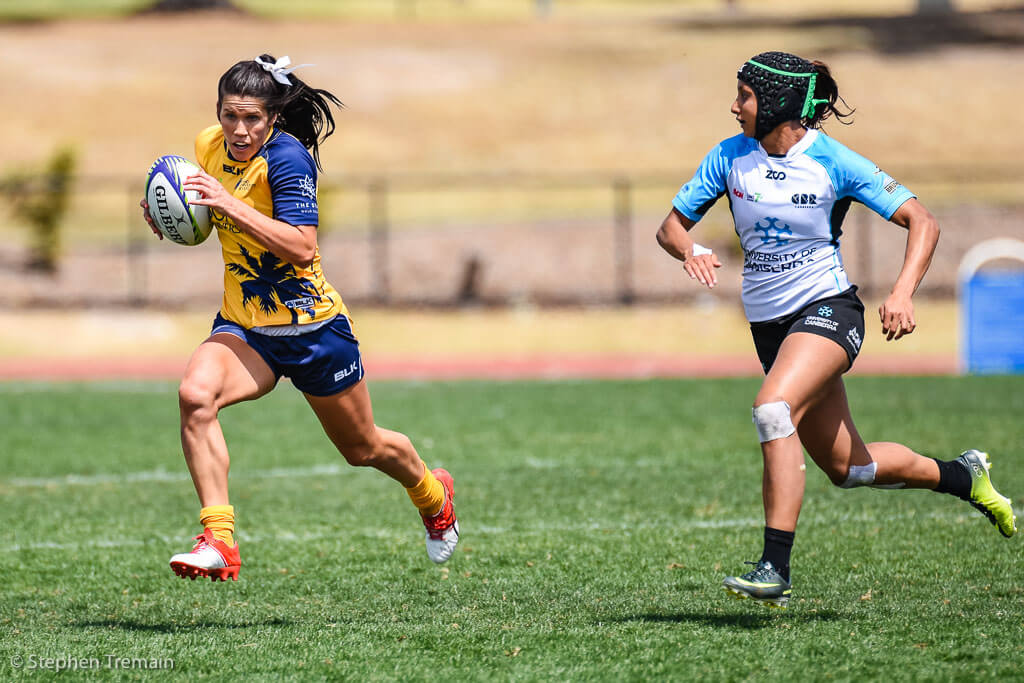 Aussie Men
As mentioned before, injuries played a major part for the Aussie Men's team in the 2016-17 campaign with Coach Andy Friend often looking to find alternatives for most of the tournaments.  They finished sixth in the overall standings however, there were plenty of positives to take out from the season. The positives include getting a much more experienced squad for the 2017-18 season which include the likes of Simon Kennewell and Tim Anstee all having a good year under their belt.
The Aussies head into Dubai as one of the form teams to beat after a grueling pre-season which include victories at the Silicon Valley Sevens, the Oktoberfest sevens as well as taking part in the Oceania Sevens Championship where they took away the bronze medal along with Samoa.
The men are placed in Pool C along with last year's Dubai Sevens runners up Fiji, Wales who are becoming a common opposition for the Aussie Men's team and Russia.
The men are expected to field a relatively strong squad with Tim Anstee, Lewis Holland, Ed Jenkins and Simon Kennewell all expected to ply there trade. Exciting speedster Maurice Longbottom is expected to get the call up in Dubai as well as debutant Ben O'Donnell.
Team Lineup
Lachlan Anderson, Tim Anstee, Lewis Holland, Ed Jenkins, Simon Kennewell, Boyd Killingworth, Maurice Longbottom, Sam Myers, Ben O'Donnell, John Porch, James Stannard, Brandon Quinn
Qantas Australian Men's Sevens Fixtures:

Friday December 1
Australia v Wales, 4.44pm AEDT
Australia v Russia, 7.44pm AEDT
Saturday 2 December
Australia v Fiji, 2.06am AEDT