Did you try to watch the Waratahs v. Western Force game on Saturday night? If your eyes remained open long enough there was one element of it you couldn't have missed: the mind-boggling amount of kicking from hand that took place.
In all there were 72 (some stat sources say 76) kicks; enough for about one every 26 seconds of ball-in-play time. This tied for the most number of kicks in a game this season with the Round 1 hit-out between saffa sides the Sharks and Cheetahs. Was this a fluke, an oddity born out of a pressure derby match? Or was it more indicative in a broader trend in Australian rugby, now over halfway through a SupeRugby season? And finally, which teams kick the most in SuperRugby, and where do the Aussie teams stand?
We put these questions to Force coach Richard "Woody" Graham in our inaugural segment of Woody's Roundup on our latest podcast G&GR Gets a Woody (the interview is in the first 20 minutes of the recording). For last weekend's game, Woody admitted that the Tahs' loss of Mitchell and Polota-Nau (and their replacement with Anesi and Ulugia) had created a point of strategic weakness that the Force had decided to target through kicking.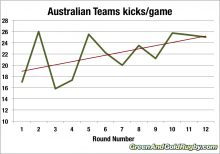 Is this a trend in Australian SuperRugby this year? Definitely – see the chart on the right (click to enlarge). Within the these numbers, the key drivers of growth have been the Waratahs and the Force; the Reds and Rebels have kicked at a consistent (high) rate.  Rich was also pretty clear about where these trends were coming from:
The game has definitely changed. Last year there were strong indications from the referee that they wanted the tackler to roll away and we saw a very fluent, fast game. But by the end of the season many of the teams had actually changed because it had become less about rule and more about management.

I think similarly this year the game started that way, but if you go back to our first game versus the Reds, we contested very heavily at the breakdown and tended to get away with it. And I think that's the thing coaches are thinking; less rugby in your own half means less risk, less opportunity for the opposition to take three points – and that all stems back to the interpretation at the breakdown."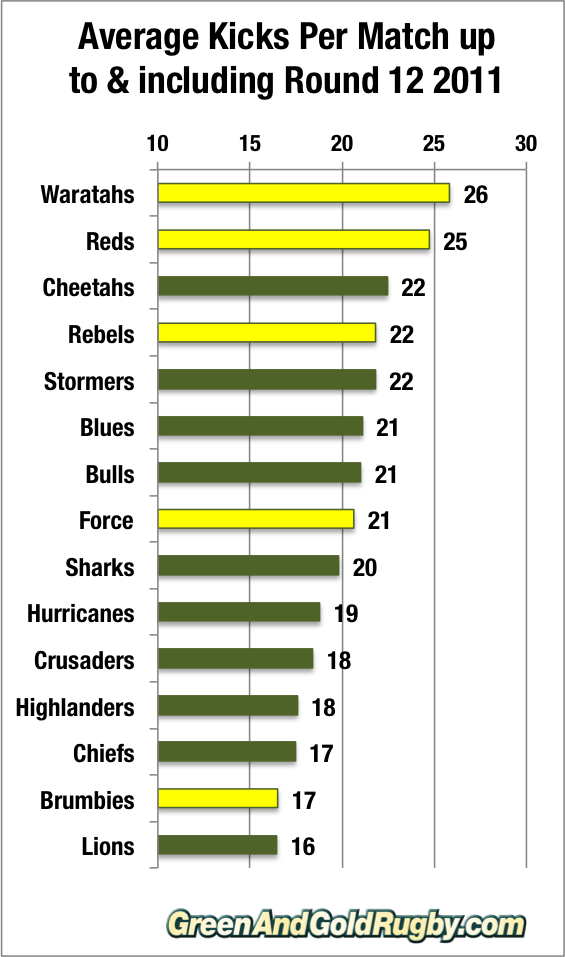 But where do Aussie teams stand on this front, relative to our southern hemisphere rivals? I mean, we're the guardians of running rugby… right?
Not according to the numbers. As the second chart demonstrates, three of the top five kicking teams are Australian franchises . On average, Australian teams make more kicks per round (109) than either their New Zealand (93) or even South African (101) counterparts.
What type of kicks are these? How many of these kicks are hoofs downfield versus cleverly weighted nudges designed to break up defensive structures? Unfortunately, the stats sets we use don't have an "Aimless hoof %", but we can calculate the average length of kick to give us a rough clue.
That measure indicates that the Waratahs and Reds have the shortest metres-per-kick in the competition (31m and 30m) versus teams like the Lions and Rebels and Brumbies, with measures of 39m, 38m and 36m respectively.
Still, this doesn't tell us how many of those kicks are uncontested box-kicks going nowhere. For now we'll need to use our eyes for that measure.
So is all this kicking a bad thing for Australian rugby? Well, if position on the ladder is anything to go by, no. Should we decry teams for spotting the way the game is changing and reacting accordingly, or playing to their strengths? The Brumbies couldn't run more and kick less if they tried, and look where they are.
I remember shaking my head in despair over recent years when Wallabies teams couldn't play field position when circumstances demanded it, most notably against New Zealand. With this in mind, and with a high pressure global tournament just months away, watching the Wallaby halves pairing of Genia and Cooper win games by pinning teams like the Stormers in their own half with laser-guided touch finders has been very pleasing on these eyes.
In addition, we know that the Wallabies won't be matching the current trend for monsters in the midfield. One of the key weapons to use against these behemoths is turning their lumbering frames with well directed tactical kicks — a skill that needs further honing.
So is it really the case that we're kicking too much, or are we actually starting to get it right?
See your team's kicks per round and trend in the gallery below.