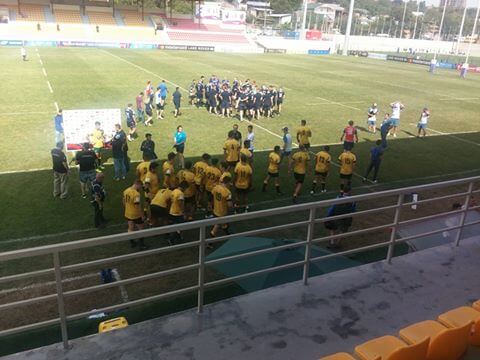 Sandy Higgs is an expat Aussie resident of Tbilisi, Georgia, and reckons you should check the country out. They love their rugby! Coincidentally, Sandy also runs Georgia Rugby Tours.
---
This is my first time writing for GAGR. Until recently I thought that was millenialspeak for 'Go and Get Rooted'. And with such a weekend for Scottish rugby fans, I feel that Australia may have heeded that directive.
Luckily for us here in Tbilisi, the Poms' match in the final was at a different stadium. The Jocks are much better-behaved as spectators than their southern neighbours. I don't suppose that's much of a revelation.
After yesterday's debacle at test level, I was looking forward to some expansive play, good skills and redemption for our recent single-point loss to the Atom Bombs. Well, I saw it in passing, but – and here I will state that I generally hate people blaming the ref – the bloke with the whistle had what I can only describe as the worst game from an official that I've seen since getting reffed out of a game in the 13Fs by a bloke from the opposition's 15Ds (who at one point threatened to beat me up after the game). More on today's Stevie Wonder effort later.
The match was (happily, in the end) moved from the 22,500-capacity venue (quite near my place, dammit) due to Georgia's upset win over Argentina putting them in the 9th-place play-off against Ireland (they ran the Paddies close, but lost 24-18). Completely understandable that the organisers would put the local side in as a curtain-raiser.
Thus, my fellow expat Aussie and I headed for the sticks to the free-admission also-rans' venue. It's a good rugby-watching space, and the beer's only $1.50 a pint, but I got the impression that the players' families were somewhat sick of making the trek.
We had our chances, but the ref robbed us. To the Scots' advantage, he:
Hardly ever enforced the offside rule;
 Called a high tackle on one that was under the armpits (clearly shown on replay, which wasn't consulted);
Played occasional advantage for knocks-on that somehow disappeared without advantage, but it wasn't called;
Was very quick to stop play when Scottish players were down, but wasn't that fussed when ours were injured and;
Missed several blatant obstructions (formerly known as 'shepherds' – I really think we should bring that term back).
His major crime, though, in my view, was something I hope I shall never again witness. Loosehead prop Cody Walker was out cold for several minutes, with another Aussie also down in back-play. Meanwhile, Scotland scored a try. I'm not complaining about that, but what happened next beggars belief. He allowed the conversion to be taken while the medics attended to a stricken player. Poor form.
I hope the ref never sees his boy or girl in a similar situation, with the game allowed to continue as though it means nothing. Walker was seen sitting on the sideline a while later, which is good news.
At 17-apiece after full time, the Scots get a scrum 5 meters from our line. Our boys had dominated the shove from the first (securing a tighthead), and this was no different. However, the wheel was deemed not sufficiently wheeled for a reset, and the video ref declared the palpable holding-on of our breakaway not to have made any difference to the try the Jocks ran in, so McBugger me, we wuz robbed.
We got cleaned up in the lineout, our attack wasn't as potent as it had been (although rush defence is easier to negate if it doesn't start from offside), and we spilled far too much pill for anyone's liking. Izaia Perese had a quiet game in attack, Liam McNamara and Harrison Goddard stood out, as did Lachlan Swinton and Harry Johnson Holmes off the bench.
It looks to me as though we have some talent. Let's hope it doesn't get corrupted at senior level.
Australia U20 17 – Scotland U20 24