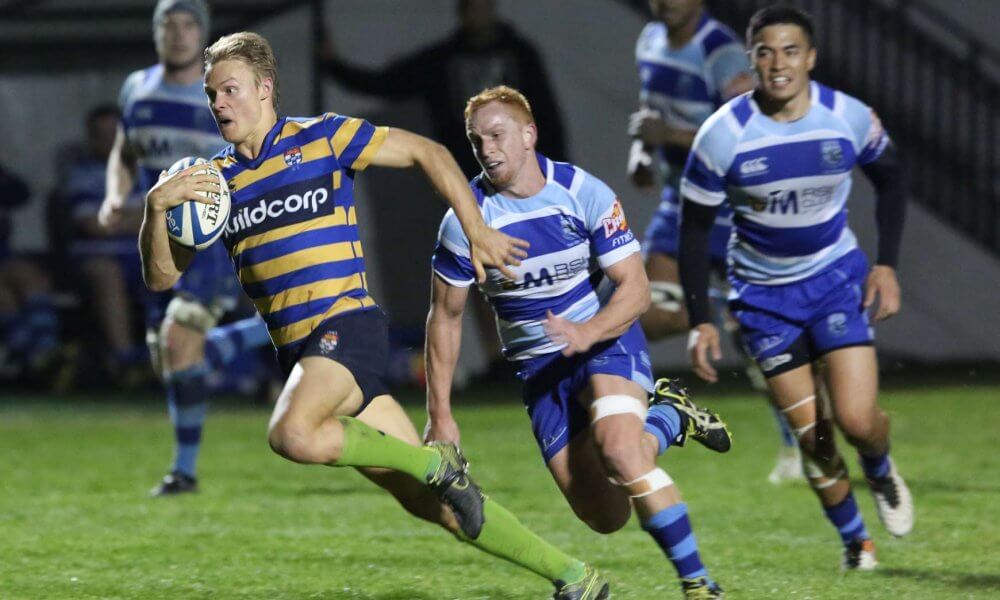 The break is over! With no Wallabies in town, the Intrust Super Shute Shield is back and the race for the finals is more than heating up. Here is our preview for round 12.
The Table
 The Previews
Free-to-Air Broadcast Match: Northern Suburbs vs Manly, North Sydney Oval, Kick Off: Saturday 3:10pm, Live on 7Two in NSW and the ACT from 3:00pm, Replay in QLD. 
Where better to begin?! This match looks like a cracker, and thank god it's the broadcast match of the week. Both teams won big last round and will be looking to guarantee their place in the top of the table. The Shoreman were, until last round, sitting on a four match losing streak. However, they got back to winning ways and put fifty on Penrith to take away a convincing victory. Hopefully, they can use this as a building block to get back in form, as they are the current champions for a reason.
But my goodness, they are gonna have a fight on their hands. Aside from a small misstep at the Battle of the Beach, the Marlins have been absolutely on fire this season. It culminated with them putting fifty points on West Harbour last round. With a seven point lead at the top of the table, a win here would be an important step to them securing first place, and they will sniff a big opportunity here.
Prediction: My heart wants Norths to get back-to-back wins, but I predict the men from the peninsula will head back across the Spit with the chocolates. Manly by 7. 
Southern Districts vs Eastwood, Forshaw Rugby Park, Kick Off: Saturday 3:00pm
The Rebels grabbed a vital away win last round against Eastern Suburbs, and with that find themselves sitting in sixth place, with Sydney Uni close behind them. If they want to stay there, they will have to put in a big performance this weekend against Eastwood. They have strung back-to-back wins together, and will be a tough nut to crack at home. If there was ever a time to make a statement for Souths, this is it. With the Students favourites to beat West Harbour, The Rebels need to win to stay in the top six.
The Woodies need to win here too. Despite being second on the ladder, the big victory by Northern Suburbs has closed the gap, and a loss here could be catastrophic for their campaign. They were able to get the job done against a resilient Gordon side last round, but Southern Districts will be a big step up. The Woodies though are currently on a four match winning streak, so they have consistency on their side.
Prediction: Along with Manly-Norths game on 7Two, this could be the match of the round. I reckon the Woodies should be able to see off the Rebels, but this could go either way. Eastwood by 2. 
Parramatta vs Gordon, Merrylands RSL Rugby Park, Kick Off: Saturday 3:00pm
This match looms as a huge opportunity for two teams that have had a tough season so far, but have some exciting up-and-coming talent. The Two Blues had a tough game against Sydney University last week, losing by thirty points. However, they will sense a real opportunity here, as the last time these two teams played in Chatswood, Gordon won but were pushed in a high scoring affair, 41-34. Since then, The Two Blues have been very up-and-down, with wins against Penrith and West Harbour and big losses to Sydney Uni, Warringah and Southern Districts. They will sense a good opportunity to perform well, and a win here would do much for the Parramatta faithful.
The Highlanders have been playing pretty well over the last fortnight, grabbing a surprise win against Norths and pushing Eastwood away from home. They have a lot of talent and potential, and surprisingly, a win here would see them overtake Eastern Suburbs, should the Beasties lose to Randwick. If they want to build a strong culture, they need to start consistently winning games like these, and I anticipate they will turn up for this one.
Prediction: The Two Blues always step up a gear at home, but I think Gordon has the potential to pull off a good win here. Gordon by 5. 
Warringah vs Penrith, Pittwater Rugby Park, Kick Off: Saturday 3:00pm
This is a tough encounter in more ways than one. For many of the Rats players, this is the first time back on the field since the tragic death of Lachlan Ward. It will be a tough, emotional day at Rat Park this Saturday, but I reckon that the Rats will be up for a commanding display to pay tribute to Ward and put a much-needed smile back on the faces of many on the Northern Beaches. The club has always been a family and community oriented club, and to play against them after the horrid fortnight they have all had will be a tough ask for any team.
As for the Emus, they had a better game against Northern Suburbs, and did score two tries, but once again their defence left much to be desired. The last time they played at home against Warringah, the Rats put seventy past the men from the mountains. Away from home, against a club hurting as bad as Warringah, I think it's going to be a long eighty minutes.
Prediction: It's going to be a emotional day for the Rats, win or lose. I expect a drive to pay tribute to their fallen teammate will see them win, and win big. Warringah by 60 or more. 
Sydney University vs West Harbour, Sydney University Football Ground, Kick Off: Saturday 3:00pm
After a big win against Parramatta last round, the Students will look to take advantage of their strong performance and back it up against West Harbour at home. Should they win, this could see the Students leap into the tip of the table. But it is important to remember that the last time they played West Harbour down at Concord, they lost by two. While they shouldn't take Wests lightly, they have more than enough firepower to get the job done.
The Pirates last win was in fact that victory over the Students, but since then they've been beaten in close affairs by Parramatta and Eastern Suburbs, and thumped by the current table toppers, Manly. While a potential finals berth is pretty much off the table, the Pirates still mathematically have a chance. I think this week is probably their last realistic roll of the dice for a late season charge, and a win here would send a strong message.
Prediction: The Students are always tough at home, and are starting to find some form. Sydney University by 14. 
Eastern Suburbs vs Randwick, McKay Oval-Centennial Park, Kick Off: Saturday 3:00pm
The Beasties will be ruing so many missed chances after their hard loss against Southern Districts last round. Their season has been such a mixed bag. They started off in shocking fashion before grabbing a draw and three impressive wins on the trot before last round's loss. This makes this weeks match against rivals Randwick an important one. They need to take one week at a time, and if they take their chances, they can win. Simple as that.
Randwick certainly have been taking their chances, but also haven't played in three weeks. After having their Warringah match postponed due to the tragic events at Rat Park, the Galloping Greens should be keen to get back out on the paddock, especially against their rivals. They are sitting in the top of the table for a reason, and have been playing well. Every match counts as we head towards the business end of the season, and they sure will know that.
Prediction: The battle of the Eastern Suburbs is always great, but this time I reckon it's going to the Galloping Greens. Randwick by 7. 
Featured Image Credit: AJF Photography