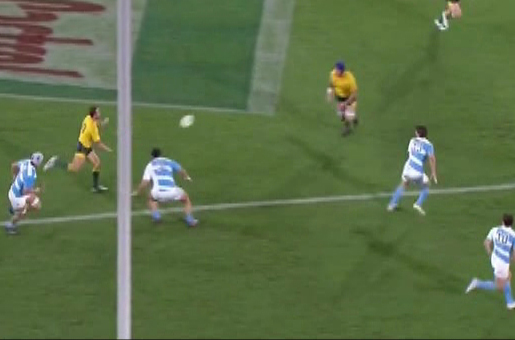 Following on from my recent article on how the Wallabies could attack the All Blacks defensive structures, Dan Abrahamsen had a second question: who do I believe should be the Wallabies number 10 to run that attack?
Whilst attack is only one component of the game, I believe it's the most important component for a number 10. Certainly a number 10 needs to be solid in defence but today my focus is on attack – the area where the Wallabies struggled most in 2012.
I consider there are five candidates for the Wallabies number 10 position in 2013: Kurtley Beale, Berrick Barnes, Quade Cooper, James O'Connor and Christian Lealiifano (although in Lealiifano's case it would be a big call to select a debutant against the Lions).
When judging a number 10 in relation to his attack there are a number of elements I think should be considered. A number 10 needs to:
Set the attacking depth of the team – they can't play too deep or this gives the opposition time to move forward or drift across field in cover.
Have to have the vision to see the opportunities and make the right decision on how to take advantage of each opportunity, and quickly.
Preserve space for support runners – a team's attack needs to be predominantly north-south, not across field or space is taken away. A number 10 can preserve space by:

taking the ball to the line before passing – this keeps the defence in two minds – and they have to make a decision on whether they should tackle the ball distributor or the runner, and

being a running option – this adds another thing for the defence to think about.

Have the pass to take advantage of the opportunities – an accurate, well disguised short pass and a fast, flat long, pass, not a slow, looping pass with too much hang time.
Part one of the video shows examples of problems with too much depth, how various players have dealt with opportunities and passing capabilities.
[youtube id="iSDn8_A9gZ0″ width="600″ height="350″]
Part two of the video shows examples of players taking the ball to the line and as a running option.
[youtube id="3MFAHosV4AA" width="600″ height="350″]
Having re-watched James O'Connor playing number 10 for the Wallabies on the 2011 end of year tour, I've changed my previous view that he should start on the wing for the Wallabies. His performances at number 10 in those two matches was very good.
I don't think having a player making their debut against the Lions in such a crucial position would be a good idea so Lealiifano would be a bench option at best. Kurtley Beale should be the Wallabies' starting number 15 — I think he's far too lateral to be the number 10. If the restrictive game plan is to be repeated this year I think Berrick Barnes suits that game plan more than the other candidates.
I think the combination of Quade Cooper at number 10 and James O'Connor at number 12 would awaken the Wallabies' attack, if the coach allows them to play their natural game. Of course, that's subject to form in Super Rugby this year.
However, if the coach is going to impose his restrictive game plan on the Wallabies again in 2013, there's no point in having an attacking number 10. I see that Simon Poidevin thinks the coach will be pressured into allowing a more attacking game plan this year, but we'll have to wait and see.