It was always going to be a big ask to top last week's Social Pages, but our plucky little rugby players are giving it a red-hot go!
The Aussie Women's Team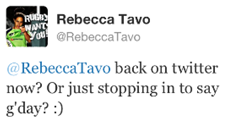 A huge congrats to Emilee Cherry (@emilee_cherry), taking out the Australian Women's Player of the Year award at the John Eales Medal ceremony last week. In other news, captain Rebecca Tavo (@RebeccaTavo) has managed to get seven weeks off work to prepare for, and compete at, the Dubai 7s. This has caused Tavs to do some soul-searching and self-reflection… Well, she talked to herself on Twitter anyway.
 Stay in school kids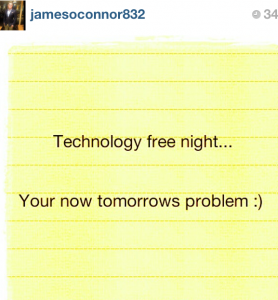 I admire the multitude of ways our rugby players give back to their community through Twitter, Instagram, and the other social media of choice. This week James O'Connor combined three complex social media elements: a philosophical message (one that I'm embarrassed to admit I don't really understand), a punctuation challenge, and a hidden message for the kids on the importance of education in a young man's life.
Look at what a top-class education at one of Queensland's finest schools did to prepare him for life after rugby. James O'Connor says: 'Stay in school, kids!'
Speaking of rugby players in school, I can't get enough of #throwbackThursday where our little warriors post photos from before they became the big deals they are today.


Things that make you go hmmm…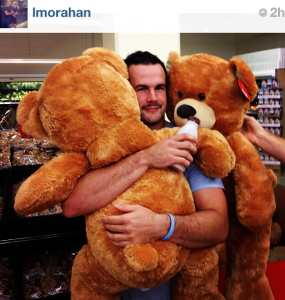 Jono Lance of the Queensland Reds seems to be making a push to make this category his own. Last week he gave a nod to Game of Thrones, and this week he's showing his sensitive, and not at all creepy, side.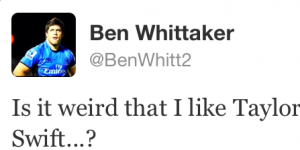 And in other 'Hmmm…' news, can anyone help Ben Whittaker answer this little conundrum?
My opinion: it's not weird that you like her, but it is weird that you ask…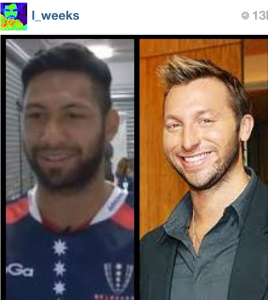 We know that the Rebels have been looking outside the sport of rugby for recruits: Dale Stevenson has come to the Rebels after representing Australia at the Olympics, and now they also have Ian Thorpe.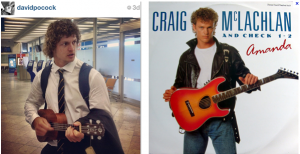 And on the lookalike topic: has anyone ever seen Nick Cummins and Craig McLachlan in the same place at the same time?
Whassup Wallabies
I got a little excited this week when the players started posting photos of the Stade Français gym. Although I hoped, for the sake of the Social Pages, that the boys were just pumping up before they posed for Stade-style photos, the closest I got was this.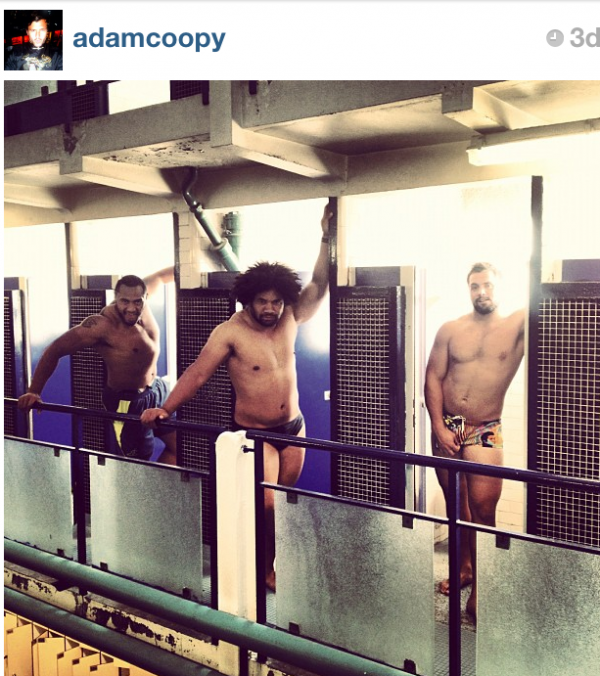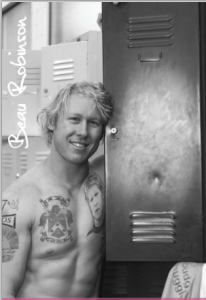 I'm going to be haunted by that image for a long time to come. Thankfully PinkRugby.com has come out with a calendar to raise funds for the McGrath Foundation that has some much more attractive photos. You know, if you're into that sort of thing…
The boys are in Paris this week, which has naturally led to an overwhelming number of photos with Eiffel Tower and Arc de Triomphe as either the subject of the photo, or the background. So this has naturally led to my play-at-home game for the week: INSTABINGO!
Instabingo
The Wallabies head to London next week so here's your bingo card. There are a number of ways to win Instabingo:
Players can win by using  this as a checklist and racing to take a photo alongside all of these landmarks
Fans can win by marking off their bingo cards as the photos from the players are posted
We can all win if Digby Ioane posts just one shirtless selfie in the London winter
Good luck, everyone!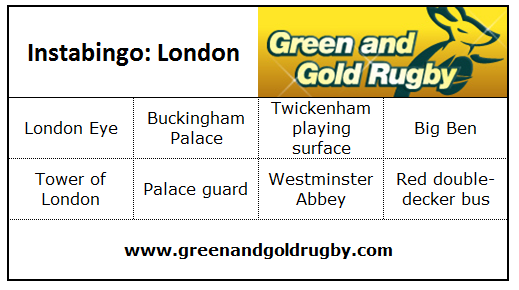 Until next week, man-hugs and bum-taps.