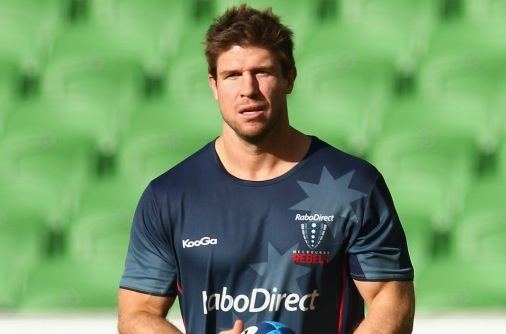 At 8:17pm on Tuesday, 26 June 2012, the Social Pages received some tragic news: Michael Lipman (a.k.a. Lipdogg) hung up the boots, retiring from all forms of the game. He's a champion who has always taken the stick he's been given on this site in the good spirit it's intended; he writes for the site, and he's just been on our podcast. I'm just not ready to say goodbye. In honour of Lipdogg's retirement from playing, this week's feature image is simply black.
Thankfully this will leave him more time to tweet his deepest and most randomly awesome thoughts, and I shall have time to give him a fitting send-off into the big wide working world. Oh yes, there will be montages. To music.
Learning Stuff
Something very different this week, gang. I've had an overwhelmingly high number of people ask me for my response on the Kurtley-Quade incident, and there seems to be an underlying assumption that I don't like them or that I like to see bad things happen to them. Inspired by Lipdogg's honesty in his latest #askLipdogg post, here is my real answer, not the flippant and funny response you might be expecting. We'll be back to usual programming after this rant!
We live in an increasingly consumer culture. Where we used to talk about 'games' and 'matches' we now discuss 'experiences' and 'products'. We achieve KPIs and tick boxes, we don't win bloody lineouts or score more points. We sometimes emphasise playing an 'attractive' game so much that when we win ugly we're not happy. And where players used to be 'heroes' known for on-field heroics, we now have 'sporting stars', 'celebrities', 'brands' and 'role models'. As celebrities, there is less focus on what they do (play rugby) and more on how they live. This is why we have Twitter!
Along with this, the players are becoming more objects to be looked at. Once, I had posters of Tim Horan mid-flight, of John Eales jumping (not lifted…) and Peter Slattery holding the Super 10 trophy. You know — doing stuff. Now players pose in artful lighting, you can download photos of players wearing suits or shirtless for your computer wallpaper. And there's a demand for that.
The 'sports stars' are the powerless elite: on the one hand they are paid good money and they live a lifestyle that appears to us outside the bubble like an awesome existence. That's the elite bit. But at the same time they have no power whatsoever; they can't act like a normal 22-year-old who also happens to have a great body that probably gets him laid, a cool job, and enough money in the bank to have a massive night out. And when they cock up (because they're young and didn't we all?) we sit in judgement because they 'should be role models', and they 'should know better'. The commodification of rugby says that these guys now have a monetary value, and we who pay for that lifestyle want value for money. Even when the athlete is off-duty.
In rugby right now we seem to be straddling that divide between 'boys will be boys' and 'these guys shouldn't drink when they're injured because we're paying them'. I think there's no real answer to that, it just depends on where you stand on the line of consumer culture.
I can't imagine how difficult it is for players to have come through expecting a culture like the one that Matt Burke, Joe Roff  et al. went through, where they would be judged on how they played rather than what they did when they acted like others their age.
This may seem like an unusual perspective for someone who writes the Social Pages to have, but I can understand the pressures while also revelling in their social media faux pas.
Today's Players
The current crop of players is increasingly comfortable with society's objectification of them. So much so that they now turn that gaze upon each other. I for one think it's adorable that so many players get close enough to Saia to sniff his hair. And for Beau to be thinking of Saia in his moment of unbridled happiness. It is so sweet! 

Jono Lance understands presenting himself as a marketable commodity. Unfortunately, his efforts to position his teammate James Slipper as the sexy front rower may have got off to a rocky start.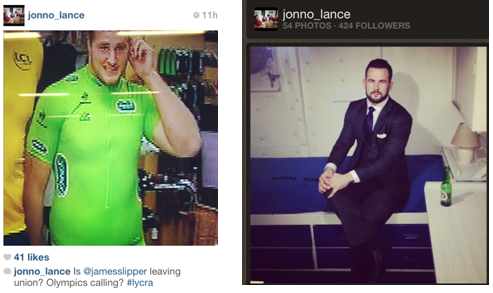 The Melbourne Rebels players are certainly showing themselves as objects to be looked at.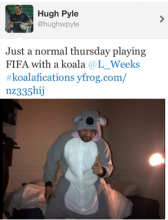 Laurie Weeks has revealed he has a passion for plushies.
Then Jono Owen posted this photo of Hugh Pyle that I can only assume is designed to attract the attention of the lady folk.
Then…something happened to Mitch Inman. 
Homework
Each week from now until the end of the season, I will be taking votes on what components you feel should be used in the official Social Pages Lipdogg tribute. In Week 1 (of 4) it's Music. Choose from the following, and vote by pressing 'Like' on the comment containing that song.
A) 'That's What Friends Are For'
B) 'The End of the Road'
C) 'I Touch Myself'
D) 'My Heart Will Go On'
Do you have a better idea? Add it in to the comments and put it up for the vote too! Votes will be counted by 'Likes' on the comment with the song title. So what do you think?