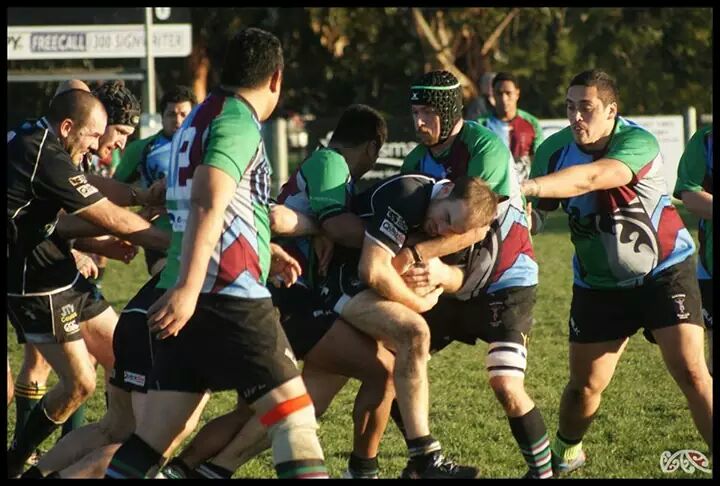 In the final round of Tasmanian rugby before the competition bye, Devonport have moved into top spot whilst Glenorchy have swapped positions with Quins to go second.
At Rugby Park, Glenorchy Stags moved to second place on the ladder by defeating Harlequins, 33-18. A see-sawing first half saw the Quins take a one point lead into the break but the Stags produced a comprehensive second period performance to run away with the victory. A dynamic pick and drive game from the Glenorchy pack saw territory gained on the fringes that the Quins struggled to stop.
Stags coach Shannon Banks was satisfied with the performance, crediting a strong defensive effort as the foundation for the victory whilst naming Josh Papera and Jamon Stankovich as his side's best. For Quins, Michael Fox was dangerous at fullback whilst Josh Haeva and Sidney Fielia were also prominent.
Devonport Bulls have moved into top spot with a hard fought 26-19 win over hosts University. A strong set piece from the Bulls provided the platform to open up a second half lead however the Students fought hard to remain in the match and almost snatched a draw at the death. Devonport Number 8 Johann Joubert was damaging throughout the game whilst Connor Mack and Courtney Harris also performed well. University were best served by Brad Doran, Mike Kadziolka and Gareth Gerrard.
A depleted Taroona Penguins side have recorded a valuable 40-24 victory over a travelling AMC Vikings. A strong performance from the forward pack secured enough possession to consistently keep the visitors scrambling in defence. Penguins' Matt Brocklehurst was happy to gain the win however stressed the need to maintain an 80 minute performance for the rest of the season. Sam Graves, scoring two tries, Andrew Wicks and Chris Thompson were best for the victors while Michael Johnson, Glenn Morgan and James Erwin produced good form for the Vikings.
At Royal Park, Hobart Lions defeated Launceston Bumblebees 25-5, scoring 17 unanswered points in the second half. Despite missing several players through injury, the Lions produced a solid game based around support play that the Bumblebees weren't able to disrupt, allowing prop Jon Cook to grab a double. Flanker Tim Kadziolka, James Cazaly and Tristan Lawrence were industrious for the Lions whilst Peter Crawt and Jerry Kyaela were Launceston's best.
Eastern Suburbs have gone into the break with a 115-0 demolition of Burnie Emus at Warrane. A comprehensive display from the Roosters saw the entire backline scoring tries with Coel Ikin getting 4 whilst Cyron Prouse scored two. Easts' coach Brett Bourke was happy with the performance, in particular the defensive shutout of the Emus, whilst nominating halves Jake Hyland and Bo Horton as architects of the win. Despite the scoreline, Burnie's effort was never lacking with Greg Harrison showing commitment at fullback.
Author Credit – Isaac Anderson, University Rugby Club
Results
Glenorchy 33 def. Harlequins 18
Devonport 26 def. University 19
Taroona 40 def. AMC Vikings 24
Hobart Hutchins Lions 25 def. Launceston 5
Eastern Suburbs 115 def. Burnie 0
Ladder
 Team
P
W
Opp Fft
D
L
BP
F
A
%
Pts
Devonport
9
8
0
0
1
6
384
130
295.38%
38
Glenorchy
9
7
0
0
2
9
327
123
265.85%
37
Harlequins
9
7
0
0
2
7
383
203
188.67%
35
Eastern Suburbs
9
7
0
0
2
5
329
140
235.00%
33
Taroona
9
5
0
0
4
7
302
169
178.70%
27
Hobart Hutchins Lions
9
3
0
0
6
6
236
163
144.79%
18
AMC Vikings
9
3
0
0
6
6
163
244
66.80%
18
University
9
3
0
0
6
3
188
227
82.82%
15
Launceston
9
2
0
0
7
1
112
382
29.32%
9
Burnie
9
0
0
0
9
0
55
698
7.88%
0