Wests v University of Queensland
The University of Queensland have outlined their 2014 Qld Premier rugby credentials by overwhelming Wests 57-20.
Wests opened the scoring with a penalty to scrum-half Tim Smith but UQ caught them off-guard twice, taking quick taps resulting in prop Pat Fepuleai and fullback Tom Pincus crossing the line.
UQ's kicking game pinned down Wests in their 22 early on and the resulting lineout ended with hooker Lyall Fidow barging over off a maul.
Another quick tap got UQ back in Wests 22 and their slick backline headed by fly-half Teti Tela launched a set piece move off a scrum 10 metres out putting winger Harry Parker through a whole and in for their fourth try in 30 minutes.
UQ's backline continued to stretch Wests and they nearly had another minutes later but Wests fullback George Morseu made a great last-ditch cover tackle to force Pincus into touch.
The desperate effort went in vain however as a knock-on by Wests from the resulting lineout was regathered by UQ and Parker put centre Ryan Leeson into space and in the corner.
Nothing was going right for Wests in the first half and after what looked like a productive chip and chase by fly-half Sam Caslick got them into a good attacking position, they dropped the ball and UQ counter-attacked finishing in winger Ben Cullen running over.
Wests came out renewed vigour in the second half and solid centre Devyn Smith nearly scored moments after the kick off but lost the ball trying to stretch out for the white line.
But Wests managed to build on their momentum and Smith's centre companion Apelu Alapati beat his opposing number on the outside off a five metre scrum for their first try.
The rest of the half became a tit-for-tat affair with UQ fullback Pincus fielding a desperate Wests clearance kick and attacked the un-manned wing setting up a simple draw and pass to put Parker in for his third.
Wests then hit back with 10 minutes to go after a dominant push on UQ's scrum feed 10 metres out with Smith diving on the ball kicked out of the back of UQ's scrum.
UQ then responded with another try to Pincus, but Wests would end on a high note with replacement lock Nick Borscht from close range off a five metre lineout.
University of Queensland 57 (tries: Fulapeai, Pincus 2, Fidow, Cullen, Leeson, Parker 3, cons: Pincus 6) Wests Bulldogs 20 (Alapati, Smith, Borscht, cons: Smith, pens: Smith)
GPS went on a 21 point scoring spree in the ten minutes before half time to seal their match against the Breakers.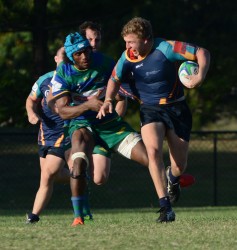 The Gold Coast side will be rueing their defensive lapse after being very competitive for the other 70 minutes of the game and winning the second half.
GPS had the early running in the game and scored a well worked try after great lead up from the whole side.
The teams traded penalty shots and after 30 minutes the score was 8-3 to GPS. Then the wheels fell off for the Breakers with three long range efforts from GPS blowing out the score to 29-3 at oranges.
To their credit the Gold Coasters came out with renewed vigour in the second half and kept GPS scoreless while scoring twelve points and two tries themselves.
The 26 point first half lead was always going to be too much to ping back but the Bond Uni Breakers kept trying to the final seconds.
As with a lot of first round matches this one was a little scrappy but both coaches will be pretty pleased with the outing but both will have pages of things to work on.
The GPS scrum dominated, the lineouts were scrappy, and there was a fair bit of dropped ball from both teams but the rucks and mauls were wilful and the tackling as hard as I have seen.
GPS 29 Bond University 15
More Match Reviews.
Brothers hold off surging Sunnybank