GAGR's coverage of the Gold Coast 7s 2014 will be posted on this page, which will updated after each game of the day one campaign. Australia's first game against Portugal is located at the bottom, and the latest games will appear above it. 
Gold Coast 7s 2014 Match 3: Fiji
Though both sides had secured a spot in tomorrow's finals series, the final match of Day 1 saw the hosts of the Gold Coast 7s take on Fiji to determine the seedings for tomorrow's finals. The winner would take on a Welsh team lucky to be there at all after upsetting powerhouse Kenya, whilst the loser would take on a South African team with plenty of finals experience. Friday the 10th of October was Fiji day, and the festivities among the Fijian islands continued in to the weekend as three early tries in as many minutes torpedoed Australia's chances of winning on home soil.
With by far the best support of any nation at the Gold Coast 7s Fiji arguably possessed home ground advantage, outnumbering the Australian supporters by a significant margin, and boy did they let you know. Chants of Go Fiji, Go! shook CBUS Stadium, spurring Fiji on to their finest performance of the tournament.
From kickoff you could see that Fiji had a strong plan heading in to the game, holding up the Australian ball runners with choke tackles to either strip the ball or win a penalty through their maul defence. Fiji executed this to perfection early on, Osea Kolinisau scoring a runaway try in the first minute of the contest.
Fiji put more pressure on from the kickoff, nearly regathering the ball with a clear run to the try line.The powerful Fijian defence was forcing offloads and scrappy play from the Australia. Excellent line speed forced errors aplenty, and the Fijians excelled whenever opportunities in broken play arose. A loose ball was picked up by the Fijians, an offload in front of the posts went to ground, and Stefano Cakau got a lucky bounce to score his sides second. Fiji would go on to score another try in less than a minute, a wild offload granting Semi Kunatani a clear run in to the tryline, scoring directly in front of the largest pocket of Fijian support.
The powerful opening display from the Fijians were soul crushing to watch for all Australian spectators, but they were a minority in a sea of Fijian support – easily the most supported team in the competition. It didn't stop Australia from trying, and a wide attack too Australia inside Fiji's half threatened the line, but the runner was bundled in to touch in a great cover tackle.
An Australian kick in to space gave up another long range try just before halftime, as the fullback/sweeper stepped the lone chaser and took the ball the rest of the distance as the halftime siren sounded. With a lead of 28-0 at the half Australia's chance to win the match was faint to say the least.
Just 30 seconds in to the second half Fiji notched another feather in their Rugby 7s cap with another good try.
Cameron Clark scored two consolation tries for the lacklustre Australians, hopefully giving them a little confidence heading in to their quarterfinal matchup with South Africa.
Press Conference with Geraint John, Australian Rugby 7s Head Coach
What can you take out of that game?
 
There's only Fiji that can play like Fiji, and I thought we actually threw the ball away, and we offloaded the ball in contact, tried to sort of keep the ball alive, but in the last couple of minutes we ran in to the spaces in between contact, kept our feet going, turned the ball over a lot better than we have in the first part, and the result was a couple of tries. I thought we lacked a little bit of composure in that first half, and once they're on a roll they're on a roll. It's a disappointing way to finish, but as I said to them "It's a new day tomorrow, we're in the Top 8, and we've got to front up tomorrow" so the next few hours are important in terms of recovery.
 
How do you prepare for a game against South Africa, who've looked very strong so far?

Yeah, that's the nature of the game innit, I thought this morning that the first two games those teams really had a go at them, and I think it's the same. We've got to do what do, rather not think about the opposition, got to make sure that we're prepared, we know what they'll do in terms of kickoffs and re-starts, and we know how they play, we've got to make sure that we turn up and play our game tomorrow and make sure we control the ball a lot better in the contact area because when South Africa look at that they'll probably come hard and press at us hard. In defence we've really got to make sure we work hard and control that contact area as it'll be vital tomorrow.
 
Australia upset South Africa in the Semi's here last year, can you take any confidence out of that, or is that just water under the bridge?

I think it's difficult to say things like that, we should be confident.. We've beaten Fiji on numerous occasions as well but you've got to play a certain way and have that control and in the game itself you never know what's going to happen from one day to the next, and I think you saw that today in some of the earlier games. You saw the Kenya Wales game which was pretty tight, you saw Pool D where the games we're all tight. Nobody probably would have guessed the first result with Argentina and England. We've got to be confident in the way we play, do what we can do, make sure we can turn up tomorrow and really make sure in that contact area we control the ball a lot better than what we did.
 
Injuries?

All fine. We pulled blokes because they were tired. That's why we have a squad of 12, so we can make those changes.
 
Where does that lack of composure come from?

I think we haven't played enough games, which is just something we need to do. Fiji's defence is, you know.. last week we didn't face one team with that kind of D in Noosa, that big press D, got right up in our faces, but we've got to sort of manage that. It's just continual practice and continual work in the contact area. We've not done a lot there this year, we've had other specialist coaches come in.. But that first half was disappointing, we need more confidence, sometimes when teams get really physical like that you lose that confidence to go wide.
Gold Coast 7s 2014 Match 2: Scotland
Australia have survived a scare from the flying Scotsmen, scoring an early try before going in to halftime 8 points down. A good recovery effort and a two minute burst before full-time ended the game on a positive 24-14 scoreline. 
Scotland have proven to be more than a handful against Australian Rugby teams in recent years, felt by none more than the 7s team. With a draw at 2013's Gold Coast 7s and a 19-7 loss at the Glasgow 7s, Scotland are one of the few teams that Australia admits to not enjoying playing. A win at the 2014 instalment of the Gold Coast 7s would secure Australia a finals berth regardless of the outcome against Fiji later tonight.
With the stakes high, Australia kicked off to start the game and a strong chase forced a knock on, a trend that has continued on from their previous match. However, points certainly came a little faster. James 'Chucky' Stannard, a seasoned veteran from the Western Force and Brumbies Super XV sides, spotted an opportunity to snipe and accelerated through the gap left by an absent ruck defender. With a man outside him, the defender had to make a decision whether or not to expose the flank to bring down the inside threat. The defender made the wrong decision, and Stannard gassed the defence to open Australia's account. Stannard missed his own conversion, but it was the best possible start to an important match.
With a second go at receiving the kickoff, Scotland opted to attack the Australian wings, and for the opening quarter it was all the Green and Gold could do to hang on to the Scottish charge. Quick ball movement caught the Wallaby 7s at sixes and sevens, Scotland putting men into overlaps on both sides of the pitch. Sheer pace through the middle was stretching the defence thin, and Australia could only make so many diving tackles before the dam wall broke, Scott Riddell scoring the converted try in centrefield.
The Scottish restart was kicked out on the full, allowing Australia to unleash a set piece move from a great attacking position. With bodies in motion all over the pitch, the first phase was well defended, but clever execution had gifted the Wallaby 7s with a 3 man overlap on the right wing on the next phase. However, a stumble killed the attacking momentum and the ball soon went to ground. Scottish flyer James Johnstone scooped the ball up and dashed for the try line, outracing all for Scotland's second converted try.
With a 8 point deficit at halftime the warning bells may well have been sounding for the Australian coaching staff, and the defence certainly tightened up in the second.
A knock on early granted Scotland fantastic attacking field position, scrumming 25 out and 15 from the right sideline. Australia were able to put on a big shove and disrupt the ball coming out, and Chucky Stannard was able to win it back and hoof it downfield to the 22. With the lineout throw not straight, Australia called for a scrum to get a crack at Scotland's backline.
The ball was shifted left for Cameron Clark, shaking his opposite man by stopping and starting right in front of the Cam Clark fan club, a group of old schoolmates from Newington, earning a roar of approval followed by fanatical celebrations as the son of Fox Sports commentator Greg touched down in the corner to cut Scotland's lead. A great conversion from Stannard was just what Australia needed to inspire the supporters and the team to flex some running rugby muscles.
Shortly after, Scotland committed another penalty from inside their 22. A quick tap saw Chucky Stannard take contact 10 out from the line, and Pama Fou was able to break through several tackles to score a converted try.
A strong leap from Australia wins back the kickoff for Jesse Parahi , embarking on a run through the midfield, soaking up defenders before pop-passing the ball in to space for Pama Fou, who raced to the line for his second within seconds.
The final quarter of the match won the game for the Aussie's, demonstrating great tenacity to lift their intensity to rip back the lead and then seal the win, sealing a Pool deciding fixture against dangerously in-form Fiji at 7:01 pm local time.
If Australia win that game, they will face Wales in the cup quarter finals after they shocked Kenya in one of the games of the tournament – losing a 17 point lead with 2 minutes to go, before scoring a chip and chase try to win the match on full-time.
If Australia lose, they will face South Africa, a tougher match.
Gold Coast 7s 2014 Match 1: Portugal
The Australian Rugby 7's 2014/15 campaign has kicked off with a bang after serving minnows Portugal a 29-0 loss at midday on the Gold Coast.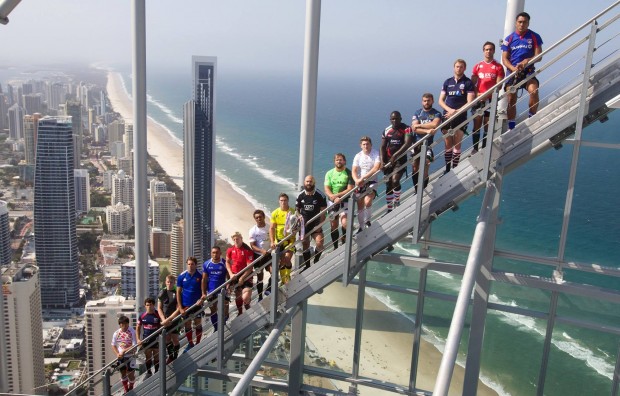 The 2014 Gold Coast 7s marks the official beginning of a new era in Australian 7s Rugby, despite coach Geraint John already leading the team to the Glasgow 7s final earlier in the year. With the core of the squad unchanged and a full off-season to recover, John is surely targeting the Gold Coast 7s as the first step to securing the IRB Rugby 7s Championship and guaranteeing a place at the 2016 Olympic Games. Missing weapons Shannon Walker and Greg Jeloudev, and facing one of the toughest pools in the competition, it was always going to be a fun ride.
Australia played Match 8 of the Gold Coast against Portugal in front of a disappointingly small home crowd. Not letting that affect their performance, Australia began the day by kicking off and forcing a Portuguese knock on. Australia worked hard on exploiting space both out wide and in tight, testing the Portuguese defence on a hot, hot day.
First points came from a simple switch move wide left, with Pama Fou cutting inside to score the first converted try for the Australian's.
Australia scored again seconds later as a central playmaker noticed a slow realignment from the Portuguese on the left wing, and a long cutout pass gifted Captain Ed Jenkins an untouched run in to the try line.
Portugal use their first significant possession to good effect by sparking a sweeping set piece move to the left, characterised by a willingness to retreat to find extra space in classic Rugby 7s style. In a free flowing display Portugal eventually knocked on after stretching the Australian defence side to side for several phases.
Through the remainder of the first half breakdown penalties and poor handling were letting Australia off the hook in defence, and the men in Green and Gold knew how to capitalise. University of Queensland product Con Foley broke two tackles in centrefield and carried the ball the rest of the way
At halftime Australia led 19-0, and were crushing Portugal out of the fixture. At that point I was summoned down to the pitch to have a chat with Captain Ed Jenkins, and as often happens in Rugby 7s, if you blink you miss it. By the time I had found my way to the field the game was almost over. Cameron Clark and Sam Myers both recorded second half tries on the left wing as Australia cooly knocked off the Iberian nation.
Australia play Scotland next at 3:45 pm local time.
GAGR: You guys really crushed Portugal out of the fixture with your physicality and  defence I thought, how hard is that to keep up on a hot day?
Jenkins: I think everyone is going to be struggling with this heat, so everyone's on the same boat, but I think our defence really showed in that game and it was positive I guess to not let a try in.
GAGR: You play 2 games during the day, then thankfully Fiji at night. What are the biggest challenges for that game?
Jenkins: At the moment you know all we're looking towards is the Scotland game (3:45 pm local time), we really need to win that to make the quarters tomorrow. Fiji is going to be a tough one late at night (7:01 pm, the final match of the day), but I guess our main focus at the moment is Scotland.
GAGR: Playing in front of the home crowd, how big of an advantage will that be for you guys?
Jenkins: It's big, but unfortunately there's not that many people here at the moment so hopefully they're all coming a bit later to support us through the big games.
On that note, if you're anywhere near the Gold Coast today or tomorrow, drop by and support the 7s team. Ticket's are cheap as chips and plenty are available at the doors, or you can visit http://premier.ticketek.com.au/shows/show.aspx?sh=sevens14 to purchase them online.
All games are streamed online at irbsevens.com.