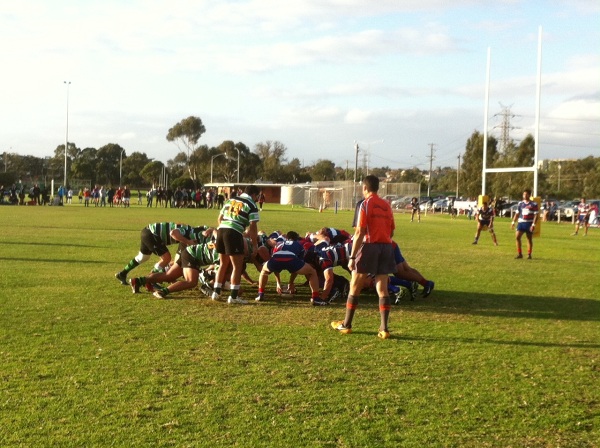 Moorabbin looking for a point to clinch the last position in the playoffs
With three rounds to go, only one verdict isn't out in the Victorian competition. Despite a terrible form in the last weeks the rams need only one point to join Box Hill, Harlequin and Melbourne in the finals. Melbourne Uni is still hoping to tipping them from the fourth spot, but they'll need two large bonus point wins from their remaining two games.
On the top, the surprise package of the season, Box Hill, has a bye to recharge the batteries before the last frantic weeks of the season, meanwhile second placed Harlequin, trailing the broncos by only one point, will have a confortamble home game against the last placed Endeavour Hills. The reigning champions are still hoping to make the top of the ladder to be able host an eventual final for the second year in a row.
Sitting third on the ladder, Melbourne will host Power House in a tricky game which could provide some headache to the unicorns without two of their high performing Rebels players,  Telusa Veainu and Jordy Reid.
With the NRC looming and the Melbourne Rising squad to be announced soon this round will be an opportunity for many players to make head coach Sean Hedger's shortlist.
Harlequin – Endeavour Hills
Quins had a bye last round and for sure they will come out firing against the bottom placed Endeavour Hills. Despite fijian national Alex Rokobaro has been called at the last minute by Tony McGahan to join the Rebels in South Africa, the quins have plenty of talent to win this game with a 4 tries bonus point.
Melbourne – Power House
Unicorns don't lose since 5 rounds and will go into the game as favourite agains an inconsistent Power House. The visitors last week against Footscray fought up to the last minute to steal a win, Melbourne must not drop the guard for the whole 80 minutes, but a win is at hand. The absence of Reid will test Melbourne's back row.
Moorabbin – Sth Districts
The pirates won 2 games in a row for the first time in the 2014 season and have a perfect opportunity to make 3 in a row against the rams. For Moorabbin a narrow defeat may be enough to clinch the play offs and they'll fight to keep in touch against the visitors, although they desperately need to improve their form for the finals if they want to challenge their opponents.
Melbourne Uni – Footscray
Do or die for the students, only a win with bonus point and some help from Southern Districts will give them a chance to make the play offs. But he much improved side hasn't an easy task against the bulldogs, always not an easy opponent. The higher motivation of Melbourne Uni should bring them over the line if that will be enough to secure a bonus point it's open.
| | | Points |
| --- | --- | --- |
| 1 | Box Hill | 57 |
| 2 | Harlequin | 56 |
| 3 | Melbourne | 51 |
| 4 | Moorabbin | 50 |
| 5 | Melbourne Uni | 40 |
| 6 | Southern Districts | 35 |
| 7 | Power House | 34 |
| 8 | Footscray | 31 |
| 9 | Endeavour Hills | 22 |