The two leading contenders for 1st XV honours this year, Churchie and Nudgee College, each have work to do on the training paddock this week. Churchie went down 24-18 to a determined Toowoomba Grammar outfit, while Nudgee College chalked up a tough win against BBC with a deceptive 28-13 scoreline.
Toowoomba Grammar School (TGS) v. Anglican Church Grammar School (Churchie)
From the opening whistle, TGS took the game to their visitors. With all the early territory (90% for the first ten minutes), they took on the Churchie defence in wave after wave of attack, finally breaking through courtesy of an ACGS handling error at the back of a scrum on the 5m line. Swooping on a loose ball in the corner, the TGS blindside was over. 5-0.
The match soon settled into the rhythm it would take for much of the afternoon, turning into a tight, well-contested match. Both sides were largely equal up front, with both packs hitting rucks well and generally offering a stable platform.
Similarly, both sets of backs offered some sparkles in attack and largely performed well in their individual positions. There were no glaring faults in either team, nor were there any substantial areas of dominance. It took moments of error or brilliance to separate the sides.
The former came in abundance from each. In spite of their many trial matches and doubtlessly substantial time in training (each squad had five trials against GPS and other opponents) handling errors and simple mistakes dominated proceedings, disrupting much of the flow that developed and giving the other team territory and possession advantages. In the tight contest that this was, these advantages were key and opened the door for much of the scoring that took place.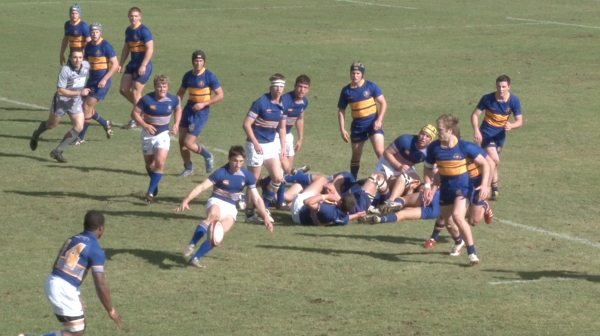 Vincent Quigly, the Churchie scrumhalf, looked as if he may be the difference for much of the match, having a major hand in each of Churchie's three tries, running skilful lines, taking good options and exhibiting great vision to guide his side around the park. Leading 18-12 with 15 to go, Churchie looked to be gaining an upper hand against their tiring foes.
With the clock winding down, Churchie soon gifted TGS with good field position through some poor handling. TGS were able to twice get over the line with some great hands taking runners through some sloppy Churchie defence.
Full-time, 24-18 to TGS and a major upset in Round 1, hurting the prospects of title hopefuls Churchie in their centenary year.
Brisbane Boys' College (BBC) v. Nudgee College
With a scoreline reading 13-28 to Nudgee, and BBC only scoring the one try to Nudgee's four, a logical conclusion would be that Nudgee College had substantially controlled, if not dominated this match. Such a conclusion would, however, be one too hastily reached.
The match opened with fierce intensity from both sides in their exchanges, with the play moving end to end. BBC opened their account with a penalty in the sixth minute, and Nudgee got their reply soon after with a try from a lineout turnover in the 13th minute. 3-7.
Minutes later, BBC hit back in a clinical counter-attack through their #15, running a great line from inside his own half to offload in contact for a great try in the corner. Though converted, it was to be BBC's sole try.
Nudgee again responded quickly with a try, pouncing on spilled ball from a charge down in the 20th minute. 10-14. The half finished with ten minutes of sustained pressure by BBC on Nudgee's line, and despite getting over the line twice, BBC's groundings let them down, the first being ruled inconclusive and the second spilled at the last moment for a knock on. At oranges, the score remained 10-14 to Nudgee.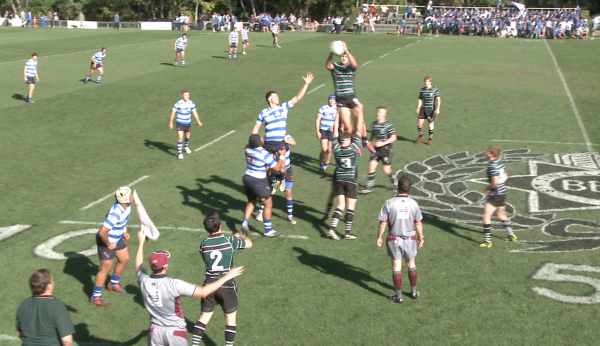 The second half opened with much the same intensity as the first, with Nudgee ultimately pulling a ye olde 'turn your back to the defence and hide where the pass is going' move, with #12 Jack Tuttle putting his #8 through the BBC line almost untouched to score under the posts. 10-21.
After another BBC penalty and a bread and butter overlap try to Nudgee, the scoreline read 13-28, which it would remain for the rest of the match, despite more sustained pressure from BBC.
BBC's forwards truly took on the vaunted Nudgee College pack and the contest was at very least even, and any conclusion that BBC got on top in the battle up front wouldn't be an unfair one. BBC created more opportunities than Nudgee and would have come out ahead in terms of both possession and territory.
Two key factors separated the sides:
Support play – Despite their more numerous opportunities, most BBC attacking movements ended with a pass going to ground, or an isolated man. Conversely, Nudgee runners consistently came from depth, at speed, and had the hands to capitalise upon the opportunity.
The BBC #9 – BBC were always at a disadvantage, as their scrumhalf consistently 'cocked' his pass before letting it go, allowing the Nudgee defence that extra second and shutting down the space in front of his team's runners. The loss of momentum frequently stalled any momentum BBC had gained.
Ultimately, it was a solid and deserving win to Nudgee College, though both teams certainly have their work cut out for them. BBC may yet strengthen when key men, including Australian Schoolboys rep and wrecking ball Lolo Fakaosilea return from injury.