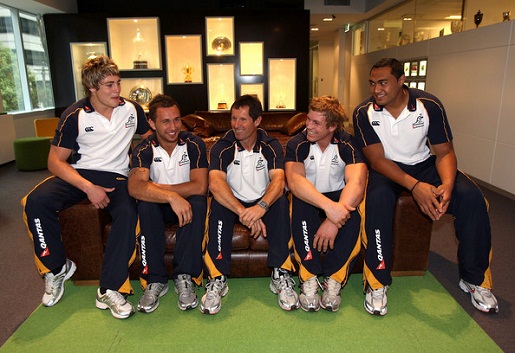 "Aussie" Mike Harris became an Australian hero with his kick that won the 2nd Test against Wales after the final whistle, with his new ironic nickname because he is, of course, as Kiwi as pavlova, Russell Crowe, or Phar Lap.
How so?
•     His grandmother was Australian (which is how he manages to qualify to play for Australia).
•     He was Head Boy at Westlake Boys High School, a state secondary school for boys located in Auckland, New Zealand.
•     He played in the ITM Cup with North Harbour (2007–2010).
•     He is a former New Zealand Under-20 cap.
•     He was named in the Blues' wider training group in the 2010 season.
•     He only moved to Australia at the end of 2010 when he got a contract with the Queensland Reds.
This reinforced a question of mine – is Australian Rugby becoming overly dependent on Kiwis for depth?  In recent years, top line players in Australia seem have boarded a west-bound boat (so to speak) from the Land of the Long White Cloud when they don't get the opportunities they desire over there.
New Zealand "only" has five Super Rugby provinces, and the excess of talent churning out of their traditional rugby factory exceeds the number of professional spots up for grabs.  Some will wander off to Europe or Japan, but a great number also look across the "dutch" at Australia for a chance.
There is also the Polynesian dominance evident in rugby league, seemingly pre-disposed to being rugby players. If you pick up the program for any round of Shute Shield rugby and looked through the team lists, you will see the prevalence of Islander names.  Looking at current Wallabies we can see a large number of players whose families immigrated to Australia, and whose decision to play rugby was probably at the knee of parents with a close affiliation to the code.
David Pocock (Zimbabwe), Quade Cooper (New Zealand), James O'Connor (New Zealand), Tatafa Polota-Nau (Tonga), Anthony & Saia Faingaa (part Tongan), Digby Ioane (New Zealand), Salesi Ma'afu (Fiji), the list goes on.  If you go into the player rosters for each of the Australian Super Rugby teams you will find the same. The fact the Tahs currently have no home grown half backs just staggers me!
But back to some more examples of the All Black talent drain.
Sekope Kepu seems to have been a Tah and Wallaby forever, but represented New Zealand at Under 17, 19 and 21 levels; was a member of the Chiefs wider training group between 2005, and 2007 and a stand out for Counties Manukau in the Air New Zealand Cup in 2006.
Grayson Hart has suddenly come to attention of Aussie rugby fans, having been blooded in the last couple of games of the Super season by the Tahs. His background? Hart played for the World Cup-winning New Zealand team at the inaugural Under-20 tournament in 2008 in Wales alongside future internationals Zac Guildford and Sam Whitelock. At the tournament, he kept current All Black halfback Aaron Smith on the bench. The following year, Hart would play nine Super Rugby games for the Blues.  Again, as Aussie as a Marlborough sav blanc.
A few more players of this ilk are Afa Pakalani at the Waratahs, Henry Speight at the Brumbies (OK he's Fijian but got spotted playing for Waikato in the ITM Cup by Lealiifano when he was there), and Toby Flynn at the Force.
Willie Ofahengaue was practically plucked from the New Zealand Schools team to wear the green and gold. Patricio Noriega gave up the Pumas' jersey to do the same and Topo Rodriguez before him. But with the professional game NZ rugby immigrants have certainly become a steady flow.
Now Australians aren't any more or less inclined to be great rugby players than any other countries' athletes, but these kiwi players seem to arrive with an inherent advantage given then the rugby culture of their homeland. Harris is proof of that and given time and the right chances, who knows, he might eventually have become an All Black.
More importantly, when these players come out of the NZ system, they are at a level higher than the equivalent Australian players, due to rugby's status and structure in New Zealand.  They will have played in the ITM Cup, possibly for a Super Rugby extended squad or even on the first team.So you can understand when one of the coaches of our Super Rugby teams, desperate for success, opt to chase the more polished and developed Kiwi product over the likely rawer and less developed Aussie.
Players that have been exposed to proper fitness and diet regimes, professional team operations, top line coaching (again, with no disrespect to Australian coaches, the Kiwis are bloody good at coaching rugby), are going to be a more attractive proposition than a player coming out of the Shute Shield who has probably been working while training, and simply hasn't had that exposure to a professional culture.
This is reinforced by the number of rugby players you see get a chance in rugby league, with a spot in a Toyota Cup under 20s side for a couple of years, before they get too old, can't get a full NRL gig, and come back to rugby to have a crack at a pro contract there again (Rocky Elsom anyone?).  Whilst it's not ideal from an Australian Rugby perspective, to lose this talent to league for a year or two, it is hard to argue that it is not a better stepping stone to success than as an amateur in the Shute Shield, while working full time.
This comes back to the lack of a "proper" third tier in Australia, like the Australian Rugby Championship of 2007. Unfortunately, this isn't going to be fixed any time soon.
I don't begrudge those Kiwi players the chance to do this. This is the nature of modern rugby in the professional age. But the fact it is happening gives me cause for concern over development paths for Australian rugby in the long term.
My concern is also the message this sends to the next crop of Australian-grown players. Are there opportunities being denied or reduced for them? A case could be mounted that you are better off being either (1) a kiwi-bred player or (2) serve an apprenticeship in league, than being part of the "development system" in Australia.
So over the next few years, I expect to see New Zealand players snaring Australian Super Rugby contracts again and again, and I will think to myself — which Australian-grown players are missing out as a result?
There is no easy "fix" to what I see as a problem. However, I do believe the ARU needs to stand up and show some leadership in applying considerable resources to providing some sort of more formal structure to foster talent in the club ranks. If they are doing this currently, they sure aren't advertising it.
The fact that blokes like Harris are popping up in our national team isn't, with no disrespect to Harris, a sign of strength. It's a sign of one of the major problems with Australian rugby depth at the moment.