You are one sick bunch, voting to see the final instalment of this analysis of WTF happened in the last 10 at Newlands when the Springboks ran away from the Wallabies.
So far we've analysed DeVilliers' first try and Lambie's score. Now it's time for the coup de grace.
It's 21-10 with 20 seconds left on the clock when the Wallabies restart. Matfield receives the short kick off and the Springboks send it wide about 30 metres out.
Adam Ashley-Cooper puts a fantastic dominant hit on Serfontein, driving him backwards.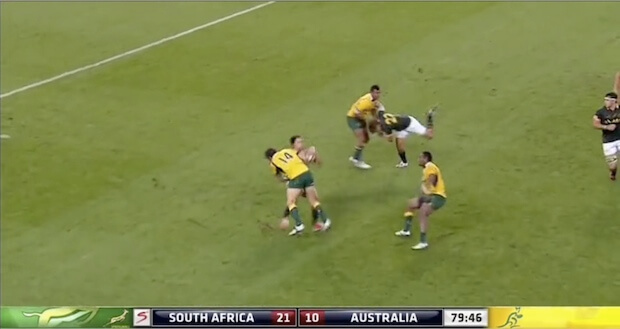 Error 1 – Beale spills the turnover
Kuridrani is straight on the scene to clear past the ball, setting up a turnover. The next man in is Kurtley Beale, who attempts to pick the ball out of the hands of Serfontein who is stretched back attempting a 'long place' to give his side the best chance of recovering it.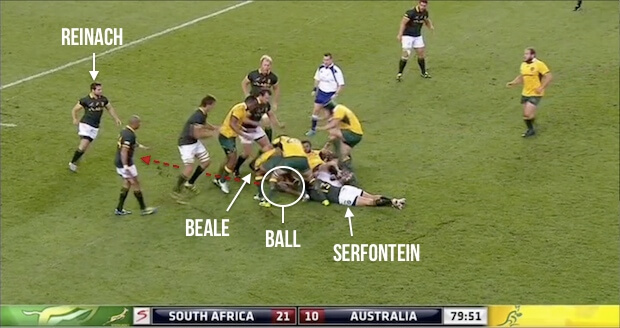 Beale spills the ball as he attempts to pick it up from the ground while bent over and moving forward. There's no-one else in contact with the ball other than him and the prone Serfontein, so it's more than likely that the South African was holding onto the ball. Is this 'not releasing' or the ball carrier just firmly placing the ball? Either way, Owens rules 'to the victor the spoils' and the ball shoots forward into Jacobus Reinach's hands.
Error 2  – Phipps and Foley miss Reinach
Here's yet another example of the South African bench making a big impact as Reinach sprints off downfield and winds up chewing off 60 metres. His swerve and dummy sell both Phipps and Foley who have chased back to cover after 79 minutes of play. Foley doesn't get near the South African and Phipps attempts a tackle as effective as the one he just missed on Lambie.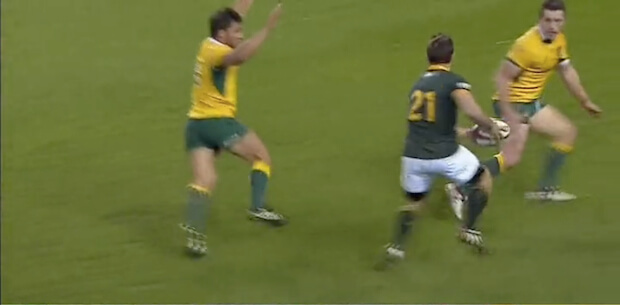 Eventually Reinach is brought down by a great tackle from Ben Alexander, aided by who else but Tevita Kuridrani.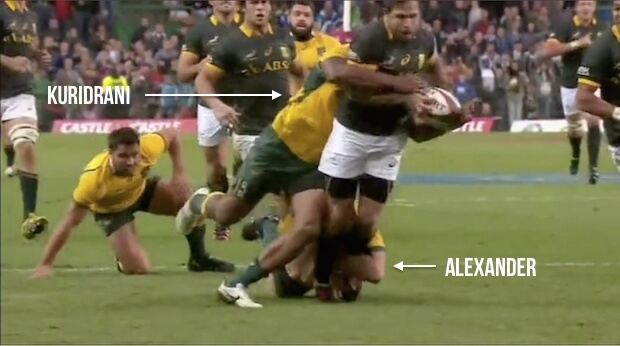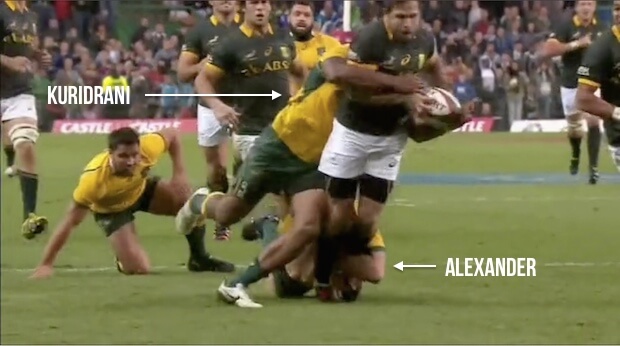 At the ensuing breakdown there's a RIDICULOUS piece of skill from another Springbok replacement – Shalk Burger – as he throws a 15 metre, two man skip pass – FROM BETWEEN HIS LEGS.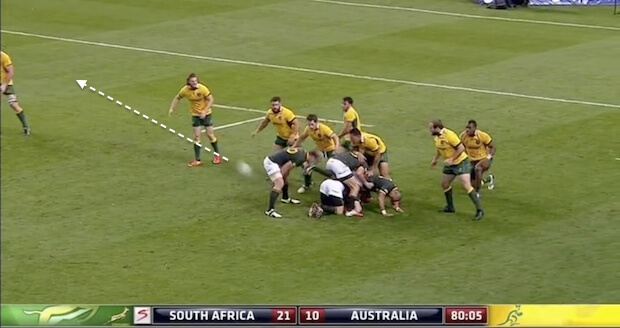 Error 3 – Slow Wallabies realignment
In the next frame you'll see where this pisstaking piece of skill lands – into the hands of Bismark Du Plessis (16). But look at who is only just coming into frame from the other end of the field.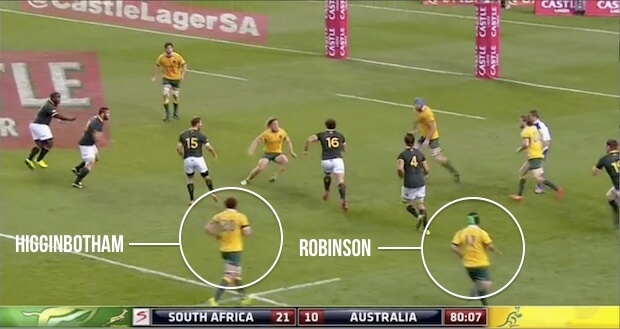 Wallabies replacements Scott Higginbotham and Benn Robinson are only just rejoining the game, almost. In the time between Reinach's breakaway and when they finally get to the wrong side of the breakdown formed by Horwill tackling Du Plessis in the frame below, Schalk Burger has already cleared the ball from two rucks. These two players will play no role in the final seconds as the Wallabies find themselves outnumbered 9-6 on the left hand side of the field.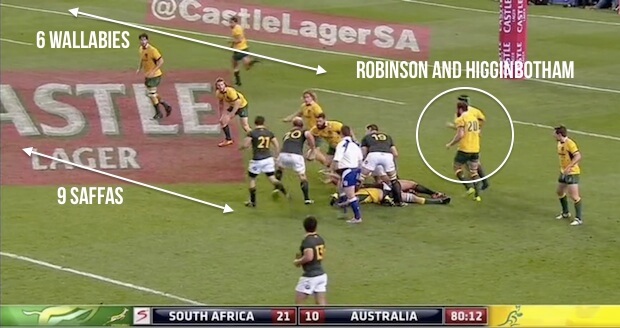 Error 4 – Phipps and Horne miss DeVilliers
From here it's fairly simple catch and pass from South Africa, even a bounce pass doesn't effect them as the core of what is now the Wallabies mid-field – lock Sam Carter – can barely do more than jog (he has topped the match tackle count with 22 and no misses). Indeed LeRoux takes his time figuring out what to do with the knackered Aussie second rower and settles for using the space Carter yields to draw in Fardy.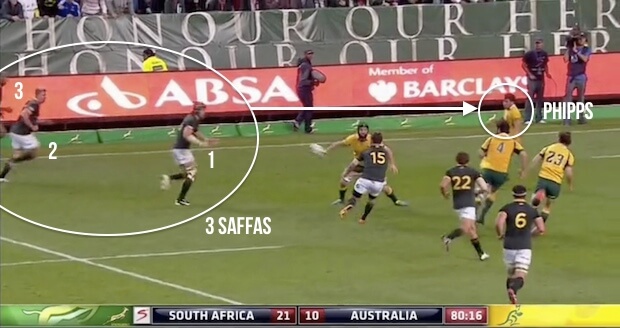 This leaves the last man standing – Nick Phipps yet again – to cover three men; Matfiield, DeVilliers and Hendrick.
If there was any Wallaby I'd like to see the GPS distance run stats on it would be Nick Phipps. He must cover a stack of distance, and regularly gets himself into the most crucial of defensive situations (as you would hope a sweeping half back would). However, again in this final period it comes to nought, as his ankle tackle is not enough to stop DeVilliers' momentum from taking the Springbok captain over the line.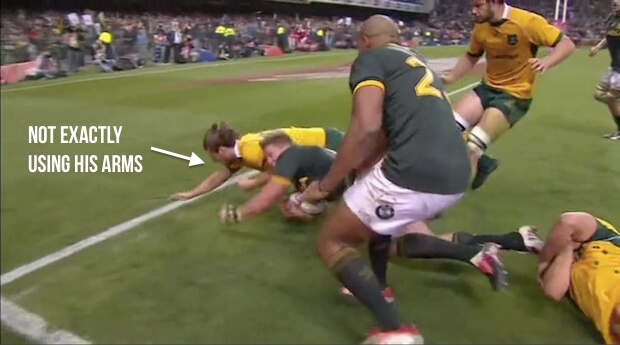 In a last ditch effort Rob Horne tries to launch himself at DeVilliers in hope of either dislodging the ball or knocking the saffas head off with an impressive flying shoulder charge that only just missed its mark.  This was probably just as well as it would have only resulted in a penalty try and/or weeks of suspension for Horne.
Finally
I hope this series of analysis into the Newlands test hasn't been as painful for you as it was for me, although by going into it in such detail, there are a number of observations that I take from the crunch points of this crucial period in the match.
The gulf between the two benches is bigger than I first thought. The Saffa reserves were instrumental in their defining plays, the Wallaby reserves were either making mistakes or completely absent

The same names kept cropping up in the error analysis. For some of those it's damning on their performance (or lack of). For others though, it's because they were at least putting themselves in situations where they could succeed, or fail. Phipps and Horwill stand out in this regard.  

There were a number of players whose absence, on reflection, was noticeable.  As examples –


Higginbotham; I hear stats and read raves about his 'mongrel' but the only time he cropped up in these 10 minutes was down the wrong end of the field on the wing.
Folau – as a full back I would have expected to see last line of defence heroics. Instead he was no where to be seen.

Did anyone in the management team seriously think that this little possession against South Africa was a good idea? If not, that's not how it played out on the field which poses even more questions.
But at least we have closure.
Don't we?