A dominant performance from the Waratahs in which all players improved their stocks. All players that is, apart from Ryan Cross who had tits for hands and made a habit of losing possession. In an omen that bodes for round 1, the same Fijian side who competed with the Rebels just last week were severely outclassed by a near full strength Waratahs squad who raced to a 41-0 lead. As the Waratahs cleared the bench their handling degraded and scoring ceased, allowing Fiji to put on 13 unanswered points with some slick attacking rugby in the second half, taking the final score to 41-13. Everyone got a run and Hickey will be happy to have seen the academy players stepping up.
Both sides were able to secure their own ball at the set piece, and both failed to disturb the opposition's ball. To my eye the Tahs scrum appeared dominant, getting a good shove and pushing the Fijian set piece around, however they incurred a lot of penalties on Fiji's ball, especially later in the game. I was very impressed to see we've bought back the maul, forming on two occasions and hopefully we'll continue to see this unique aspect of forward play throughout the season as a way to capitalise on the strength and size of our forwards.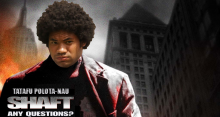 Whoever is picking the tunes at NSWRU this season has a sense of humour – the theme tune to Shaft was played as Fiji ran onto the ground. Tatafu Polota-Nau's fro was righteous, though there was some contention at the pub after the match if he'd had it trimmed? Is there any truth in the argument that the high humidity would have a significant effect on such a large body of hair. was faultless in the set piece and fearless in the loose, it's great to have him back.
Wycliff Palu had a busy 40 minutes before running out of steam, attracting many defenders and really looking for work. At one point he made two consecutive tackles then was instrumental in a disallowed try for Tom Carter's who was held up over the line. It's also likely that Cliffy has spent the last ten months working on the razzle dazzle, he flicked a tricky short behind the back pass to Berrick as he ran at the line.
The Tongan Hitman Afa Pakalani showed loads of pace and knows how to find the try line. He looks a great prospect for the 22 jersey this year, after scoring a double tonight.
Berrick Barnes directed traffic a lot more accurately than he directed conversions towards the posts. He also copped a fair amount of aggression from the Fijians who weren't shy about hitting him late and high.
Lachie Turner impressed at 13, more so in the first half in combination with Tom Carter, than in the second half when Ryan Cross generally dropped dropped the ball or passed it to a Fijian, somewhat robbing those outside him of opportunities.
Tom Kingston had a good debut, almost scoring down the right wing when he was dragged into touch close to the line. He picked up an injury in that tackle which allowed 2009 Australian Schools and current Waratahs academy player Jacob Woodhouse a cameo in jersey #29.
Woodhouse showed electric footwork and at first glace appears to be quite the goose stepper. He showed express pace and prevented a likely Fijian try by chasing his opposite number down over 30 meters. This must have frustrated the Fijians as their vice captain and flyhalf Dan Rawaqa attempted to remove his head, initially with a high swinging arm and when that didn't by work picking him up around the neck and slamming him into the ground. A small stink ensued with a few handbags thrown but no-one seemed to be taking it too seriously, which is probably for the best as there were some massive units on the field tonight.
There are some truly massive units in next generation of Tah forwards, with Kane Douglas (2.02m, 122kg), Greg Petersen (2.06m, 115kg), Sitaleki Timani (2.02m, 119kg) and Scott Sio (186cm, 114kg) casting impressive shadows.
It was a good night for rugby, the crowd seemed genuinely entertained and mostly sober if the 30 minute bar queues were anything to go be. A 3 minute highlights video can be seen at Super Rugby.com.au
HSBC Waratahs 41 (Afa Pakalani 2, Lachie Turner 2, Kurtley Beale, Drew Mitchell, Ryan Cross tries; Berrick Barnes 3 cons) d Fiji Warriors 13 (Navi Bolatagici try; Dan Rawaqa 2 pens, con) at Sydney Football Stadium. Referee: Ian Smith. Crowd 7568.