Aussie D asked the question, at the Green & Gold Rugby forum, as to who should be the Wallaby captain to take us to the 2011 Rugby World Cup.  It is a timely  question,  now just a little over 24 months until the big event, and a vital one.  If there is one thing that has typified all RWC Champions so far, it is strong leadership.  David Kirk (1987), Nick Farr-Jones (1991), Francois Pienaar (1995), John Eales (1999), Martin Johnson (2003) and John Smit (2007) were/are all very assured leaders and vital cogs to their teams' success.
Whilst I never want us to get to the stage whereby World Cup success takes priority over all other tests, we have reached a stage whereby Wallaby leadership must be questioned.  Our recent test failures have been characterised by rudderless play, devoid of any sense of purpose.  We can't expect to win trophies with that form of rugby.
But what makes a good leader? Aussie D, in his post, proposes the following:
"1. Be an automatic selection; 2. Be an 80 minute performer; 3. Be world-class; 4. be durable (not injury prone); 5. be in a position to lead (close to the action, not stuck out wide)."
Looking at the above previous World Cup captains, most of Aussie D's criteria are met. The most  interesting observation, perhaps, is that none of the World Cup winning captains had double figures on their back.  That is, Aussie D's 5th rule, fits perfectly.  There are obviously examples of great rugby captains playing out wide, Andrew Slack and Trevor Allen (both Outside Centres) are two of our best. But it is hard deny the benefit of having a leader who is always close to the ball and, by necessity, the referee.
Let's look a little more theoretically at what makes a good leader. For this I like to revert to some quotes on leadership I like.
Aussie D may like the words of Harold S. Geenan: "Leadership is practised not so much in words as in attitude and actions". He's right from a rugby perspective.  The captain has to be a real lead from the front person.  However, communication can be critical, but Geenan would suggest that is how he delivers these words and how he follows them up himself.
John C Maxwell has similar beliefs: "A leader is one who knows the way, goes the way and shows the way". We have these types of leaders in Australian rugby.  Both 'current' skippers, George Smith and Stirling Mortlock, are these types of captains.
However I also like this belief, from an unknown source: "A good leader inspires people to have confidence in the leader; a great leader inspires people to have confidence in themselves". This, I feel, is what Australian Rugby needs now.
Whilst Steve Waugh may not have had the on-field tactical nous of a Mark Taylor and had the benefit of being able to rely on Shane Warne and Glenn McGrath, what he did do exceptionally is create self-belief in his players.  He can take a great deal of the credit for the successful careers of the likes of Matt Hayden, Justin Langer, Damian Martyn et al.  He instilled a real self-belief in themselves.  They knew they were good enough and knew that they could do anything on the cricket field.  As a result, they usually did!
At the moment our Wallaby team seems to be lacking, not only leadership, but self belief.  So who is our Steve Waugh? Who is the man who can turn this team around and have them back winning those tight games we used to, under the captaincy of John Eales?
Let's break down the options, starting with the six most obvious. The test and state team incumbents.

Stirling Mortlock (injured Wallaby Captain): Stirlo was anointed the man to lead taking over from our most capped skipper, George Gregan, in 2006.  Gregan remained in the side, however Mortlock was now the man to stand up.  It was a fair decision. Mortlock was a dominant backline presence and a popular member of the team.  At the time he was one of our definite world class players, and most people's choice as the world's best 13.  Three years on and age is beginning to show.  Mortlock's consistency is waning and questions must be raised as to whether he will actually make it to 2013.  His position in the side can no longer be guaranteed, if through injury alone. For this, his rights to the captaincy must be called into question.
George Smith (current Wallaby Captain): Stepping into the role vacated by the injured Mortlock, Smith is definitely a lead from the front captain.  Ironically he stood down from the Brumbies captaincy this year to allow Stephen Hoiles a more dominant role.  Smith has always been reluctant captain and you can sense that on the field.  He seems unwilling to take the fight up to the referee or indeed his own players. Whilst he has been around longer than Mortlock, there is absolutely no signs of his form sliding and he is very likely to still be there in 2011.
James Horwill (Reds Captain): Big Kev has a real claim to the title.  His one problem at the moment? Form.  Since fighting his way back from injury this year he rarely has shown, for the Reds or the Wallabies, the on-field performances that drew such acclaim last year.  Still, he has the Grand Slam tour and a full Super 14 season to make his case. Doesn't seem to be the type of Steve Waugh type of leader however, but does anyone at the moment?

Phil Waugh (Waratah Captain): Actually, Phil Waugh does kind of strike me as a bit of a Steve Waugh skipper, ironically. There is no doubt the Waratahs always play a hell of a lot better when he is playing. Whether that's due to them fearing him or being inspired by him, Waugh's leadership credentials can not be questioned.  And whilst some questioned his playing form this year, he was still one of the Tahs' best. It is just a pity he plays the same position as George Smith. Or will Smith's move to Number 8 be a more long term solution?

Nathan Sharpe (Force Captain): From a player's perspective, Sharpe is apparently an excellent captain.  All reports indicate that he is a very popular individual and his team mates enjoy playing along side him.  His contribution on the field is now being called into question more regularly, and his omission from the team to play the Springboks in Brisbane can only partly be put down to injury.  His ability to make it to 2011 must be called into question.

Stephen Hoiles (Brumbies Captain): Now this is a long shot.  But should it be?  Hoiles is behind the 8-ball from the start because he's not in the Wallaby squad.  But if there is a position we have struggled to fill this year, it is the Number 8 spot.  Wycliffe Palu has not been the dominant force he once was whilst Richard Brown is struggling to step up in his second year of test footy.  Hoiles plays a looser game than many 8-men, but his skill level is higher than Palu's or Brown's and his lineout work is first class.  As a captain, he rallied his team this year in tough times, following the death of Shawn Mackay. It'd be the longest of long odds, but when you consider it, why not?
Now let's look at some other leaders within the squad with legitimate claims.
Matt Giteau (Brumbies): The fourth Brumby (so far) on the list. It makes it hard to claim any real leadership proof when your not even skippering your provincial team.  The claims for Giteau seem to be based around the U10 approach of give it to the best player. He kicks the goals, he scores the tries, so just make him skipper.  However the added responsibility of playing fly half seems to have stifled Giteau's impact, so one wonders whether he could handle the captaincy as well.

Rocky Elsom (Brumbies): Yes, another Brumby, but one with a some real claims.  Here's a man who knows what he wants and usually gets it.  His dealings (managed by himself) with the ARU regarding his 'sabbatical' in Ireland, as well as his negotiations with the Reds and Brumbies, indicates he's ready and willing to take things into his own hands and fight for what he believes in.  He has a real presence on the rugby field and, from his time in the Northern Hemisphere, has developed somewhat of an aura about him.  With Waugh, he seems the type of captain that team mates would want to play for and with.
Stephen Moore (Brumbies): Oh look, a Brumby! Moore has definite leadership potential.  His form over recent years has seen him proclaimed by many as the World's best hooker, despite a slight slump of late. He also plays a game heavy on involvement and high on inspiration.  It will be difficult for him to stand out in this capacity at the Brumbies, given the number of leadership candidates, but the cream always rises and Moore will need to do as much if he has aspirations for higher honours.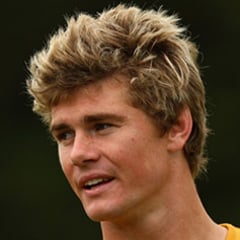 Berrick Barnes (Re…Waratahs): That still hurts to write.  Anyone who has had any dealings with Barnes, whether it be in the flesh or through interviews in the media, has observed what an impressive individual he is.  He comes across as humble, genuine and committed.  He works hard at his game and has a genuine drive for success. These are all aspects that could make him a wonderful captain. Unfortunately his regular injuries curtail any real chance he has of assuming leadership positions. I predict he will have the captaincy arm band at stages for the Tahs next year, and if he can stay on the field he's a real chance. If only he can stop himself from grimacing after every tackle, or skewed kick, or poor pass.

Benn Robinson (Waratahs): Others have suggested Robinson purely on the basis of his sublime play and the fact he is one of the Wallabies' few automatic selections.  Personally I want more from a captain.  Whilst I agree that Robinson is a world class, I haven't seen any real leadership qualities as yet. He doesn't seem to be an on-field communicator or organiser. So what's wrong with just letting him focus on what he does best? Destroying opposition scrums.
David Pocock (Force): I put Pocock here purely because his leadership abilities are widely acclaimed. He is a wonderful player on the park and an inspiring individual off it.  He may one day skipper the Wallabies, and he will be an excellent one, but I can't see it happening within the next couple of years. If we did want an open side to be skipper, I can think of two better candidates at the moment.
Ok, so they are the ones most likely.  But I want to throw in three left-field candidates.  Just to spur conversation.

Daniel Vickerman: This one was proposed by Wayne Smith in his article in The Australian newspaper. It is an option I hadn't considered but it is well worth doing.  Vickerman was a vital cog in the Wallaby (and Waratah) team not too long ago. His abilities in the lineout are well publicised, but his aggression at the ruck and maul is an aspect this Wallaby team is currently lacking in as well. There are many 'ifs' tied to this option, such as "if he comes back", "if he shows form" and "if he wants to captain", but I reckon its a very appealing alternative.
Tatafu Polota-Nau: Ok, so this one is even more left field than Vickerman, and it largely depends on his ability to prove his worth in the 2 jersey. However I think TPN is a potentially brilliant player. What he does on the field sometimes, his ferocity in the tackle and skill with the ball, are world class.  Obviously the lineout throwing must be improved but his is a highly intelligent and well respected player.  His presence on the field is considerable and, from what I have seen, the players would respond well to him.

Morgan Turinui: Ok ok ok.  Hold your horses.  This is even more left field. In fact its probably out of the stadium, but it has real appeal to me, in a purely fanciful world.  The 13 jersey needs to be filled. I can't see Mortlock doing it. And I can't see Cross doing it.  Adam Ashley-Cooper is favoured, but who knows where else his utility value will be needed. Turinui is a leader.  He is an excellent communicator and reader of the game.  I get the feeling he would work exceptionally well with Robbie Deans and his coaching team.  I still maintain he is good enough, when fit and in form, to play for the Wallabies and if he can prove his worth then he'd be a certain captaincy candidate.
So there you go, plenty of options.  Of course few of us have any real idea who these guys are on the field, on the training paddock and in the team rooms. And in the end, that's why the Wallaby coaching team will always be in a better position to ascertain leadership candidates then us lounge room experts.  But for the Wallabies to be any chance in 2011, we need each and everyone of the above players to stand up and be counted.  Because as the World Champions of 1987, 1991, 1995, 1999, 2003 and 2007 showed, teams need strong leadership groups. And at the moment our Wallaby team does not seem to have that. Let's hope that changes, sooner rather than later.