For those that didn't quite get the joke of this and then this, sorry. There was no mystery Reds signing. It was just me, your intrepid 'reporter', getting the chance to train with the Queensland Reds. Some time ago Coach Ewen McKenzie invited me, as proxy for Matt Gagger, down to have a run with the team. Originally it was meant to be back on 11 January, but a little bit of rain got in our way that day.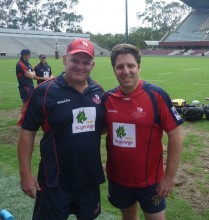 So it was rescheduled for today. Which meant my sleepless night was rescheduled to last night  as I was 'playing the movie' out in my head. I'd get down to training; Link would introduce me to the lads. They'd be friendly enough, but nothing too meaningful as, "c'mon, he's just some overweight hack from some dodgy web site".
And then I'd hit the paddock. It'd start slowly, with some impressive form on the touch field. A couple of decent pills, a step or two, possibly an intercept try showcasing my game reading abilities. Then we'd move into some match day work. A little bit of contact. Link would be impressed by my intensity and I'd get the odd pat on the back from some of the other 'dirt trackers'.
Then someone would go down injured. I wasn't specific as to who it would be, but there was clear concern. Link would look over to me and just give me the nod. I'd rip off my vest, throw it to some rookie from the Academy, mutter "watch and learn" and move over to the 'first teamers', packing down on the side of the scrum.
Training would finish and the lads would be impressed. And that would be that. Until the Force game on 20 February. I'm there in my capacity as an accredited journo, settling into the press box when I get a tap on the shoulder. It's one of the Reds' coaching staff. "Van's rolled his ankle in warm up. You're on the bench."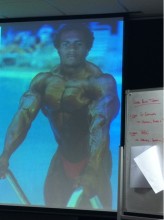 And so and so forth. Rags to riches story. Reds contract. Wallaby selection. World Cup Champion. Hollywood story. You get the idea. Don't you? C'mon don't bullshit me people. You would have thought the same! This was my time.
So as I drove to Ballymore I had blaring Eminem's "Lose Yourself" cranking on the iPod.
"Look, if you had one shot, or one opportunity
To seize everything you ever wanted-One moment
Would you capture it or just let it slip?"
As it turned out, the day started out fairly similarly to my visualization.
We kicked things off with a team meeting and we (Mr Timms and I) were indeed introduced to the team by Ewen. It was a fun meeting as Head Performance Coach, Damian Marsh, was announcing the winners of the King of the Gym.  It was great to see the guys reacting to each announcement through the various exercises. An interesting balance between light hearted sledging and that competitive edge.
In the end Ben Tapuai took out the bronze position and I tell you what – he's looking like a real athlete. Previously he was a bit of a Rod Kafer- tugboat style of player, but he's trimmed down and looks lean and keen. As for the top two spots, Will Genia took out the main prize from James Hanson who tried his damnedest not to show his disappointment with surrendering his title. Particularly to a back.
Then Reds Management moved onto scheduling for the players, giving them an idea of what lay ahead for the weeks ahead. It was basically a three week block starting from next Monday and going through until the bye in week four. In those first three weeks the Reds take on the Force, Waratahs and Brumbies. It's a critical start to the season, so you can understand why getting the preparation properly planned out in advance is critical.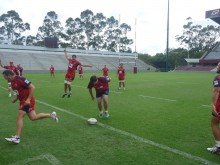 Link then explained that training today would be short and sharp and that the players should use it to further their conditioning, as many had played only half games in the trials. The key word was INTENSITY.
I was fired up! Had my game face on. Ready to tear it up on the field. Then Link explained that the players would all have to go get strapped for training. Which posed the question – should I get strapped? I mean, I used to get strapping when I played and I did dislocate my shoulder the last game I played. And my back's a little achy and my right knee can be a tad wobbly.
But by the time I'd finished cataloguing my various aches and pains, it was time to head over the Ballymore #1 for the session.
Now, a quick reality check for you all. This is a professional team full of elite athletes about 10 days out from the start of a huge season in a massive year. It should then come as no surprise that I was not intricately involved in every aspect of training. When Ewen first invited me to train, I always insisted that as long as I wouldn't get in the way. After all, I'm the biggest Reds fan there is, and I would never want to stand in the way their progress.
But the team as an entirety was great, led by Ewen. I've mentioned it before in my Twitter article, but Link would have to be one of the most down to earth, accessible rugby identities going around. And he's surrounded himself with a bunch of equally impressive individuals. The way Mr Timms and I were welcomed into the team environment was fantastic. Saia Faingaa, James Horwill, Quade Cooper, Ed Quirk, Leroy Houston, Ben Daley. The list goes on. They couldn't have been friendlier.
But on to the field. As it should be, the squad split early into forwards and backs. I managed to get into the forwards' game of touch  and my visualisation was coming true. Well…kinda. No deft passing, no steps and no intercepts. In reality I was just glad I didn't drop the ball.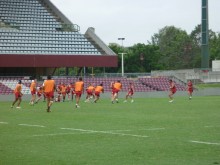 And then training got serious and I quietly stepped back into the shadows of the McLean Stand. Fifteen minutes of "Hammer Touch" certainly showed the intensity that the coaching team spoke of. Then the backs did some attacking drills, whilst the forwards got into line-outs.
Now I have to be careful here. Link swore us to secrecy in terms of what we could and could not give away. So no inside word as to any injuries that may have occurred, no insight into particular moves or player positions, and definitely no revealing whether it is Ant or Saia Faingaa behind their twitter account.
One thing that did strike me about the line-outs, however, was the calls. I've always wondered about the complexity of the calls at the elite level. So it was pleasing to see that the Reds have stuck with the rather basic "Waratah-Brumby-Force" system.
Plainly put, if they call a Waratah player the ball is going to two; if they call a Brumby player it's going to four and if they call a Force player it's down the back. The main variation being, if the player called is a forward then the jumper is coming forward, but if the player is a back then it is a delayed jump with the jumper going back a few steps to claim the ball. So a call of "21, 63, 91 Matt Giteau" is a throw to four, going backwards. Simple yet effective.
Match situations came next, with the team combined again. I could go through and give you some insight as to who played where, but in the end it means nada. Link was mixing things up quicker than Timmsy and I could make note of it. In fact he did the same in the line-outs, with Van, Kev and Simmo all taking it in turns to call the line-outs and standing at different places in the line.
As Link explained, it's an attempt to avoid complacency. To keep moving players around, out of their comfort zone, keeps them on their toes. Mistakes invariably happen, and that can be a whole lot more a productive environment for the team at this stage of the season, then the same 15 doing the same moves smoothly and effortlessly countless times in the lead up to the first game.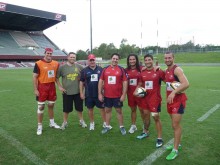 So it's fair to say that my 'dream' did not become a reality. But what a thrill. To get up close and personal and watch these guys go through their paces was special. The precision of the line-out combinations between Kev, Van, Big Rob and their hookers Saia and Hanson. The magic that is Quade's pass. The athleticism of Rocket Davies. The ability of Peter Hynes to get through a gap. The intensity of Digby Ioane. The enthusiasm of Ed Quirk. It was all on show. As the old saying go, train as you play, and I can't wait for the season proper to kick off next weekend to see this type of stuff on the main stage.
As the session came to a close, though, I would have one final chance at glory. I'm one of those delusional sports fans who, just quietly, likes his chances against elite athletes. I'd love to think I could return a Roger Federer serve. Or survive a Shane Warne over.
Or even tackle Quade Cooper. And now I had my chance. My one shot. My opportunity…
His palms are sweaty, knees weak, arms are heavy
There's vomit on his sweater already, mom's spaghetti
He's nervous, but on the surface he looks calm and ready
There will be more video to follow in a few days, but here's a little sneak peak. Me v Quade. Mano a mano.
[youtube]http://www.youtube.com/watch?v=hZwD-KxsqJg[/youtube]
It's worth noting a couple of things from this clip. First, Quade actually told me which way he was going to step that second time, and I still couldn't get near him. Secondly, that's Saia Faingaa giggling like a school girl at my pathetic attempts at defence.
In the end, it was a very memorable morning and a great lead in to the Super Season. A big thank you to the Queensland Rugby Union, the Reds and particularly to Ewen McKenzie for making it all happen and who have all been great supporters of Green and Gold Rugby over the last year.
For any Reds fans out there, make sure you get out to their Fan Day this Saturday (12 February) from 11am-1pm at Ballymore. All of the (real) players will be there signing autographs and chatting to fans. I'll be there. As a fan only.
GO THE REDS!