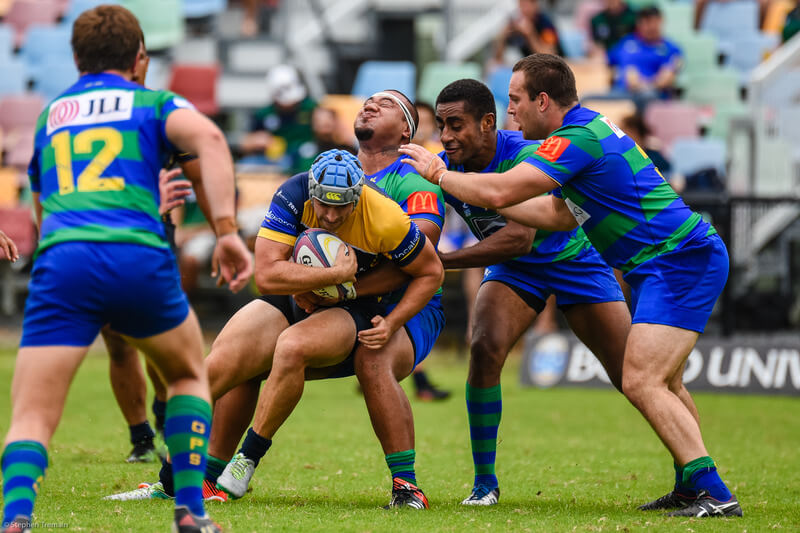 The Queensland Premier Rugby season is just weeks away from culminating in yet another exciting finals series.  There has been some wonderful rugby on display, as evidenced by the amazing game between University of Queensland and GPS on the weekend. One of the exciting elements of the club season is seeing some of the new faces popping up in new jerseys, and there have been some key ones this year.  Here's who I reckon are the Top Ten I've seen this year.
1. Laione Mulikihaamea (GPS)
With GPS posing the most dominant scrum in the comp, it has allowed the Gallopers front foot ball that they require to unleash a backline full of talent. Laione has been a major factor in this and thus I believe is the top recruit of 2017.
2. AJ Alatimu (GPS)
Due to the GPS scrum, AJ Alatimu has been able to control games as he wants to this season. His calm approach and wonderful kicking game is another major reason why GPS sit 2nd on the ladder. With QLD rugby screaming for an experienced flyhalf for life after Cooper, you could do worse than pick Alatimu.
3. Eddy Fidow (Wests)
Arguably the most entertaining and exciting back in Queensland Premier Rugby. Fidow's speed and attack prowess have proved a god send for a new look Bulldogs in 2017. Was leading try scorer early on in the season before injury setbacks and after being invited to train with the reds during the test window, expect to see the ex Samoan 7s player in professional rugby soon.
4. Lachlan Maranta (Wests)
The former Brisbane Bronco has been a welcome addition to the Bulldogs in 2017, providing much needed stability in a backline featuring a lot of raw talent. Although unlucky to not play more super rugby this year, Maranta has proved to be so valuable to the Bulldogs in both defence and attack.
5. Shane Tasi (Norths)
The former Sunnybank dragon returned home to the Nest in 2017 and has seemed to reclaim his 2014 form at the bank. A surprising positional change from hooker to Number 8 has proved a master stroke with Tasi dominating in attack and proving to be a go to man. Back to back winner of the True Protein High Performer proves his credentials.
6. Logan Tibbetts (Easts)
Tibbetts joined the tigers from Norths in 2017 and has made the number 10 jersey his own. With easts looking to replace the "Ever Reliable" Matt Brandon, I believe they've found a gem in Tibbetts. Easts just narrowly missed out on finals this year, but can look forward to 2018 with Tibbetts running the show.
7. Tonga Maafu (Norths)
The big ball running front rower also returned home to the Eagles nest after spending the last 3 season at Stade de Heavy. Maafu has been instrumental for Norths this season and has proved to be a handful for all opposition this year with his dynamic and explosive ball carries, especially inside the 22.
8. Dillon Wihongi (Wests)
The former New Zealand Schoolboy captain has found a home at The Kennel since moving across the ditch in 2017. Took a few rounds to find his feet, however since the halfway mark of the season in my opinion has been the standout Number 8 in the competition with explosive carries and some fancy footwork. If the Bulldogs can hold onto Wihongi for years to come, the wins will keep coming.
9. Alfonso Horomia (Easts)
The former Dragon joined brother Josef at Easts this year and hasn't looked back. Horomia has been a rock in the middle for the tigers with strong line bending ball carries off set piece laying a wonderful platform for the rest of the team. He has certainly filled a void left by injured star Matt Gordon. Forming a strong centre partnership with Toby White, Easts will hope that this continuity will allow for a strong 2018 campaign.
10. Garrath Ryan (Brothers)
Since the departures of stalwarts Adam Bennie and Adrian Dixon as well as young gun Tom Moloney, Brothers have been looking for an able replacement and have found one in former Eagle, Garrath Ryan. In what was a disappointing 2017 season after a Premiership in 2016, Brothers have been finding their feet in a side mixed with youth and experience. Ryan had been a handy acquisition in the scrum and will look to start dominating in 2018.
Cover Photo Credit: Stephen Tremain.