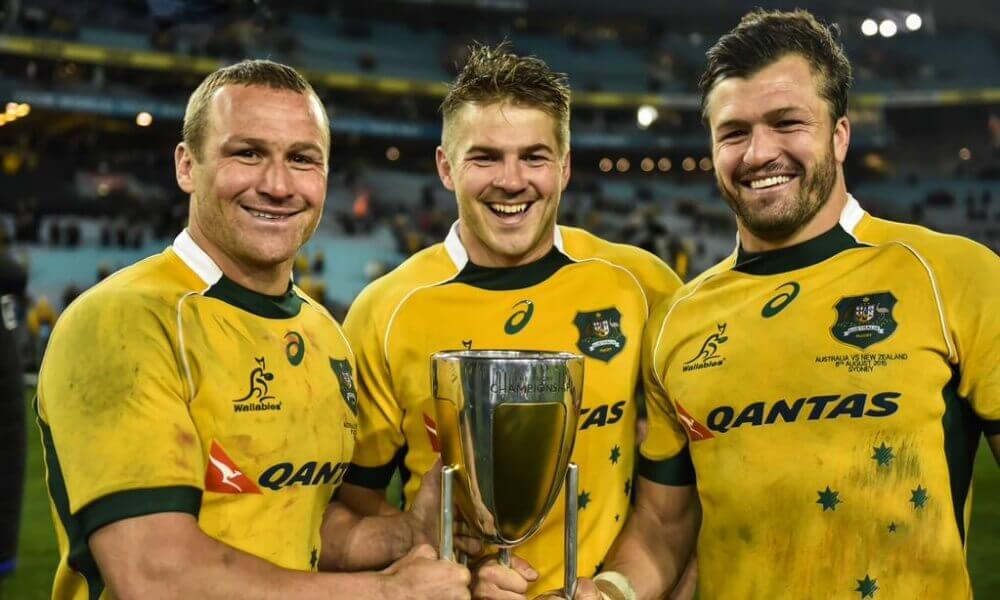 Yep, that's right. Two weeks in a row and the season hasn't even started yet!!
This week we take a quick look overseas at the comings and goings … well mostly goings … look at the first of the warm up matches and make sure we don't upset Mourad.
The first hit outs …
Super Rugby got a step closer as two of the Australian teams played warm up matches last weekend. The Brumbies played an Aussie Barbarians side made up of players from the NRC and the Force took on the Spirit, sort of.
The Brumbies looked good … surprisingly good considering they went much of the summer without a full-time coach as Larkham didn't join the club until late due to Wallaby commitments. The backline of youngsters was firing and they were running the way many had hoped they would last year. Let's see if they keep it up past the first round! Oh, and the Brumbies ran out winners 59-0
Meanwhile in the Force's warm up match, players were swapping between teams so that all could get a good run in. Force Academy player James Verity-Amm scored a hat trick while Australia U20s player Alex Newsome scored a try for BOTH teams. How many players can put that on their resume? The Spirit got ahead early and lead for much of the game, with Newsome's try for the Force giving them a 22-14 win.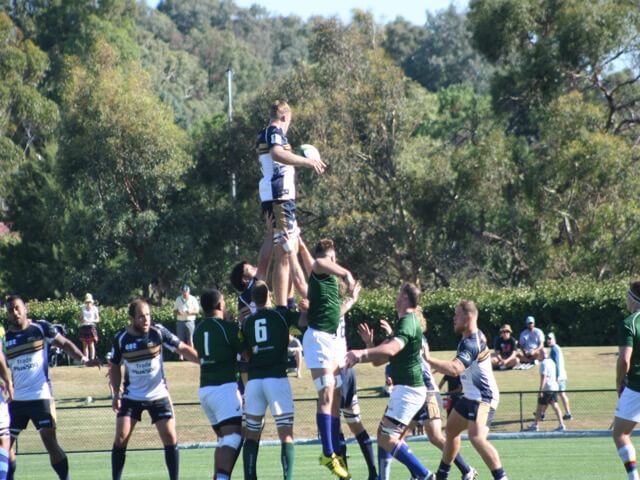 Bye Bye Bordeaux
As was reported late last week, Adam Ashley-Cooper will not be at Bordeaux Bègles after the conclusion of the current season after the club chose not to extend his contract. Some are speculating that this is because they were unhappy that he played with the Wallabies this year. Club president Laurent Marti made no effort to hide the fact that he wasn't happy that AAC returned to play for the Wallabies, at the time stating "Yes, I'm annoyed. Adam had told me that he would stop playing for the national side. He had the power to say no to his coach and his federation… he should have told me when we were carrying out our negotiations". When Ashley Cooper signed for Bordeaux there was no "Giteau Clause" in place.
Many a Tahs fan in the comments sections of news articles are licking their chops at the thought that AAC might return to play for them at the end of the French season.
Au Revoir Gitts
Hey, two weeks in a row we're talking about this guy! Last week it was his return and this week his departure. Yep, after joining French giants Toulon way back in 2011, Matt Giteau will head to Japan at the end of the current season. We don't yet know which club he will be joining (rumours are that it is the recent title winners, Suntory) but he did say that a desire for his family to be closer to Australia was behind the move. There was some talk in late 2016 about a possible return to the Brumbies, but this was dismissed as his commitments would make it "almost impossible" to join the club. The big question … how on Earth will Drew cope without him?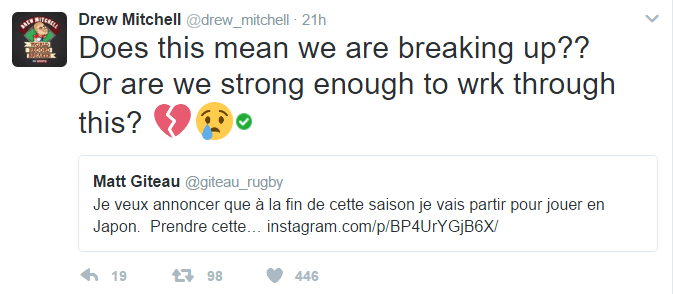 Translation for Giteau's tweet – I want to announce that at the end of this season I will leave to play in Japan. Take this …
Don't piss off Mourad!!
"Holidays are cancelled. I don't care about airline tickets or anything like that, it's their problem."
Mourad Boudjellal, owner of Toulon has shown his displeasure at his team's recent performance during their 23-20 loss at home to La Rochelle by cancelling their holidays. He has effectively banned the team from taking holidays during the three-week break while the 6 Nations is being played. The players are required to be back at work on February 5th, nearly 2 weeks before their next game (against Lyon) on the 18th, giving them just 1 week's rest.
On a side note, it was Brock James, the Australian fly-half, who kicked the penalty to win La Rochelle the game.
All Wrapped Up?
Is it best to field full strength teams to give all players a good hit out, field young teams to get a good look at all the newbies, or field a mix of both? This is a conundrum I wonder about each year in the warm up matches.
Yes, I want to see how the young guys go. I also want to see the "top" players have a run and see how they fit with newer recruits. But what I don't want to see is players wiped out for the season with injury before the season actually begins. Unfortunately, this may be the case with Brumbies back Lausii Taliauli who left the pitch with a suspected anterior cruciate ligament injury which may put him out for the season. Is it worth wrapping players in cotton wool during preseason to make sure this doesn't happen? It could just as easily happen in the first game of the season.
This is also something to ponder given the upcoming Brisbane 10's this weekend. Most teams are sending some of their big names, while some are also being rested. It was announced during the week that Quade Cooper will not being playing, something which must surely upset a number of local fans who were looking forward to seeing him take the field once again for the Reds. According to press reports he is skipping it to focus on the Reds' sole warm up match, but is it actually because he is being wrapped in cotton wool to avoid injury?
Or is it just because he vowed not to play after Matt Rowley had a go at him in the GAGR comments section last week and is awaiting an apology?