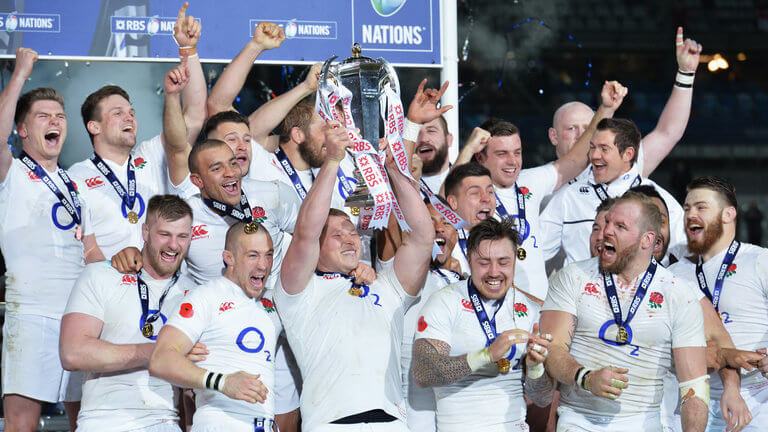 The RBS 6 Nations starts on the weekend and there will be more interest in this one because so much is different.
Bonus points
For the first time in Six Nations there will be a bonus point system—but with a twist.
The boring bit is that teams earn four points for a win and two for a draw, plus another one for scoring four or more tries, and for losing by seven points or fewer. Old stuff.
I know what you're thinking. What happens if a team wins the Grand Slam, but doesn't earn a bonus point in the Championship, and another team wins four games and gets all possible bonus points? That second team could win Six Nations couldn't they: 22 ladder points to 20?
No, that's because of the twist—three extra bonus points are awarded to Grand Slam winners.
Other bonuses
Six Nations cash bonuses have been around for a while, but the Poms can earn a rugby fortune by Southern Hemisphere standards if they win a Grand Slam this year.
There are variations on how these rewards will be dished out and how their other income will be adjusted, but according to the Daily Telegaph, the England players will share more than £3.5m if they win their five games. And Wales Online reports that their players won't do too badly either if they slam.
Since Grand Slams have occurred about half of the time since Six Nations commenced in 2000, this bump in bonus payments shows how much cash is generated by Northern Hemisphere rugby.
A player from the Mufflons (R) – the Cyprus rugby side – will his team keep the record?
The streak
With 14 consecutive wins can England dream to challenge the 24-game record streak of Cyprus? Or, for our Kiwi readers: could England better the All Blacks' 18-game sequence which ended recently, by winning the Grand Slam?
High tackles
For the first time in test matches the Six Nations will showcase the recent initiative of World Rugby to clamp down on contact with the head of opponents.
While not a change to the law, but to its application, they announced that there will be zero tolerance for reckless and even accidental contact with the noggin—even if contact starts below the line of the shoulders.
Reckless contact with the head is punished by either a yellow or red card, if the officials decide that the offender "knew or should have known that there was a risk of making contact with the head of an opponent, but did so anyway". It applies to all contact in the game including tackles, charging, and what is commonly called a "neck roll".
Accidental contact with the head attracts a penalty kick, even if ball-carrier slips into a tackle.
It will be interesting to see if the referees are also attentive to the first arrival of an attacking player to the tackle area. If a knuckle dragger is allowed to latch onto tackled team mates to maintain a low position, head down, rather than trying to fetch the ball, trying to clean him out will be high risk.
The tackle areas could become a series of forsaken breakdowns with defenders spreading out even more than they do now.
The Lions tour
There is a sub-plot for the players of four of the teams because they know that Six Nations will be the final exam they have to pass to get in the touring party in June, let alone in the starting test team. In some positions they will have to get a pass with distinction; but if they focus too much on that, and on a direct opponent for a spot, their play will suffer.
---
The Teams
.
England
Mako and Billy Vunipola – both could be missing
England deserve to be the favourites after their stellar 2016 which started with a Grand Slam, continued with a 3-0 whitewash in Australia, and ended finishing all over the top of the Wallabies at Twickenham, as expected, though ten points behind early.
But they have a list of significant injuries.
They are handicapped at loose head prop because Mako Vunipola may be crocked for the duration and Joe Marler is not certain to start the tournament. The backrow is compromised also: Chris Robshaw, regenerated at blindside flanker last year, and Billy Vunipola, now remodelled as a more versatile no.8, will both be absent.
James Haskell should have been available to appear somewhere in the loose forwards but he has played only one hour of rugby since being injured in Australia last June, and is doubtful himself.
Dylan Hartley – retained as skipper – can he keep his tackles down?
It's a big chunk of players to have missing but at least it will give coach Eddie Jones a good excuse to start exciting mobile lock Maro Itoje on the blindside flank; and if he does, Lions' coach Warren Gatland will be an interested spectator.
Of the likely first-choice starters in the backs only premier winger Anthony Watson will be missing, early on—a victim of training mishap as he was before the November internationals; but little quality will be lost with in-form Jack Nowell and speedster Jonny May on the wings.
Jones has chosen Dylan Hartley again to captain the team; he likes him because he gives his players a bit of curry on the field. But how will Hartley cope with the new tackle protocols when he had so much trouble with the old ones?
Players of interest: 1. Maro Itoje, 2. Ben Youngs, 3. Jonathan Joseph.
Prediction – 1st
---
Virimi Vakatawa – one to watch
France
In 2007 France were the Six Nations Champions for the fourth time in six years, but they have won it only once since. That year they beat the All Blacks in the Rugby World Cup Quarter-Finals; eight years later they lost by 49 points to the same team in the Quarters.
It's their own fault: they have the most financially powerful domestic league in the world but the clubs have been using their treasure to acquire the best foreign players that money can buy.
This dilutes the pool of players available to play for Les Bleus, and the national body, the FFR, is powerless to stop them. Too many times the stock of players available for a position is so depleted because of foreigners taking spots, that the replacements for injured France players are noticeably inferior, or not in form. In recent years flyhalf has been a vulnerable position.
The current Les Bleus got over the advantage line enough in November but couldn't finish enough moves off, though there were some mitigating factors for their losses. Had the referee been stronger against a reserves-laden Australian team at scrum time – and had Beauden Barrett not intercepted a pass the following week and ran 95 metres to score for the tired-looking All Blacks, they could have won both games.
Wesley Fofana – not available for Les Bleus
They played some good rugby in the Autumn tests with some episodes that harkened back to the days of the 1980s and 90s. There were no tries "from the end of the world", nor players reminiscent of Blanco or Sella, but now and then Les Blues ran some mazy yet direct lines and offloaded the ball often.
It was as though they were anticipating the new head contact code under which the contact area should trend lower and enable the arms to be more free to unload the ball on contact.
Watch out when Les Bleus get a turnover or a kick not right on the money; they will be sharper this time. And have a look at their scrum which troubled the All Blacks as well as the Wallabies.
But unfortunately their most dangerous player won't be dazzling opponents, because Wesley Fofona ruptured his achilles tendon in the Champions Cup recently. Better news is that their best flyhalf, Francois Trinh-Duc, should return from injury later in the tournament.
They should be better this year in Six Nations but it may be too early to cause upsets—they have three away games and two of them are in London and Dublin.
Players of interest: 1. Virimi Vakatawa, 2. Baptiste Serin, 3. Guilhem Guirado
Prediction: 4th
Don't expect too much of this in 2017 – but there are good signs

---
Ireland
Ireland first played the All Blacks in 1905 and they turned the rugby world upside down when they beat them for the first time in Chicago nearly three months ago.
For the return bout in Dublin two weeks later they should have repeated the dose. They hogged all the ball and played most of the game in the NZ half, but the Kiwis took the few chances they had like bandits, whereas the home team could not counter the defence of the Black Riders.
The good Ireland form was on the cards: they had their first win in South Africa on their summer tour and should have won the series being 16-0 ahead at half-time in the third test.
After their Kiwi encounters they finished off the year beating the Wallabies with a depleted team, and a reserve scrumhalf playing on the wing.
Although reserve hooker, Sean Cronin, will miss the tournament most of the regular starting players will be available including Johnny Sexton who was under an injury cloud. Conor Murray, the form scrumhalf in the world will be inside him and arguably Robby Henshaw and rising star Garry Ringrose outside.
Garry Ringrose – rising star for Ireland
The back three is spoiled for choice with veteran Tommy Bowe back in the mix—as is the backrow. which has more valid options than any other Six Nations' team. With CJ Stander carrying the ball so strongly in the 8 jersey, Sean O'Brien, who was able to play in only three tests last year because of injury, may be only an alternative this year as a flanker, instead of a certainty. Josh van der Flier has taken his chances well.
Ireland are in a good place recovering after being buswhacked by Los Pumas in the 2015 World Cup quarter-final and winning only two games out of five in Six Nations last year. But there must be a nagging concern about not being able to score a try against New Zealand in Dublin when everything else was going their way.
Ireland will have a stern task first up at Murrayfield, and play three of their first four away. But if they survive that journey, and England do the same in their four rounds—neither circumstance being certain—the final game of the tournament could be a blockbuster event.
Players of interest: 1. Conor Murray, 2. CJ Stander, 3. Garry Ringrose.
Prediction: 2nd
---
Segio Parisse – chief cook and bottle washer for the Azzurri
Italy
The Azzurri have won eleven of the the 17 wooden spoons to date and have won just a single 6N match in the last three years.
There was nothing to suppose that they would do anything special in November but they had a watershed moment when they beat South Africa under new coach, Conor O'Shea.
It was their first-ever victory against one of the old Tri-Nations' teams and they earned it through defending like Trojans and producing some brilliant attacking moments. They were deflated when they lost for the first time against Tonga a week later but they probably needed that to bring them back to reality before Six Nations.
O'Shea has some heavy hitters to assist him: Brendan Venter will be in charge of defence and Mike Catt will handle attack. They will trust that they can produce more upward blips in tracking their progress, like the one marking the Springbok victory. This will suppress claims that they don't belong in the competition.
Their team has a few outstanding players, but although they don't have enough across the board to produce consistent victories, they can spoil the chances of other contenders especially when the game is in Rome.
Italy have three tests in the Eternal City: against Ireland, Wales and France, and will expect to win one of them if they rise as they did against South Africa. They will take heart in recalling that they beat France in two of their last three 6N games in Rome—in 2011 and 2013—and that could get them over the line in Week 4.
Skipper and no. 8, Sergio Parisse, has been their headline player for many years and is still potent though near the end of his career. Fortunately he decided to stay at home after meeting O'Shea instead of going to Japan.
Michele Campagnaro – in top form
There is good depth in the halves: Flyhalf Carlo Canna is a potent ball runner whereas Tommaso Allan is more of a mastermind and a good goal-kicker into the bargain. Scrumhalf Giorgio Bronzini made his debut against the All Blacks in November, and has superseded Edoardo Gori (who has 56 caps), for both club and country. Their competition for the spot can only be good for Italy
Mercurial centre Michele Campagnaro has been in top form for Exeter recently after having injury problems and he will have to stay fit for 6N as does any of the Azzurri who have racked up experience.
And watch if uncapped Federico Ruzza gets onto the park. The 22-year-old rangy lock or backrower is touted to be a future star and will thrive in the company of Parisse.
But their defence has to be improved by Venter: they have shipped 69 tries in the last three years in Six Nations, whereas Ireland, for example, have surrendered just 16. Neither is their pack as strong as it was a couple of years ago.
Kicking their goals regularly and avoiding the lottery of injuries will help them to paper over some of the cracks of their weaknesses, but they have to get into the habit of lifting for the occasion more than once a year to be feared.
Prediction: 6th
Players of interest: 1. Sergio Parisse, 2. Michel Campagnaro, 3. Giorgio Bronzini
---
Stuart Hogg v Australia – Scotland let the Wallabies get off the hook
Scotland
Scotland beat France and Italy in 6N last year and went close to beating Wales. At the end of 2016 they should have beaten the Wallabies also, at Murrayfield, but let them back into the game. They beat Los Pumas but so did everybody else who played them in November.
But going so close to winning all their Autumn test has lifted the spirits of the team and we just have to see how that can translate to a result in their first game, against Ireland at home.  Scotland were thrashed in the same match two years ago and, being notoriously slow starters in Six Nations, they will have to call on every good rugby thought they have retained from November.
The Glasgow Warrior players should be in good rugby spirits: they qualified for the Quarter-Finals of the European Cup for the first time after thrashing the Leicester Tigers 43-0 away at Welford Road.
Huw Jones – top player with big future
Although Scotland do not have a big pantry of class test players they have fullback Stuart Hogg, the 6N Player of the Tournament last year, who would be coveted by all test teams, and dynamo lock Johnny Gray—both of whom will tour to NZ. Another who would have travelled there is tighthead prop WP Nel but he was replaced in the Scotland squad due to a recurring neck injury. His withdrawal may expose the inexperience of the props.
At outside centre there is Huw Jones who scored two tries against the Wallabies and four against the Kings for the Stormers in Super Rugby last year. He thinks fast, has good footwork and the balance of a skier. He's going to be around the Scotland team for a long time and if you look at his rival, Mark Bennett, also known to the Aussies, you realise that the Scots are building depth that they haven't had much of recently.
And then there is flyhalf Finn Russell who has a whiff of Cipriani about him but is stabilised by Greig Laidlaw at scrumhalf inside, and by Alex Dunbar at inside centre, outside. Winger Tommy Seymour is another who oozes quality.
Scotland could surprise but they have to start well.
Prediction: 5th
Players of interest: 1. Stuart Hogg, 2. Jonny Gray. 3. Huw Jones.
---
Alun Wynn Jones – new captain
Wales
Wales would like nothing better than having everybody talking about England and Ireland.
They lost only one game in 6N last year, to the Grand Slam winners, and in June they played some decent rugby in two tests in NZ, though losing all three.
However they followed that in November with their worst game of 2016, being thrashed by the Wallabies who were no great shakes themselves that month.
The form guide says that Wales won their last three games of the year after that, but their wins against Japan and the woeful touring Argentina side were not impressive. And although they beat South Africa, so did every other team that the Springboks played in 2016, at least once.
But under replacement coach Rob Howley, Wales showed some November signs of departing from the Gatland game of feeding off burly ball-running backs once they went to ground. The change didn't always click especially against the Aussies, but at least they will be on page 2 of the plan next weekend.
Like Noves of France, Howley could have had his crystal ball out and predicted the "head contact" regulations. Ball carriers would be tackled lower and the ball offloaded more; high choke tackles would be risky when started, the arms of attackers would be more free; smaller ball runners should do nicely.
Turn to page 2, Wales.
Rob Howley- new head coach
Another Howley change is that he has appointed Alun Wynn Jones as captain for Six Nations replacing Sam Waburton so Sam can work on his own game. This is probably code for saying "Sam, I want to see how Justin Tipuric can start a game as openside flanker instead of you". Since Warburton is not a bruising runner he may not be chosen at 6 either, even though Dan Lydiate is crocked. Thomas Young has better club form anyway; so Warburton could be riding some pine.
I wouldn't second-guess Howley – when he was in charge in 2013 the last time Gatland took a sabbatical to prepare for a Lions' tour, Wales won Six Nations.
Wales will be missing some players from injuries: none of loosehead prop Gethin Jenkins, lock Bradley Davies and flanker Dan Lydiate have even been named in the squad; and star no.8 Taulupe Faletau, who has little rugby this season, may miss the opening game against Italy. Scrummie Rhys Webb will start but he hasn't played a lot of rugby this year.
Wales may have to play three games away from home this year but at least they are against the lowest-ranked teams. They get to play favourites England and Ireland at home and could be real smokies, though their turnaround for the England game is only six days.
They may not beat both of these fancied teams to rule the roost, but they could become kingmakers by beating one of them.
Prediction: 3rd
Players of interest: 1. Justin Tipuric, 2. Liam Williams, 3. Rhys Webb
---
Wrap-up
If the November results of the Six Nations sides against the Rugby Championship teams are any guide, expect higher quality play in Six Nations this year.
South Africa and Argentina lost six out of six between them to 6N teams on tour. Australia lost their last two; New Zealand lost to Ireland in Chicago on the way over and needed scattered acts of brilliance to deny them in in Dublin.
As this point the smart money will be on the winner of the last game of the season between Ireland and England to win the Championship, but it may be wise to put some dumb money on Wales or France.
.