Like any organisation committed to continual performance improvement, Green and Gold Rugby have commissioned a review of Season 2012 to examine what went so wrong it became oh-so-right, why it went wrong, and most importantly, who's to blame. We've taken a leaf out of other organisations' corporate governance: we commissioned someone who was intimately involved with the week-in & week-out formation of the Social Pages to do the report, and we're doing it two weeks to go in the Super rugby season.
KPI 1: Broaden the appeal of players in non-traditional markets
Rugby players on twitter have done their utmost to bring rugby to new audiences normally neglected by the elite private boys' schools: women, homosexual men, and plushophiles & other potential paraphilias.
For the ladies
Quade Cooper, who has been at times a staunch feminist who challenged the hegemonic representation of masculinity in the mainstream media, a sensitive soul, a sophisticated humorist, and a tender lover concerned with your pleasure. A man who is totally gay-friendly, but definitely straight.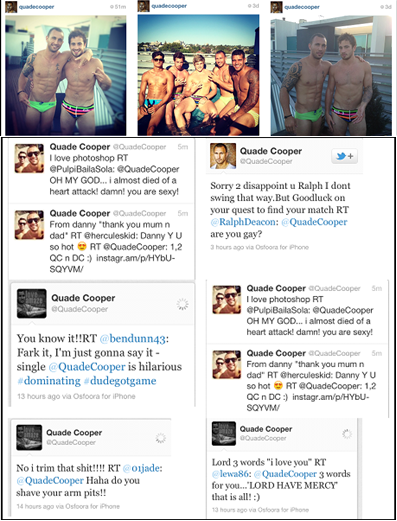 For the gents
THESE GUYS

And arguably also these guys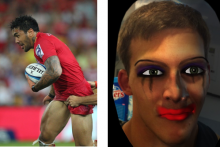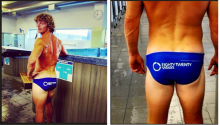 And alright, maybe him too.
Laurie Weeks, and Digby Ioane are your guys. If you look particularly closely you can see just how excited Digby is to be donning the furry head (click on the image to make it bigger)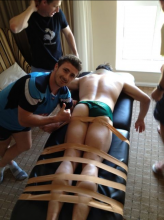 In other paraphilia-related content, have you read 50 Shades of Grey yet? Remember this scene? Steamy!
.
For EVERYONE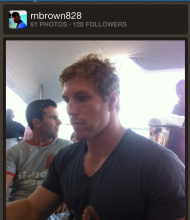 We have the Social Pages Man of the Year- Sir David of the Onside, David Pocock. Sir David clinched Man of the Year when he posted those speedo photos with his gardening photos.
Sure he may have a chiselled, manly jawline; he may look great in 8020 budgy smugglers; yes he might be committed to changing the world and doing something worthwhile with his fame; and absolutely his public stance on gay marriage should be applauded, adopted and shouted from the rooftops. But why did his gardening and permaculture photos earn him Man of the Year? Well, Social Pagers, he clearly loves good roots.
He's been posting up a) how to get them, b) what they look like when you get them and c) where to visit if you can't achieve them for yourself.  In the modern world, where too many people are afraid to ask for directions, he is leading the way. He understands the importance of laying that bed just right (apparently "raised beds" are best for mulching). And hey, without good roots. no plant will grow.
I'll bet you thought we loved him because of this. It's not – the Social Pages has never resorted to cheap and tawdry flesh-fests to attract readers. He's not an object people!

KPI 2: Inform the masses what rugby is all about

As was quite rightly pointed out by James O'Connor, we at GAGR, along with the 260 000+ non-professional players in Australia (ARU Participation Report, 2011) have no rugby experience and we should stick to what we know. Thankfully there are some players who generously take some time out of their busy schedules to tweet us about the intricacies of what they do differently to us. For example, I like to relax by reading a book, and perhaps have a glass of red wine while having a long soak in the tub.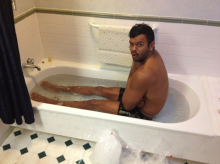 Through the power wielded by our learned tweeters & instagrammers, I learned that I've been doing it all wrong.
Not

only are baths terrifying, but there are other ways to relax without alcohol.
I was able to claim some recognition of prior learning, however, when Drew Mitchell and Adam Ashley-Cooper from the Waratahs gave us a sneak peek into their home lives. Yes, Social Pagers, some things about rugby are EXACTLY as we suspected!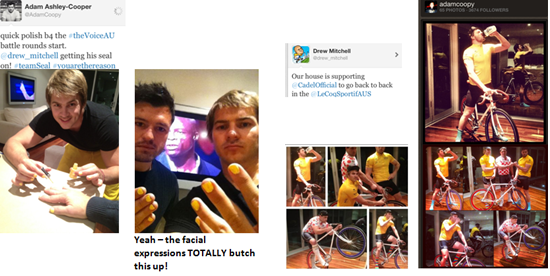 KPI 3: Contribute to the body of knowledge of the Australian people and inform intellectual debate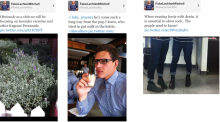 No one did this better than Lachlan Mitchell of the Rebels. I learnt so much from him.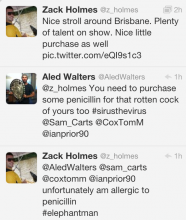 The Brumbies boys taught me what to do for knob rot.

I got a preview of what happens to under-performing Waratahs forwards who don't get picked for the Wallabies.
And I learned that RT'ing other people's criticisms of SANZAR won't cause you to get fined!
KPI 4 – Post up some awesome pictures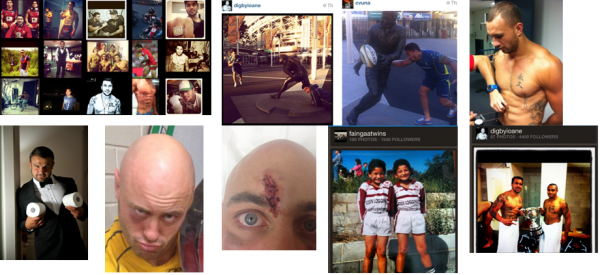 Since it's my last Social Pages for the year I'd sincerely like to thank all the players for tweeting their lives. Thanks so much, guys, for being ok with me taking the mickey out of you each week, thanks for the 600 or so tweets that didn't make the Social Pages throughout the year, and thanks for letting us in on some of your in-jokes, your stitch-ups and your injuries. Your tweeting makes my rugby-watching more fun.
Thanks also to the franchise media units who (so far) haven't come after me with pitchforks, and a really really big thank you to Gagger & Moses (in particular) for all their help teaching me how to use this blogging thing. If you're curious as to how far I've come, see Week 1.
Lastly, thanks to all the awesome readers of the Social Pages. I give you David Pocock in Speedos as thanks!