Hey Cobbers, I hope this finds you all fighting fit and pumped up for the new week.
I, like many others, watched a fantastic game of women's rugby on Saturday night as the Wallaroos defeated the Fijiana 22-05 in Sydney. Full credit must go, as ever, to the ladies from the wee Pacific nation who punched well above their weight all night. But at the end of it, the combined resources and effort of the Australian provinces were not to be outdone and the Wallaroos came away with a pretty emphatic victory to send retiring captain Shannon Parry out with a win in what I believe was her 20th and final Test.
This opening success for the 2023 season sets up the Wallaroos and their new captain, flanker Piper 'Plucka' Duck for a great season. For some background, Plucka only made her international debut last year against Fiji in Brisbane and to ate has racked up 10 caps.
Plucka takes on the leadership role at an interesting time in Aussie women's rugby. With centralised contracting finally in place, and a fairly full schedule alongside what is clearly now an engaged Rugby Australia, the bus that will be Wallaroos rugby is chugging into life. And not before time if you ask me. The Wallaroos have five confirmed fixtures for this season (see below) with the balance depending on results and qualifications. All of this is in the context of the upcoming 2025 Women's World Cup in England and of course the 2029 Women's World Cup scheduled for here in Aus.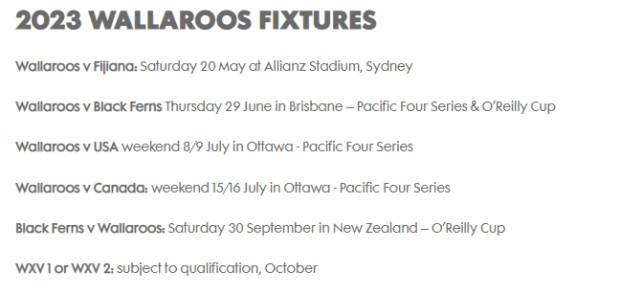 While all this stuff is good news, what I'm thinking about is that while it's good to see the momentum finally starting to build, one must wonder at how much ground and opportunity has been lost in the years from RA inaction and the amount of work required to regain ground lost, not just against the powerhouses of New Zealand and England but within what is generally acknowledged as the most competitive sporting landscape in the world – the Australian domestic market.
From a position of relative superiority to the AFL and RL some 20yrs ago, the women's XV game has certainly been left to wither on the vine here in Aus and we've seen the AFLW and the women's rugby league not just overtake, but race off into the dim distance since. The two areas that I lament the most can probably be summarised as the 'low hanging fruit' and the 'lost talent'.
As regards low hanging fruit, I'm referring here to the rapid acceleration the standard of the women's XV rugby game will now go through as momentum builds. We've seen such acceleration evidenced in both other codes and in women's 7s.
With the women's 7s, the quantum leap forward in athletic standards and calibre of play seen year on year among the 'Caslick Calvary' over the last 5yrs or so speaks to the level of acceleration we now hope to see in the Wallaroos. Likewise, we've seen similar accelerations in standard in both the AFLW and the women's rugby league. So we have multiple examples of the growth that is to be anticipated.
With proper investment as regards to contracting, S&C and related support services and overall coaching, the outcome in product quality seen in those codes has been such that even the premiership sides of the recent 'previous' years would scarcely be mid-table in the following season as the speed, skill and intensity levels lifted exponentially.
To our benefit, with the learnings of both women's 7s and the other codes to be be readily accessed domestically, one must surmise that RA will be able to fast-track development of the XVs version of our sport even faster. And likewise, with the benefit of following in the footsteps of the women's 7s, the AFLW and the women's rugby league, perhaps we may be able to not only attract and retain new talent into the code, but perhaps also bring some talent back into the fold again.
For clarity, a quick think regarding lost talent in recent years conjures up names like Pauline Piliae-Rasabale who is currently with Wests Tigers, Grace Kemp and former New Zealand 7s player Cheyelle Robins-Retito who may now be found at Canberra Raiders, and the likes of ex Wallaroo Mhicca Carter who plays for West Coast AFLW. This is just a micro sample of the talent lost that one can only hope will be attracted back to the XVs code now that the code has started to get serious.
But is it enough? Or have we missed the boat? Given we all know the prize being spied is the 2029 World Cup here in Aus, are we enroute? Or have we left it all too little and too late in a world of finite resources and a readily-distracted audience? We will see.
Nutta's Super Selection
Usual rules: purely based on last game performance.
Matt Gibbon – has established himself as the no2 of looseheads for now.
Dave Porecki – played a really solid, reliable game.
Sam Talakai – played a monster game against DeGroot.
Jed Holloway – At an individual level, I still think he would be a better 6. But given our loosie stocks, lock is a better fit. But his form is great nonetheless.
Trevor Hosea – a bit of a dark horse, but had a really sound game.
Liam Wright – dead set assassin.
Richard Hardwick – he had a massive game despite being treated most poorly by the ref.
Langi Gleeson – going from strength to strength.
Ryan Lonergan – a rare highlight for the Donkeys.
Max Burey – all class in his 3rd outing.
Mark Nawaqanitawase – keeps getting better.
Hamish Stewart – the Forcies 10/12/13 combo played as a fantastic unit.
Sam Spink – had a rippa of a match I thought.
Lachy Anderson – some freak efforts earnt a jersey.
Andrew Kellaway – good now and I'm looking forward to what he may become.
Matt Faessler – the form Aussie no2 for mine right now.
Angus Warner – the Forcies props were huge.
Tom Robertson – a really sound performance by the Doc.
Matt Philip – great to see him back.
Pete Samu – just all class in an otherwise 'meh' team.
Rahboni Vosayaco – had a great game that deserves a nod.
Izaia Perese – he is turning out more than just bash & barge now.
Josh Flook – has been a real shining light in the Qld backline all year.
Player of the Week:
Happy Birthday to Ma'a Nonu. 103 All Black Caps, 2 World Cups and still playing at 41yrs of age for the San Diego Legion in the US Major League Rugby. Great knock. Congratulations. Bastard.
A big nod this week goes to Cooma Rugby ( https://www.facebook.com/profile.php?id=100057238967956 ) celebrating their 60th year this year. I understand there's a black tie event with a commemorative dinner and celebrations, etc. on 24 June. Tickets at coomarugbyunion@gmail.com . Get among it.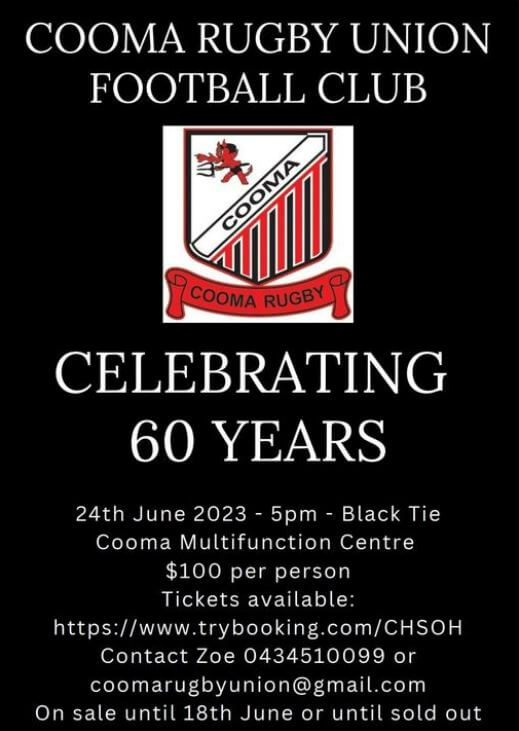 But my nod this week goes to Sergio Parisse. On the weekend just passed, the Italian great bowed out in style, adding a try of his own as Toulon claimed their first ever Challenge Cup title after they beat Glasgow Warriors 43-19 at the Aviva Stadium in Dublin. The 39yr old retiring loose-forward workhorse could barely bring himself to the leave the pitch on Friday night. And the images of him, with the Italian flag draped around him, could not but stir emotions to watch as he took in every last second. Retiring as one of the game's all time greats, some claim the greatest No8 ever given his adherence to playing at a world standard in often underperforming teams, the Argentine-born married father of one made his debut for Italy in 2002 and now steps away with 142 Italian caps, appearances in five World Cups, having won two Challenge Cups and two French Top 14 titles. There goes a legend.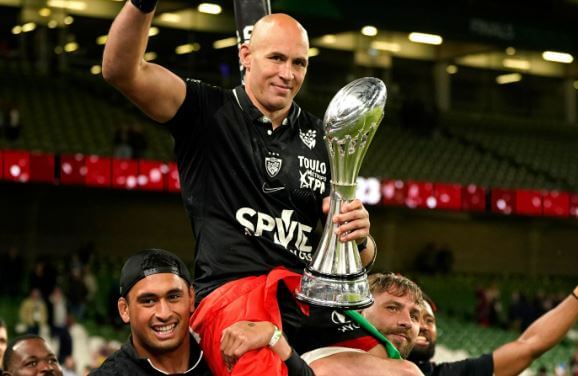 So there you have it for this week – a bit of this and a bit of that.
Was Sergio Parisse the greatest No8 ever?
Was Ma'a Nonu the greatest Uruk-hai ever?
Have RA and the women's XV game in Aus struck at precisely the right moment or have we left our run too late?
Feel free to share your thoughts below.