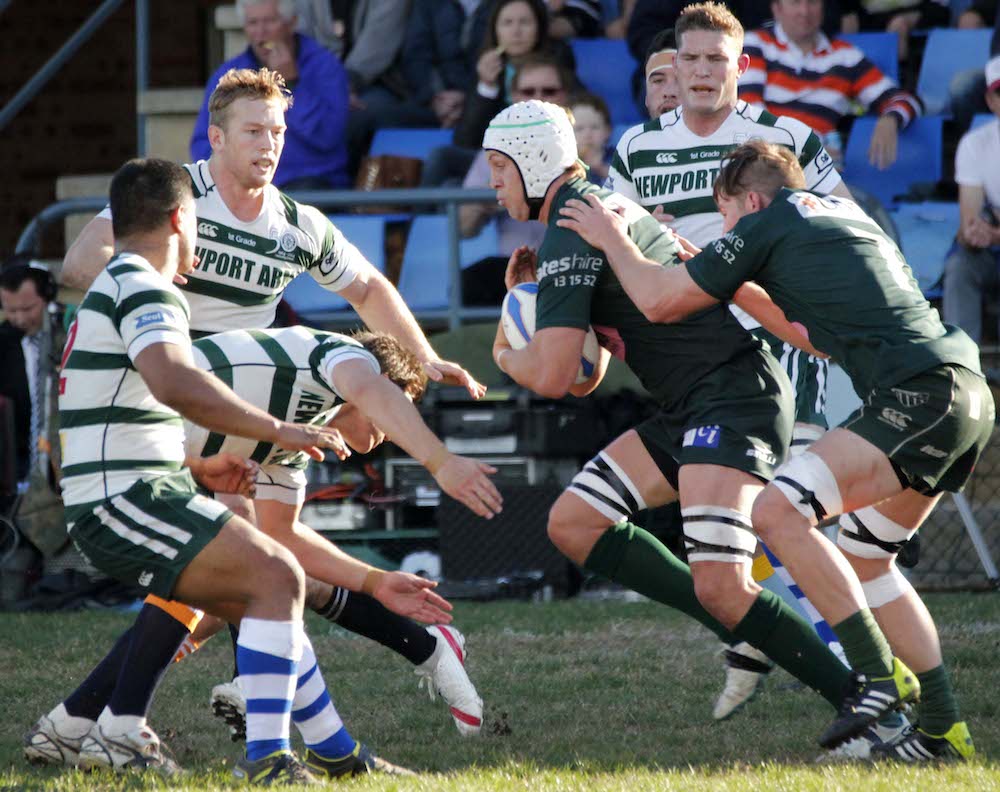 Warringah have hit back after the last round loss to Eastwood with a 24-19 win over Randwick at Pittwater Oval. The Rats trailed at half time but managed to score 14 second half points to snatch victory in the dying stages. Today's efforts saw Warringah notch up their tenth win for the season and maintain second place on the Magners Shute Shield competition ladder.
By Ben Harrison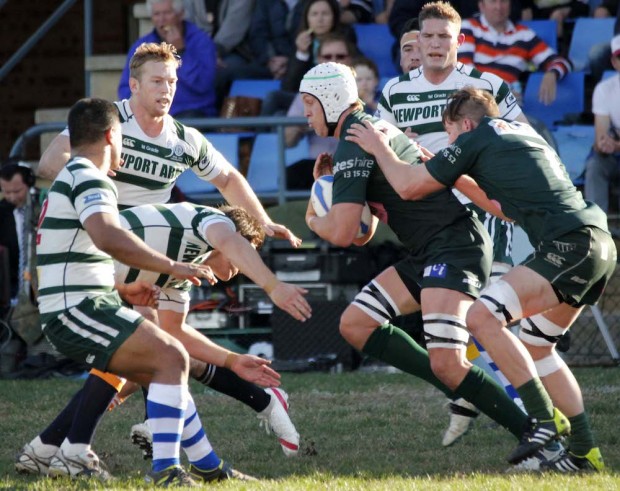 It was 'Back to Juniors day' at Rat park which saw all of the Warringah players wearing their own junior club socks, the spirited youngsters that came out to watch their Shute Shield heroes could well have been the difference  in what was one of the tightest games we've seen this year. The added support was exactly what the doctor ordered according to Warringah flanker Martin Collins, "It's great to be back at Rat Park where the local community is really behind us. To see all of the junior players here to support us really helped the boys go up a gear".
Collins himself playing his first game back in the top grade after a number of weeks on the sideline was superb, scoring a try and having a hand in a number of others. "It's good to be back from injury and be able to get stuck in. There were 14 other boys out there who all played exceptional and really put in so it made it easier for me to perform". The Warringah flanker was very happy with the win and made note that practice makes perfect expressing how hard his side had worked to get back into the winners circle. "We capitalised on their mistakes. The main thing for us was really bouncing back after last week and we did that by doing things right and then repeating those things. We went to sleep in the last 10 minutes but very pleased we could hold on for the win".
Randwick were boosted by NSW Waratah players Matt Cararro and Stephan Hoiles being made available with the break in Super Rugby. The pair were at their best, with Hoiles being an absolute menace at the breakdown and Carraro being extremely solid in defence. "Errors really hurt us, our attack I thought was good though. We played some good attacking footy and made a lot of breaks, unfortunately we couldn't capitalise on them. Our defense was much better than last week, a couple of lapses in communication let us down though" Carraro said praising his sides efforts and the positives they can take from the loss. "I'll be back next week for the Galloping Greens and can't wait to rip into Wests".
Sam Ward was another of the best on field, the giant number 8 known as one of the strongest in the competition was very good for the Rats. Bruising in defense and steam rolling some of the Randwick opponents that stood in his way in attack, Ward was ecstatic about his sides win saying the confidence boost is what they needed. "It was a much better performance than last week, we were a bit flat in the first half but Haig (Head Coach of the Rats) really got us up for the second stint and we came out better and fuller of energy especially in attack. Pressure builds points". Like Collins, Ward also made note of how inspiring it was to have all of the juniors there to cheer them on. "Juniors day is always good, the boys really lift for them. It was so good to see so many of them here to cheer us on because one day they will be here wearing these jerseys and hopefully doing what we have done today".
It was Warringah who got the first points on the board through the boot of the ever reliable Hamish Angus, however the lead was short lived, with big bopper Tristan Goodbody running a superb line to score for Randwick not long after. After a lot of tooing and froing, Collins collected a charge down to score for the Rats off a Harry Boileu kick. The lead changes kept on coming as moments later Randwick captain Sam Figg crossed through a pushover try from a rolling maul five metres out. Giving his side a 12-10 lead at half time.
Collins was at it again shortly after halftime as he ran an absolute cracker of a line to lay it on for Warringah scrumhalf Josh Holmes to score under the posts untouched.
It wasn't a happy day for Harry Boileu from the base of the ruck as a try was scored by Luke Holmes off a charged down box kick for the second time in the match, bringing the score to 24-12. With five minutes remaining the Wicks needed to score twice however a number of scrum resets took too much time off the clock and the game was sealed for Warringah. Alex Walker managed to score a consolation try for Randwick on the stroke of fulltime, the fleet footed hooker throwing the dummy of a lifetime to get past the defense and step his way through to score next to the posts.
Randwick will travel to Concord Oval next weekend in round 13 to take on West Harbour, while Warringah will stay at home to play host to Eastern Suburbs who are coming off a big upset win over the Pirates.
Warringah 24 (Luke Holmes, Josh Holmes, Martin Collins; Hamish Angus 3 con, 1 pen) d Randwick 19 (Alex Walker, Tristan Goodbody, Sam Figg; Marc Koteczky 2 con)
Eastern Suburbs has pulled off a big upset and beaten West Harbour by 26 points at Woolalhra oval. Boosted by the return of Brendan McKibbin and Jono Lance, the Beasties were in rare form and look dangerous with the ball all day. More pleasing was that they managed to secure the bonus point.
Easts 34 (Clay Brodie, Ben Willis, Jono Lance, Anton La Vin; Brendan Mckibbin 4 con, 2 pen) d West Harbour 18 (Alofa Alofa, Tito Mua; Sai vakuara 1 con, Alofa Alofa 2 pen
The Marlins continued the unbeaten run of form at Coodgee Oval by securing a 26 point win over rivals Southern Districts. In what many would agree was tough match, the Manly line was not crossed with only a penalty try giving the Rebels their seven points. A couple of yellow cards where shown in a somewhat scrappy but one of the most bruising games we have seen this year.
Manly 33 (Dave Porecki, Brian Sefanaia, Maili Hingano, Lui Siale, Dane Chisolm; Dane Chisolm 4 con) d Southern Districts 7 (Penalty try; Rohan Saifoloi 1 con)
The Students had another big win at University Oval and really look set to make a late charge for the premiership. Boosted by a host of super rugby talent Uni showed to much class for a spirited Parramatta side. The Students crossed for seven tries which also included a penalty try, in what was one of their best games to date. Parramatta showed a lot of heart with Chris Nay scoring a try and kicking a conversion as one of their best.
Sydney University 52 (Henry Clunies-ross 2, James Nonu-carling, Pat Mccutcheon, Jake Gordon, Chris Ingate, Penalty Try; Daniel Kelly 6 cons) d Parramatta 17 (Chris Nay, Larry Hermans, T Mataika; Chris Nay 1 con)
The Woods had a convincing win over North's at North Sydney Oval. The 30 point victory sees them sit just behind Warringah in third position. Last year's grand finalists were at their attacking best scoring eight tries. Best on field was surely Eastwood winger John Grant who crossed for a hat trick of tries and was a threat out wide all day.
Eastwood 56 (John Grant 3, Michael Mcdougall, Tom Hill, Pat Sio, Hugh Perrett, Michael Kovacic; Ben Batger 5 con, 2 pen) d North Suburbs 26 (Mitch Walton, Michael Weeks, Cam Crawford; Mitch Walton 3 con)
Gordon has played one of their best games to date as they crossed for seven tries, which also included two penalty tries at Chatswood Oval against the Emus. Penrith where very strong all day but could not hold out the relentless pressure of the Highlanders. Captain Terry Prestron for Gordon was one of their best, kicking six conversions in a blinder of a day with the boot.
Gordon 47 (Brendan Quinn 2, Tom Mathews, Jono Broome, Nick Fraser, Penalty Tries 2; Terry Preston 6 con) d Penrith 20 (Kj Mckenzie 2, Jerome Mckenzie; Robbie Mate 1 con 1 pen)