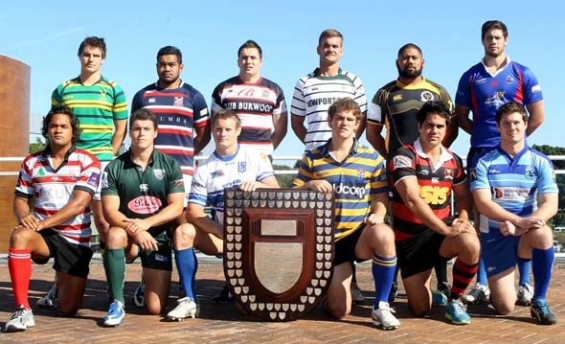 Thanks to Nick Halfhide and the NSWRU for the content for this week's preview.
Waratahs flankers Chris Alcock and Jono Jenkins will go head-to-head on Sunday afternoon when 2011 Shute Shield grand finalists Eastwood and Sydney University battle it out at University Oval.
With Eastwood holding the number one spot and second-placed Uni trailing by just two points, the winner will also earn top spot in the Shute Shield ladder, with just one further round to play before the change in format starts after next week's round.
The pair will be among 16 Waratahs who will all be looking to make a big impact for their club during the month-long break from Super Rugby action, with Tom Carter, Paddy Ryan, Nathan Trist and Daniel Halangahu also starting for Uni.
The match is one of two each weekend to be available to watch online for free, thanks to www.clubrugbytv.com.au and Fairfax Media. It will be available to view later on Sunday, complete with expert analysis from injured Waratahs flanker Pat McCutcheon.
On Saturday afternoon, Drew Mitchell will pull on a Randwick jersey as the Galloping Greens look to floor Parramatta at Coogee Oval.  Having completed 80 minutes of muddy rugby for Subbies side Balmain last weekend, the match is another opportunity for Mitchell to gain crucial match fitness.
In some more good news for NSW and Eastwood rugby fans, this weekend looks set to mark a return to action for Wallabies, Waratahs and Woodies winger Lachie Turner, after the speedster tore his hamstring in February. Although not named in the starting XV, Eastwood General Manager Rob Frost confirmed his intention to play Turner off the bench.
After round 11, the draw for the remaining five regular season fixtures will be determined by the Club Championship standings, with the top six and bottom six in this table to play each other for those five rounds. Points from these games will continue to count towards the Shute Shield ladder, with the top eight teams on the Shute Shield ladder after round 16 progressing to play in the finals series.
As usual, you can catch all the Shute Shield action on ABC 1 every Saturday afternoon in NSW and the ACT. For interstate viewers, tune in at 4am on Tuesday mornings nationally on ABC 1 for the replay or alternatively you can catch up on ABC Iview.
You can also stay in touch with the Shute Shield on Facebook via www.facebook.com/shuteshield or on www.facebook.com/abcshuteshield where you can catch game highlights and a preview of the upcoming ABC TV match.
Alternatively, follow the Shute Shield on Twitter via @shuteshield or @abcshuteshield where you can send your thoughts through the week and receive live updates during games.
SYDNEY UNIVERSITY v. EASTWOOD at University Oval No.1, Sunday 24 June (Club Rugby TV, 3:00pm)
Sydney University: 1.Sam Talakai, 2. James Riches, 3. Paddy Ryan; 4. Tom Heslop, 5. Oliver Atkins; 6. Liam Wonton, 7. Jono Jenkins, 8. Trent Dyer; 9. Matt Schwager[c], 10. Daniel Kelly; 11. Michael Hodge, 12. Tom Carter, 13. James McMahon, 14. Nathan Trist; 15. Daniel Halangahu
Eastwood: 1. Marty Plokstys, 2. Chris Hill, 3. Barry Fa'amausili; 4. Mitch Lees, 5. Tom Alexander; 6. Chris Alcock, 7. Miles McCaffrey, 8. Gareth Palamo; 9. Mick Snowden, 10. Barney Wood; 11. Mark Frost, 12. Michael Mcougall, 13. Cam Mitchell, 14. Nick Batger; 15. Ben Batger.
Referee: Damien Mitchelmore
NORTHERN SUBURBS v. WARRINGAH at North Sydney Oval, Friday 22 June (7:30pm)
Northern Suburbs come up against Warringah for a Friday night match at North Sydney Oval, kicking off at 7:30pm. With Dave Harvey and Samu Wara absent due to Super Rugby commitments, Norths will start Mitch Walton at flyhalf and Sam Myers at fullback. Other changes include Dave Hardisty who starts at halfback after a week in second grade. Warringah make three changes to the side that lost to Southern Districts last week with lock Vincent Wright, halfback Timothy Donlan and centre Dylan Smouha all returning to first grade after playing second grade last round.
Northern Suburbs: 1. James Smith, 2.Scott Podmore, 3. Nick Lah; 4 Rory Walton, 5. Ben Matwijow; 6. Jordan Smiler, 7. Will Brame, 8. AJ Gilbert [c]; 9. Dave Hardisty, 10. Mitch Walton; 11. Corey Brown, 12. Chris Tuatara-Morrison, 13. Bill Meaks, 14. Isaiah Mosese; 15. Sam Myers.
Warringah: 1. Wayne Borsak, 2. David Mason, 3. Ray Brown; 4.Ben Adams[c] 5. Vincent Wright; 6. James Casey, 7. Mark Porpiglia, 8 Sam Ward; 9. Timothy Donlan, 10. Josh Smith; 11. Michael Dalton 12. Michael Adams, 13. Dylan Smouha, 14. Edward Doyle; 15. Hamish Angus.
Referee: Anthony Moyes
MANLY v. WEST HARBOUR at Manly Oval, Friday 22 June (Club Rugby TV, 8:20pm)
Manly make no changes to the side that defeated Parramatta last round when they host West Harbour on Friday night at Manly Oval. West Harbour make two changes to the side that beat Gordon last round with hooker Reg De Jager coming up from second grade and Nua Alone filling in for the departing Rory Sidey, who returns to the Western Force.
Manly: 1. Dane Maraki, 2. Josh Mann Rae, 3. Eddie Aholelei; 4 Ryan Melrose, 5. Greg Peterson; 6. Ryan Hodson, 7. Jordy Reid, 8. Tevita Metuisela[c]; 9. Chris Cottee, 10. Marshal Milroy; 11. Richard Hooper, 12. Peter Gilmore, 13. Brian Sefanaia, 14. Damien Reti; 15. Jacob Woodhouse.
West Harbour: 1.Michael Alaalatoa, 2.Reg De Jager, 3. Vaughan Lomax; 4. Alfed Pinomi, 5. Tom Patterson; 6. Sione Tau, 7. Tom Andrews, 8. Tom Games,; 9. Barton Jones, 10. Henry Seavula; 11. Macquire Tatola, 12. Tito Mua, 13. Nua Alone, 14. Oleni Ngungutau; 15. Shaun Treweek
Referee: Daniel Cheever
SOUTHERN DISTRICTS v. EASTERN SUBURBS at Forshaw Rugby Park, Saturday 23 June (ABC TV game, 1:10pm)
Southern Districts will go up against Eastern Suburbs for the ABC TV game of the day that will kick off earlier than usual to accommodate the Test match between the Wallabies and Wales, which will be played at 3pm at Allianz Stadium. There are two changes to the Rebels side, which boasts four HSBC Waratahs, with flanker Jono Hayes and hooker Andrew Sulter returning to first grade after playing second grade last week.
Eastern Suburbs make three changes to the side that was defeated by Sydney University with flanker Israel Stephen, winger Scott Ferris and fullback Apakuki Maafu all grabbing first grade starts after performances in second grade last week.
Southern Districts: 1. Marcus Heather, 2. Andrew Sulter, 3. Joe Lynch; 4. Andrew Leota, 5 Dallas Pawley; 6. Matt Swann, 7. Jono Hayes, 8. Lopeti Timani; 9 Grayson Hart, 10. Rohan Saifolio; 11. Ben Connolly, 12. Lester Salanoa, 13. Brackin Karauria-Henry [c], 14. Nicky Price; 15.Atieli Pakalani.
Eastern Suburbs: 1. Clay Brodie, 2. Heath Tessmann, 3. Rob McMickan; 4. Will Crutchley, 5. Phil Mathers; 6. Richard Stanford, 7. Israel Stephens, 8. Pauliasi Taumoepeau[c]; 9 Luke Irwin, 10. Angus Sinclair; 11. Damon Anderson, 12. Tom Azar, 13 Anton Lavin, 14.Scott Ferris; 15 Apakuki Maafu.
Referee: Richard Goswell
RANDWICK v. PARRAMATTA at Coogee Oval, Saturday 23 June (1:30pm)
In the other Saturday match, Randwick will host Parramatta. The home side features two changes to the side that lost to Eastwood last week with halfback Nathan Slevert and HSBC Waratah Drew Mitchell coming into the first grade side. Parramatta make two changes to their side that lost to Manly last week with winger Tomu Mataika and fullback Daley Harper coming into the first grade side this weekend.
Randwick: 1. Patricio Noriega, 2. Nio Halangahu, 3 George Fifita; 4 Tom Weatherall, 5. Geoff Ingram; 6. David Parsons, 7. Tom Connor, 8. Tim McGann; 9. Nathan Slevert, 10. Toby Browne; 11. Tom Joseph, 12. Keith Massima, 13. Kitione Vasu, 14. Drew Mitchell; 15. Clinton Sills.
Parramatta: 1. Nicholas Blacklock, 2. Trent Hosher, 3. Chris Seuteni; 4. Ryan Aniseko, 5. Adam Coleman; 6.Maile Latukefu, 7. Matt White, 8. Andrew Cox[c]; 9. Kaleb Rech, 10. Tom Woods; 11. Mosese Tavola , 12. Iese Leota,13. Tui Fa'asisila, 14. Tomu Mataika, 15. Daley Harper.
Referee: Jamie McGregor
PENRITH v. GORDON at Nepean Rugby Park, Sunday 24 June (3:00pm)
The other Sunday match will see Penrith play host to Gordon with the game to kick off at 3:00pm. Penrith name an unchanged side for the match, while Gordon make three changes to their side with flanker Cameron Thorburn and wingers Michael Manners and Matthew McDougall coming into first grade after second grade performances last week.
Penrith: 1. Faitotoa Asa, 2. Keiren Straker, 3. Richard Aho[c]; 4.Tyrone Emelio, 5.Kornelio Burgess; 6. Junior Taavili, 7. Cohen Masson, 8 Jason Peseta; 9. Solomona Silipa, 10. Fokolulu Taumalolo; 11. Tala Mapesone, 12. Fred Tuua, 13. Mark Murray, 14. Wilson Silipa; 15. Chris Aunise-Scalan.
Gordon: 1. Aritema Ralulu, 2. Ron Hobden, 3. Tobias Gukibau[c]; 4. Mark Johnson, 5. Roni Scarano ; 6. Cameron Thorburn, 7. Mitch Greenway, 8. Mark Williams; 9. Terry Preston, 10. Erik Moss; 11. Michael Manners, 12. Tom Hill, 13. Tom Matthews, 14. Matthew McDougall; 15. Chris Burnett.
Referee: Nathan Pearce