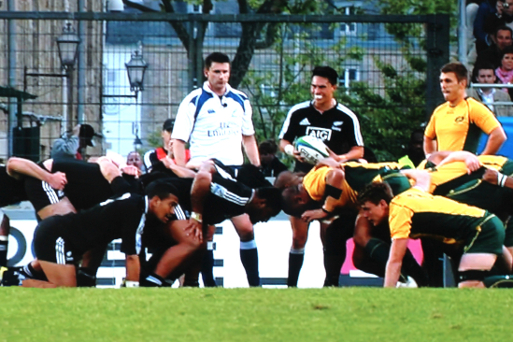 The Australian Under 20 team had another undistinguished tournament this year. After placing eighth in 2012, their worst result ever, they finished one spot better in 2013.
As they did in 2012 they won only one pool game in the Junior World Championship [JWC], against the worst team in the pool, and lost the other two. As in 2012 they lost their first ranking knock-out game and had to contest the play-off for seventh place; but this year, they won it.
---
The pool matches
Ireland 19 – Australia 15 — The Aussies were not far off in individual natural talent but they were beaten by a side whose technique and team attributes were superior. A runaway try for the Aussies with eight minutes to go gave Australia a chance, and they were driving a lineout maul over to score the winning try with two minutes remaining, but were penalised for foul play.
Australia scored two tries to one and Ireland won by only four points, but the score-line flattered the Aussies.
New Zealand 14 – Australia 10 — NZ won this game, in hindsight, in the first 16 minutes when Australia were forced to infringe when they couldn't exit from their half and the Kiwis slotted three penalty kicks. For most of the rest of the game Australia were the better side, but again, they lost by four points.
Australia 46 – Fiji 12 — Australia had a decent win with a lot of their reserve players starting.
---
The knock-out matches
Argentina 22 – Australia 15 — Argentina deservedly beat Australia, as they did last year in the pool matches, scoring three tries to two. The Aussies took an early 7-0 lead but Argentina scored a try just before the break and having already slotted a penalty were 10-7 ahead at half-time. Australia got to 15-17 with 20 minutes remaining but Argentina won the right to contest for fifth place when they scored a try with ten minutes to go.
Australia 28 – Ireland 17 — In the contest for seventh place the Aussies got revenge over Ireland, who had gone off the boil after their pool matches. Australia had the wind behind them and were leading 20-3 at half-time but Ireland fought back when it was their turn to play with the breeze, and got to 17-23.
But at 63 minutes Hodge sent a long ball to Northam who scored a breakout try for Australia as he did against Ireland in the pool game. After scoring three tries to one Australia won 28-17.
The match results were marginally better for Australia in 2013 but I thought the Aussies improved more than the results indicated. Their two losses in the pool games were by only four points each and there was no blow-out loss as against France last year. And they won their match for seventh place, as mentioned.
Best player for Australia at the 2013 JWC: Tom Staniforth.
---
The finals
This does not purport to be a comprehensive report of the tournament but the finals were interesting.
It seemed strange because it was the first time that New Zealand had not contested the IRB JWC final, and the first time that two Northern Hemisphere teams did.
In the first semi-final Wales won a nail-biter on the bell against South Africa in a top game of rugby,18-17; in the second semi-final England dominated the Kiwis 33-21.
In the bronze medal game eleven tries were scored and there was an amazing comeback. New Zealand were ahead 21-0 after 21 minutes but South Africa finished with a wet sail and scored 41 points to 13 in the remainder of the match and won it 41-34.
In the final Wales were playing above their weight, literally, and were ahead 15-3 at half-time, but couldn't score another point. In the second half the physicality of England took its toll and they scored 20 points to none to win the JWC tournament 23-15.
Well done England  — they were the big improvers in 2013.  They were seventh in 2012 and had to fight back this year after being beaten by South Africa in their pool game.
See Page 2 – What's wrong with Australian junior rugby?