The last three seasons for Queensland Country in the NRC have not been illustrious, finishing 8th each year (2014 – 2:6; 2015 – 2:6; 2016 – 1:7). The team has never looked as coherent as others in the competition and has its fourth coach in four years.
COACHING STAFF
Assistant Coach in 2016, Brad Thorn was announced as taking over the coaching duties from Toutai Kefu for 2017.  He is paired with Paul Carozza as Assistant Coach having successfully coached Queensland U20s side this year.  With some of the same players in the squad, the coaches are confident that they can build a culture that lead to winning.
As always, bringing disparate teams together to form a collective unit will be difficult with only 8 matches, so gelling early will be a coaching challenge, as will turning around a tradition of weak defense.
I am a fan of the NRC and can see the benefits of it for the players who have transitioned to Super Rugby over the last 3 years.  I also think it should be a coaching breeding ground, but each year (and not just in Queensland Country) there has been a large amount of shifting, with very little continuity.  I question how this helps elevate coaches to the level that we very much need in this country if they or their clubs have the churn and burn mentality.
Thorn is clearly on a track to a more senior coaching level, and I am looking forward to the results he needs to achieve at this level to justify the elevation.
SQUAD
The 35 man Queensland Country squad has 13 players with ties to the country regions and has all 9 Queensland Premier Rugby clubs represented in the squad.
21 returning Country players and 14 with Super Rugby experience will be a good balance for a squad that is still young and green.
Wallabies players Stephen Moore, Eto Nabuli and Rob Simmons are not expected to play during the season but with so many returning and promising players in the squad like James Tuttle, Izaia Perese and Taniela Tupou there should still be enough to engage fans.
Duncan Paia'aua has been rewarded for a really solid season at the Reds and his leadership on the field there with captaincy of the Queensland Country squad.
If key players like Tupou, Fa'agase, Magnay and Tuttle can remain uninjured and uncarded they should lead from their respective positions and give Thorn some solid play to work with.
Props:
Sef Fa'agase (UQ), Richie Asiata (Easts), Taniela Tupou (Brothers), Kirwan Sanday (Easts), Fred Burke (GPS)
Hookers:
Alex Mafi (Bond University), Alex Casey (Souths), Efi Ma'afu (GPS), Stephen Moore (UQ)
Locks:
Izack Rodda (Easts), Rob Simmons (Sunnybank), Phil Potgieter (UQ), Harry Hockings (UQ)
Backrow:
Angus Scott-Young (UQ), Liam Wright (Easts), Caleb Timu (Souths), Ted Postal (Brothers), Fraser McReight (Brothers), Tainui Ford (Bond University), Tyrone Pritchard (Easts)
Scrumhalves:
James Tuttle (GPS), Tate McDermott (UQ), Scoot Malolua (Souths)
Flyhalves:
Hamish Stewart (Bond University); Teti Tela (Souths)
Centres:
Dunan Paia'aua (Norths); Patrick James (Brothers); Conor Chittenden (Norths)
Outside Backs:
Campbell Magnay (GPS); Izaia Perese (Easts); Eto Nabuli (GPS); Jock Campbell (UQ), Filipo Daugunu (Wests), Byron Hutchinson (Wests), Veresa Mataitini (Norths)
DRAW
Queensland Country start their season with an away game against the Canberra Vikings and follow that with what I expect to be a cracker 'home' match in Noosa against Brisbane City.
Their away match in Fiji (Round 8) is one to look forward to – for no other reason than any match played in Fiji is sure to bring joy to any jaded Australian rugby supporter.  I am thrilled that the Drua are part of the NRC.
Overall the season is a bit choppy with travel, which will test some of the club players to translate their skills in this new, travelling space.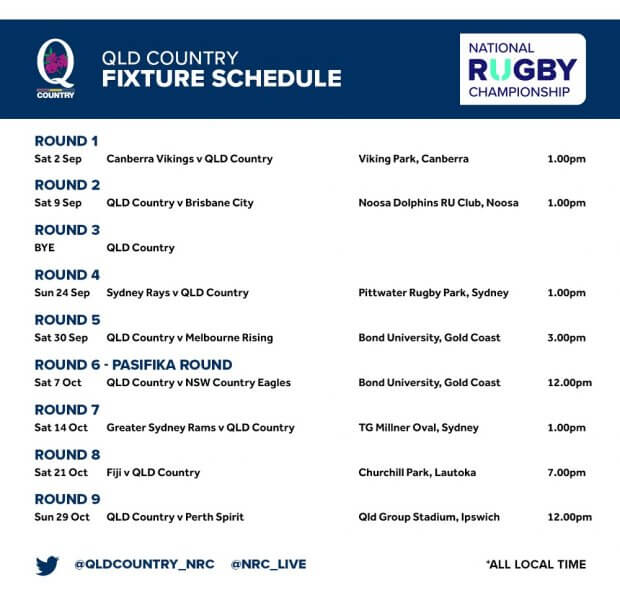 PREDICTIONS
I am not exactly a glass half full person and with three poor seasons behind them, my predictions remain perhaps a little flat to any deep and committed Queensland Country fan.
I would like to think with Thorn and Carozza coaching that the squad coalesce their attacking opportunities to convert more chances, tighten up their defense and will finish outside the Top 4, but only just with the aim of pretty much the same squad (coaching and playing) taking it to everyone in 2018 for a Top 4 finish.    Would love to see such a diverse team take it to more established units that don't pull on 9 clubs.