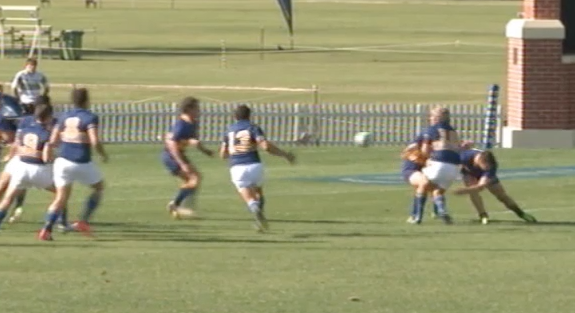 With a mixed bag of results in Round One as schools first showed their wares, there was somewhat of a settling down this weekend as everyone geared up for the long short season ahead.
Anglican Church Grammar School v Toowoomba Grammar School
After unexpectedly falling to the resilient State High last week, Churchie sought to bounce back and to reassert themselves as one of the top tier teams in the competition. Toowoomba Grammar similarly sought a stronger performance than their underwhelming round one loss to BBC.
Churchie showed their bullish intent early, turning down two very kickable penalty shots in the opening three minutes, the second of them on the five-metre directly in front. These gambles quickly paid off, with their inside backs 10. Mack Mason, 12. Nigel Tanuvasa and 13. Izaia Perese combining nicely for a well-worked set piece try from the scrum base in the third minute.
TGS were quickly under pressure again, with Churchie applying an early blowtorch. Soon, the pressure told again and five metres out, 10. Mason threw a two-man cutout ball to 14. Hugo Doessel who went over untouched in the corner in the seventh.
The electric start was all Churchie, but the momentum quickly stalled as Toowoomba Grammar finally got some front-foot ball after ten minutes of play. Down the other end of the pitch and hot on attack, Toowoomba through their forwards were able to pick and drive over the line in the corner.
Twelve minutes in and with three tries down, it seemed to be game on. The match see-sawing, TGS's momentum stalled as quickly as it started. Though Churchie put their kickoff out on the full, TGS made a meal of the scrum on halfway allowing Churchie to launch a blistering counter down the right wing, with 9. Harry Nucifora linking up with Mason and Doessel to peel off an easy 40 metres.
Though no points were scored for the next ten minutes, the play was all Churchie, with constant heat on the Toowoomba line. They finally broke through in the 26th minute with a try to fullback Ben Ogilvie.
Toowoomba had been their own nemesis for much of the half. Though the Churchie forwards were able, no great dominance was being exerted up front; both teams seemed to earn equal opportunities with the pill. The difference was in each team's use of their possession.
Both sides played up-tempo and looked to move the ball, though Toowoomba simply couldn't catch a cold. Simple balls were going down, regularly undoing attacking chances, or heaping more pressure back upon their line defence. Churchie, conversely, had players in motion around the ball, with second touches and decoy runners asking a myriad of testing questions all while some low-percentage passes stuck.
It was clear Toowoomba had aspirations for similar enterprise – some promising plays were launched – but it was the execution that was failing them.
Both sides scored in the final ten minutes of the half, Churchie through a regulation backs try through the hands and Toowoomba on the back of a good charge-down by their mobile #7. With a penalty in the bag for good measure, the teams hit oranges with Churchie leading well, but not out of sight.
Halftime: Churchie 24 – TGS 12.
The second half saw little change at all. Though Toowoomba Grammar opened with more promise and spent their longest period yet hard on attack, three times they were turned over or lost the ball on the Churchie line, spoiling promising opportunities.
Churchie absorbed the heat, and on their first real foray into TGS territory for the half, came away with another try thanks to a bustling run by 8. Harley Fox.
Mason, Tanuvasa and Perese continued to combine well, making metres up the middle. Midway through the half, Perese got his second thanks to another fantastic Mason pass, and late in the half Churchie bagged another after an industrious charge-down and counter-rucking effort on the TGS goal line.
Again, Toowoomba had their chances, but failed to capitalise, spectacularly typified by a butchered, golden opportunity midway through the half. In something like the 43rd charge-down of the match, the TGS #13 found himself in space with just the ball to regather as it fell short of the line. In two minds and seemingly without conviction to toe it ahead or regather, he did both and neither, mishandling the ball on the ground and tumbling over in the process. Churchie recovered and secured possession.
It just wasn't Toowoomba's day, and Churchie now look ahead to a big match away to powerhouse Nudgee College this coming weekend.
ACGS (Churchie) 43 (6T, 5C, 1P) d. TGS 12 (2T, 1C)
Nudgee College v Brisbane Boys' College
by Jordan Ayton
Nudgee managed to hold out a resurgent BBC despite being a man down late in the game to win 39 -28.
A red card for a spear tackle by a Nudgee player allowed BBC back into the game and they exploited their numerical advantage in the backline to get within striking distance, but an intercept try off a promising scoring opportunity for BBC sealed the match in Nudgee's favour.
BBC opened the scoring with a 40 metre penalty to fullback Josh Bowen.
But it was Nudgee who were on the front foot for much of the first half after their mobile front rowers Alex Mafi and Gavin Luka tackle busted their way in BBC's 22 throughout the first half and their front row counterpart Matt Gibbon dived over twice from close range.
Nudgee then scored their third when fly-half James Tuttle carved up a disjointed BBC line after a clearance kick, drawing the fullback and passing to centre Calvin Pritchard for a 30 metre effort.
BBC managed to go into the break in touch with their fancied rivals, thanks to some radar-like kicking from Bowen and a try to their big fly-half Nathan Russell.
Halftime: Nudgee 21 – BBC 13.
The second spell started off much like the first, in Nudgee's favour with BBC having to play catch-up after Tuttle fended his way through from 10 metres out for their fourth try.
Another penalty to Bowen kept their hopes alive and after regathering a kick into Nudgee's 22, centre Tiaan Wilkins crossed in the corner infront of the BBC fans.
But Nudgee looked to have put the game out of reach with two penalties to Tuttle, until with 15 minutes to go Nudgee outside-centre Campbell Magnay was red-carded for a nasty spear tackle on his opposite number.
This opened up the game for BBC and after some strenuous attacking pressure, the Nudgee tryline defence was finally breached when Wilkins crossed in the same spot as his first.
Off the ensuing kick-off BBC looked to exploit a 3 man overlap within their 22 in the final play of the game but a speculative offload found its way into Nudgee winger Franklin Calugay's hands and he dived over out-wide to cement the win.
Nudgee 39 (tries: Gibbon 2, Pritchard, Tuttle, Calugay, cons: Tuttle 4, pens: Tuttle 2) BBC 28 (tries: Russell, Wilkins 2, cons: Bowen 2, pens: 3)
Other Fixtures
In other fixtures, red-hot title-favourites TSS defeated IGS 51-15 while Brisbane Grammar edged State High 18-17 in a tight one away from home.